Colleges & Trade Schools in Maryland
By Publisher
| Published
| Last Updated
Trade schools in Maryland are focused on helping students develop job-ready skills for a variety of appealing career fields. They offer the kind of post-secondary training that can help you expand your potential and thrive in the state's growing labor market.
---
Education & Training in Maryland
Completing your post-secondary training in Maryland comes with some pretty cool advantages.
Key Benefits of the Region for College Students
The chance for more personalized instruction: At public post-secondary schools in Maryland, the ratio of students to faculty members is significantly lower than the national average. And the ratio at private non-profit four-year schools is the lowest in the country.
High potential earnings: As of 2018, Maryland had the highest median household income of any state. In fact, it was over 34 percent higher than the national median.
A strong job market: The Maryland Department of Labor expects double-digit employment growth to occur between 2018 and 2028. And thanks in part to its combination of job opportunities and relatively affordable housing, Columbia ranked fifth out of 50 towns and cities on Money's list of the best places to live in 2020.
Costs
Many different factors can impact the cost of your education. But according to National Center for Education Statistics (NCES) data from 2018-2019, Maryland's four-year institutions have average tuition and fees as follows:
Public schools: $9,521 (in-state); $26,883 (out-of-state)
Private schools: $43,141
Tuition and fees may be lower at two-year schools.
Here are the average room and board costs at Maryland institutions, drawn from the same NCES data:
Public schools: $12,374
Private schools: $14,081
---
---
Trade School Accreditation
All post-secondary institutions in Maryland, including private career colleges, must receive approval from the Maryland Higher Education Commission to operate in the state. Once they are approved, they are free to seek voluntary accreditation from an independent agency recognized by the U.S. Department of Education. Accreditation serves as evidence that the school meets certain standards of quality. Plus, students who attend accredited schools can qualify to receive federal or state financial aid.
In Maryland, regional accreditation is granted by the Middle States Commission on Higher Education (MSCHE). National accreditation can come from numerous agencies, including the Accrediting Commission of Career Schools and Colleges (ACCSC) and the National Accrediting Commission of Career Arts & Sciences (NACCAS).
Admissions Requirements for Maryland Trade Schools
Prospective students generally need to have a high school diploma and undergo a personal interview. You may also have to complete a placement test.
A GED is an acceptable alternative to a high school diploma. To be eligible for the GED exams in Maryland, you have to be a resident of the state and be 18 or older. (A 16- or 17-year-old can qualify to take the tests in certain circumstances.)
Financial Aid for Maryland Students
The Maryland Higher Education Commission has information on several grants, scholarships, and tuition waivers that can help reduce the cost of students' post-secondary education.
For instance, the Community College Promise Scholarship covers up to $5,000 in tuition and fees each year after all federal and state financial aid is taken into account. It's available to Maryland community college students who enroll in certificate, associate degree, or apprenticeship programs and meet GPA and income requirements.
To apply for financial assistance, you must fill out the Free Application for Federal Student Aid (FAFSA) each year. Information from the FAFSA is used to assess your eligibility for federal, state, and institutional aid. Undocumented immigrants who don't qualify for federal aid but are eligible for in-state tuition rates should fill out the Maryland State Financial Aid Application (MSFAA) instead.
FAQs About Being a Student in Maryland
What types of programs do Maryland trade schools offer?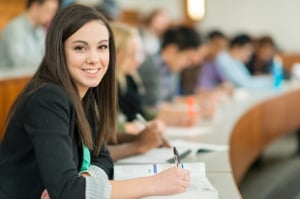 Vocational programs are not limited to skilled trades like welding and automotive repair. You can also find programs in areas like:
Bartending
Cosmetology
Culinary arts
Health care
Information technology
Real estate
Recording arts technology
What are living costs like in Maryland?
The cost of living in Maryland is higher than the national average. The median rent is $1,062 per month for a studio apartment and $1,180 for a one-bedroom unit.
What are the options for getting around?
You can drive your own vehicle, of course, but the average commute time is significantly longer than the U.S. average. However, the Maryland Transit Administration operates buses, subways, light rail systems, and commuter trains throughout the state. And students at colleges, universities, and trade schools in Maryland that participate in the All Access College Transit Pass program can purchase a monthly pass for almost 30 percent off the regular fare.
---
Maryland Schools
Sponsored Listings
---
---
Industry Information
Maryland's economy is powered by a wide range of industries, from health care and technology to aerospace and transportation.
Fastest-Growing Industries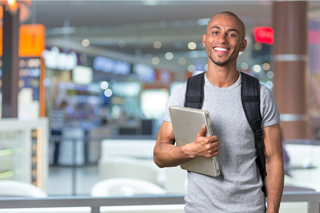 Based on projections from the Maryland Department of Labor, the industries listed below should experience the highest job growth rates between 2018 and 2028.
Other information services (61.7%): This rapidly expanding sub-sector includes organizations that provide archives, libraries, and web portals that connect people with information.
Ambulatory health care services (32.9%): The ongoing need to care for the health of Maryland residents will generate more opportunities in outpatient facilities like medical labs, dental offices, physical therapy clinics, and more.
Water transportation (28.1%): Getting passengers and cargo from one place to another via ship, boat, or barge is a growing industry in Maryland.
Non-store retailers (27.9%): Companies that sell goods via websites, catalogs, vending machines, and door-to-door sales are expected to experience an increased need for staff.
Warehousing and storage (25.9%): Keeping goods stored safely and securely will require more workers' efforts in the years ahead.
Careers Related to the Industries Above
Average Annual Wages
Sailors & marine oilers

Licensed practical nurses

Industrial truck & tractor operators

Library technicians

Order clerks
Other Key Industries
According to the Maryland Department of Commerce, some other sectors that play a prominent role in the state's economy include:
Aerospace and defense: Over 9,000 aerospace and defense companies across the state collectively generate more than $33 billion each year. Maryland houses 15 of the top 20 aerospace companies in the country, including the headquarters for Lockheed Martin. Such firms focus on avionics, electronics, satellite technology, and unmanned aircraft systems (UAS).
Biotech and life sciences: Home to the U.S. Food and Drug Administration, the National Institutes of Health, and many other academic, medical, and research institutions, Maryland has one of the largest life sciences clusters in the nation. Over 3,000 companies throughout the state are involved in genomics research, medical device production, vaccine development, and other cutting-edge innovations.
Energy: The emerging renewable energy sector is partially a result of the government's requirement that at least 50 percent of the state's energy must come from renewable sources by 2030. Currently, almost 180 solar companies are employing over 4,800 people across the state, according to the Solar Energy Industries Association. And the Skipjack Wind Farm project is expected to create as many as 1,400 jobs in Maryland in the coming years.
Financial services: Many financial services companies choose Maryland for its proximity to the markets of New York City and the regulators of Washington, DC. Firms like T. Rowe Price, Morgan Stanley, GEICO, CareFirst, and Franklin Templeton all have significant operations here. This sector supports close to 92,000 jobs and contributes almost $21 billion to the state economy.
Information technology: Largely due to the presence of federal agencies like the National Security Agency and the U.S. Cyber Command, Maryland has a robust high-tech sector. The state has one of the highest concentrations of information security analysts in the country. In total, roughly 116,000 residents work in areas like electronics, engineering, cybersecurity, and software development.
Careers Related to the Industries Above
Average Annual Wages
Aerospace engineers

Information security analysts

Investment analysts

Electrical power-line installers

Biological technicians
Career Information
In Maryland, occupations in health care, renewable energy, business, and education offer some of the most promising opportunities.
Job Growth
10.4% from 2018 to 2028
Job Openings
Yearly Average
Average Salary
(all occupations)
Population

Number of Employers

Key Industries
Aerospace and defense, biotech and life sciences, energy, financial services, information technology
Sources
Maryland Department of Labor
U.S. Bureau of Labor Statistics
U.S. Census Bureau
Maryland Department of Commerce
Fastest-Growing Careers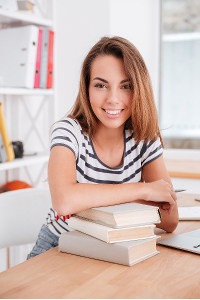 According to the state labor department, here are the occupations that are expected to have the most rapid rates of job growth between 2018 and 2028. Wages are based on Bureau of Labor Statistics (BLS) data for Maryland.
Solar photovoltaic installers (53.9%): Set up and repair the panels that harness the sun's power to generate electricity.
Average yearly wage: $47,180
Occupational therapy assistants (52.8%): Implement treatment plans that help injured or disabled people develop new or better ways of carrying out daily living or work activities.
Average yearly wage: $63,810
Home health aides and personal care aides (42.3%): Go to people's private residences to offer basic medical services or assistance with tasks like cooking, bathing, and housekeeping.
Average yearly wage: $27,420
Physical therapist assistants (41.6%): Use massage, exercise, and other hands-on therapeutic techniques to help injured patients improve their physical movement. Obtaining the necessary license requires completing an accredited program and passing a national exam.
Average yearly wage: $55,070
Physician assistants (39.5%): Provide a comprehensive range of medical services under a doctor's supervision.
Average yearly wage: $109,620
Good-Paying Careers With the Most Yearly Job Openings
Completing post-secondary training can help you qualify for one of the many well-paying positions that become available in Maryland each year. The following are a few top examples, drawn from state labor department projections and BLS wage estimates:
General and operations managers (5,577 yearly openings): Lead an organization's progress by directing and coordinating its daily functions. Most professionals at this level have bachelor's degrees plus a few years of industry experience.
Average yearly wage: $134,980
Registered nurses (4,923 yearly openings): Take on an essential front-line role in hospitals, clinics, care facilities, and other settings. In order to become licensed, you must complete an approved program and pass a national exam.
Average yearly wage: $77,910
Management analysts (3,535 yearly openings): Gather information about a company's processes to find ways to operate more efficiently and profitably. You'll need at least a bachelor's degree, but an MBA often opens more doors.
Average yearly wage: $98,090
Accountants and auditors (3,228 yearly openings): Keep tabs on an organization's financial transactions and ensure that all records are accurate, complete, and in line with applicable regulations. A bachelor's degree is typically necessary.
Average yearly wage: $81,920
Elementary school teachers (2,810 yearly openings): Use a variety of instructional techniques to help young students expand their knowledge in subjects like English, science, math, and social studies.
Average yearly wage: $75,380
---
A Better Career Outlook Can Start Here
Trade schools in Maryland can help you capitalize on many of the diverse opportunities this state offers. Exploring the available options is the first step toward advancing your ambitions.