Colleges & Trade Schools in Kentucky
By Publisher
| Last Updated
Colleges and trade schools in Kentucky offer streamlined programs designed to give students a foundation for vocational success. They can help you develop in-demand skills for some of the Bluegrass State's most significant industries, such as construction, administration, and more.
---
Education & Training in Kentucky
Vocational colleges, universities, and trade schools in Kentucky offer quality education in one of America's most renter-friendly states. A range of state-funded aid is available, making post-secondary training even more affordable for many students here.
Key Benefits of the Region for College Students
Greater potential for one-on-one instruction: Kentucky boasts one of the country's lowest student-to-faculty ratios among for-profit schools.
Incentives for adults to finish their education: Through Project Graduate, Kentucky adults who return to one of the state's public universities after completing at least 80 credit hours can benefit from application fee waivers, priority enrollment, and more.
Affordable apartments: The median monthly rent on a studio apartment is lower in Kentucky than in all but five other states.
Popular Cities
Lexington, KY
Many residents in the Lexington area are well educated. Nearly 43 percent of adults over age 25 in Lexington-Fayette hold bachelor's degrees or higher, compared to the U.S. average of 31.5 percent.
According to the Interactive Data Center of the Kentucky Council on Postsecondary Education (CPE), a total of 4,192 degrees were awarded by Fayette County public and independent colleges and universities in 2019-2020. Around 40 percent of them were undergraduate certificates, diplomas, or associate degrees.
Louisville, KY
Kentucky's largest city attracts many people who want to advance their education. According to the CPE's Interactive Data Center, more than 3,100 diplomas, associate degrees, and undergraduate certificates were handed out by both public and independent universities and colleges in Jefferson County during the 2019-2020 school year.
Louisville is also an excellent place for new grads who want to earn decent money. Census data show that household and per-capita income in the Louisville area are higher than the statewide numbers.
Costs
Post-secondary schools in Kentucky vary in the amounts that they charge students. According to the National Center for Education Statistics (NCES), the average tuition and fees at four-year schools in the state broke down this way during the 2018-2019 academic year:
Public schools: $10,674 (in-state); $25,430 (out-of-state)
Private schools: $27,648
Tuition and fees at two-year colleges may be lower than those amounts.
The same NCES estimates show that the average room and board costs at Kentucky colleges and universities were as follows:
Public schools: $10,639
Private schools: $9,434
---
---
Trade School Accreditation
Independent agencies grant accreditation to schools that meet their standards of educational quality. The agencies review each accredited school regularly to make sure those standards are maintained.
Schools are not required to seek accreditation. However, federal financial aid is only available to students who enroll in schools accredited by an agency recognized by the U.S. Department of Education.
Both regional and national accreditation is available. Many universities and technical colleges in Kentucky are accredited by the Southern Association of Colleges and Schools Commission on Colleges (SACSCOC), a regional body.
Trade schools and vocational colleges in the state often seek national accreditation from one of these bodies:
Council on Occupational Education (COE)
Accrediting Council for Continuing Education & Training (ACCET)
Accrediting Commission of Career Schools and Colleges (ACCSC)
Schools also need a license to operate in Kentucky. Institutions that grant bachelor's degrees must be licensed by the Council on Postsecondary Education. Private schools that do not offer bachelor's degrees must get a license from the Kentucky Commission on Proprietary Education.
Financial Aid for Kentucky Students
State residents may be eligible for grants or scholarships administered by the Kentucky Higher Education Assistance Authority (KHEAA). Here are just a few of the available options:
The College Access Program Grant provides as much as $2,200 in need-based aid to Kentucky residents who attend designated universities, colleges, and trade schools. To qualify, you must enroll at least half-time in a program that is a minimum of two years long.
The Kentucky Tuition Grant awards up to $2,960 to residents who demonstrate financial need and pursue an associate or bachelor's degree at participating private colleges. This grant is only available to full-time students.
The Work Ready Kentucky Scholarship is open to state residents who enroll in approved certificate, diploma, or associate degree programs at eligible institutions. It covers the balance of tuition and fees after all other grant and scholarship aid has been subtracted.
All of the above programs (as well as all forms of federal assistance) require you to fill out the Free Application for Federal Student Aid (FAFSA).
FAQs About Being a Student in Kentucky
What are rental costs like in Kentucky?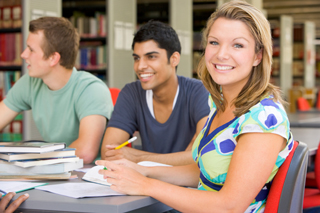 In Kentucky, the median monthly rental amounts for studio and one-bedroom apartments are $574 and $652, respectively. Both of those figures are over 30 percent less than the comparable national medians.
What are the transportation options?
Every county in Kentucky offers some form of public transportation. And students may not have to shell out much cash to take advantage of such services. For instance, the bus system in the Lexington area does not currently require fare payments. And students at certain post-secondary institutions in Northern Kentucky can ride area buses for free with their student ID.
What else should Kentucky students know?
The Kentucky Virtual Library (KYVL) provides convenient access to a curated collection of databases and other valuable resources. Students at most post-secondary institutions in the state can log in through their school library or request a KYVL password using their school email address.
---
Kentucky Schools
Sponsored Listings
Bowling Green
Erlanger
Hopkinsville
Owensboro
Dental Assistant
Medical Assistant
Occupational Therapy Assistant
Veterinary Assistant
Accounting and Professional Business Applications
Bilingual Administrative Support
Business Information Systems
Business Management
Human Resource Management
HVAC
Medical Office Administration
Accounting
Baking and Pastry Arts
Business Administration with a Concentration in

Finance
Health Care Management
Management
Marketing
Supply Chain Management

Business Management
Computer Information Technology
Culinary Arts
Cybersecurity
Cybersecurity Professional
Hospitality Management
Hotel and Restaurant Management
Human Resource Leadership
HVAC
Information Technology
Interdisciplinary Business Studies
Justice & Public Safety Administration
Limited Medical Radiography
Medical Assisting
Network Support Administration and Security
Nursing
Practical Nursing
Professional Baker
Professional Cook
Radiologic Technology
Surgical Technology
System Support & Administration - Security
---
---
Industry Information
A wide variety of industries show growth and promise in Kentucky, including construction, entertainment, manufacturing, and more.
Fastest-Growing Industries
The following sectors showed the greatest average annual employment growth from 2015 through 2019, based on data from the Kentucky Center for Statistics:
Arts, entertainment, and recreation (16.1%): Many professionals who develop, promote, lead, or participate in live performances, cultural exhibits, and other leisure-time pursuits have seen increased demand for their services.
Construction (9.9%): A greater number of jobs have opened up for workers with the skills to build, renovate, or repair homes, businesses, roads, bridges, and utility systems throughout Kentucky.
Administrative, support, waste management, and remediation services (9.4%): Companies that provide recruitment, clerical, security, waste disposal, and similar services for other organizations have expanded rapidly over the past few years.
Transportation and warehousing (7.2%): Keeping up with the demand for transporting people or cargo by road, air, water, and other means has resulted in numerous career opportunities.
Utilities (5.3%): Additional jobs have become available for workers who support the distribution of electricity, water, natural gas, and other utility services.
Careers Related to the Industries Above
Average Annual Wages
Commercial pilots

Electrical lineworkers

Producers & directors

Human resources specialists

Carpenters
Other Key Industries
Below are a few additional industries that have bright outlooks in the state, according to the Kentucky Cabinet for Economic Development:
Manufacturing: More than 260,000 Kentuckians are engaged in making a wide range of products, such as bourbon, pharmaceuticals, pet food, chemicals, rubber, and aerospace and automotive parts. This sector expanded by almost 39,000 jobs over five years.
Logistics and distribution: Located within an easy drive or short flight of close to two-thirds of the American population, Kentucky is uniquely positioned for quick and easy distribution of products and materials throughout the country. The state hosts air shipping hubs for UPS, Amazon, and DHL, as well as major FedEx freight facilities.
AgriTech: According to the Kentucky Department of Agriculture, some of the Bluegrass State's most important commodities include corn, hay, and wheat. And getting products from concept to consumer often involves biotechnology, robotics, food safety, distribution, and more. Agriculture technology adds over $45 billion to the state economy and supports 258,000 jobs.
Healthcare: More than 175 companies across Kentucky are involved in health-related research, technology, or services. Collectively, they employ close to 30,000 state residents.
Careers Related to the Industries Above
Average Annual Wages
Logisticians

Industrial machinery mechanics

Agricultural technicians

Biological technicians

Industrial truck & tractor operators
Career Information
As employment grows throughout Kentucky, some of the occupations with the most promising opportunities are in fields like healthcare, business, and transportation.
Job Growth
6.2% from 2018 to 2028
Job Openings
Yearly Average
Average Salary
(all occupations)
Population

Number of Employers

Key Industries
Manufacturing, logistics and distribution, agricultural technology, healthcare
Sources
Kentucky Center for Statistics
U.S. Bureau of Labor Statistics
U.S. Census Bureau
Kentucky Cabinet for Economic Development
Fastest-Growing Careers
The Kentucky Center for Statistics says that of the occupations that employ 100 people or more, the ones noted below should see the fastest employment growth rates from 2018 to 2028. Wages reflect statewide estimates from the Bureau of Labor Statistics (BLS).
Captains, mates, and pilots of water vessels (50.1%): Take charge of the operation of a ferry, tugboat, or other types of watercraft. You will need a license from the U.S. Coast Guard.
Average yearly wage: $77,110
Sailors and marine oilers (42.5%): Carry out a variety of tasks related to operating and maintaining a ship. To work aboard vessels that carry liquids like petroleum, you must earn a tankerman endorsement from the U.S. Coast Guard.
Average yearly wage: $42,560
Personal care aides and home health aides (34.2%): Help vulnerable Kentuckians with tasks like getting dressed, taking medications, cleaning, or going to appointments. Aides who provide health services must complete special training to become State Registered Nurse Aides.
Average yearly wage: $26,410
Applications software developers (30%): Map the design of a computer program or mobile app and make changes as needed to enhance usability or performance. A bachelor's degree is often (but not always) necessary.
Average yearly wage: $87,650
Occupational therapy assistants (29.2%): Help people become more functionally independent by assisting them with therapeutic exercises or teaching them how to use adaptive equipment. Meeting the requirements of the Kentucky Board of Licensure for Occupational Therapy begins with completing an approved associate degree program.
Average yearly wage: $60,510
Good-Paying Careers With the Most Yearly Job Openings
You'd be wise to pursue training beyond high school if you want to qualify for one of the many well-paying positions that open up across Kentucky each year. Here are a few occupations that offer lots of good-paying openings, based on projections from the Kentucky Center for Statistics and wage estimates from the BLS:
Heavy and tractor-trailer truck drivers (3,383 yearly openings): Control a big rig to get cargo from one location to another. To earn a commercial driver's license in Kentucky, you need to pass a written exam and a skills test, plus meet other requirements.
Average yearly wage: $46,620
Registered nurses (3,284 yearly openings): Make a real difference in medical patients' health and well-being. Completing an approved program and a national exam are the first steps toward becoming licensed by the Kentucky Board of Nursing.
Average yearly wage: $63,750
General and operations managers (3,101 yearly openings): Set policies, organize staff, and coordinate various departments' functions. Landing one of these high-level positions generally requires a bachelor's degree and substantial experience in your chosen industry.
Average yearly wage: $90,430
Elementary school teachers (1,439 yearly openings): Help young students develop key competencies related to science, math, and language. The Education Professional Standards Board requires all Kentucky teachers to complete a bachelor's degree along with a teacher preparation program.
Average yearly wage: $52,660
Accountants and auditors (1,320 yearly openings): Contribute to an organization's smooth running by preparing financial records and making sure that all documentation complies with applicable regulations. You'll need a bachelor's degree or higher.
Average yearly wage: $67,660
---
Many Paths to Success Begin With Trade School
Some of the best opportunities in this state require post-secondary training. By exploring the flexible, job-focused programs at colleges and trade schools in Kentucky, students like you can start putting their career goals into motion.