Find Colleges & Career Training by Location
By Publisher
| Published
| Last Updated
You can quickly find post-secondary programs near you by clicking on your location in the list below. According to the U.S. Census Bureau, more than 20 million people take college, university, or trade school courses in America each year. Getting an education at this level helps many of them pursue good-paying careers in growing fields.
How to Use This Page
Find your state or city below and click on the link for it. You'll be taken to a separate page where you can browse nearby schools and career training options. Or type your zip code into the convenient school finder tool to find what you're looking for even faster.
When you find a particular school or program that interests you, you can request more information from the school by filling out a simple form on this website.
You can use Trade-Schools.net as a resource for finding a wide range of programs or learning about various career paths and topics related to post-secondary education. For example, read more about America's fastest-growing industries and careers in the article below the locations on this page.
---
Find a Trade School, Vocational School, or College Near You!
---
---
Popular Cities
---
Canada
Arizona
California
Colorado
Florida
Illinois
Indiana
Maryland
Michigan
New York
Ohio
Oklahoma
Pennsylvania
Tennessee
Texas
Virginia
---
Job Growth
From 2018 to 2028
Job Openings
Yearly Average
Median Salary
(all occupations)
Population

Number of Employers

Key Industries
Health care and social assistance, professional and business services, state and local government, retail, manufacturing
Sources
U.S. Bureau of Labor Statistics
U.S. Census Bureau
What you'll find in this article:
---
---
Industry Information
The American economy is extremely diverse. A huge range of sectors generate job opportunities for people with all kinds of different skill sets.
Fastest-Growing Industries
Opportunities across the health care industry are expanding at some of the most rapid rates. According to national employment projections from the U.S. Bureau of Labor Statistics (BLS), the following sectors are expected to see the fastest rates of job growth between 2018 and 2028:
Home health care services (4% a year): As the population of older Americans grows, the demand for in-home medical and personal care continues to rise.
Outpatient care centers (3.1% a year): Like almost every area of the health care industry, this sector continues to need more workers. It employs a wide variety of medical practitioners, technologists, and administrative specialists who contribute to the delivery of health services that don't require hospital admission.
Individual and family services (2.8% a year): Many cities and towns throughout the U.S. are seeing a rising demand for non-residential human services that help support community members who are dealing with unfavorable circumstances.
Other information services (2.5% a year): This sector includes libraries, media syndicates, and other organizations that provide access to news or other types of published or broadcast content over the Internet.
Offices of non-dentist/non-physician health practitioners (2.4% a year): This is an expanding sector that includes areas like physical therapy, chiropractic, occupational therapy, optometry, and similar specialties.
Careers Related to the Industries Above
Average Annual Wages
Occupational therapy assistants

Radiologic technologists

Librarians

Child & family social workers

Nursing assistants
Other Key Industries
BLS industry projections indicate that health care and social assistance could employ the largest number of Americans by 2028—more than 23.3 million people. The same projections show that the following industries are expected have the next-highest levels of employment by 2028:
Professional and business services: In addition to management consulting firms, this broad industry includes companies that specialize in providing legal, accounting, engineering, architectural, and similar services to individuals and other organizations.
State and local government: More than 19.9 million people could be employed by various government agencies and departments at the municipal, county, and state levels. This sector supports the employment of people in a large variety of occupations related to public administration.
Retail trade: This huge industry includes physical stores as well as retailers that sell goods through other means, such as online sellers, catalog publishers, street vendors, and direct-response and infomercial advertisers.
Manufacturing: BLS projections show that even though employment in this massive industry is expected to decline, it still may have one of the highest levels of employment in 2028—more than 12 million people. In fact, according to SelectUSA, American manufacturers continue to innovate and stay competitive while making products like aircraft, space vehicles, automobiles, chemicals, textiles, biopharmaceuticals, and more.
Careers Related to the Industries Above
Average Annual Wages
Purchasing managers

Industrial machinery mechanics

Paralegals

Chefs

Administrative assistants
Career Information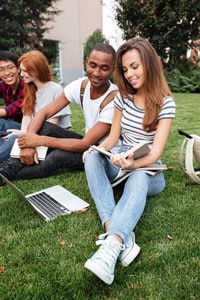 Occupations related to health care, business, the skilled trades, and information technology currently provide some of the best prospects for reliable and good-paying jobs.
Fastest-Growing Careers
According to BLS occupational projections for the decade from 2018 to 2028, the following occupations could have the highest rates of employment growth nationwide. Yearly wages are based on 2019 data from the same BLS page.
Solar photovoltaic installers (63.3%): Help businesses and homeowners get clean energy from the sun by putting solar panels into place and performing maintenance as necessary. You may only need a high school diploma; however, some employers prefer to hire people who've had some trade school training related to this career.
Median yearly wage: $44,890
Wind turbine technicians (56.9%): Contribute to the installation and maintenance of large devices that generate electricity from the power of the wind. You generally need to earn at least a post-secondary certificate to get started in the field.
Median yearly wage: $52,910
Home health and personal care aides (36.5%): Provide assistance to older adults or others with chronic illnesses or disabilities by helping them with activities of daily living and/or basic health-related tasks. Depending on your state, employer, and particular duties, you may need state certification, which could require a little formal training.
Median yearly wage: $25,280
Occupational therapy assistants (33.1%): Help carry out treatments designed to improve the ability of injured or disabled patients to perform day-to-day tasks of living and working. You'll need an associate degree.
Median yearly wage: $61,510
Information security analysts (31.6%): Prevent and respond to computer network breaches caused by cyberattacks or data loss caused by disasters. A relevant bachelor's degree is typically required.
Median yearly wage: $99,730
Good-Paying Careers With the Most Yearly Job Openings
Occupations that pay above the national median salary typically require some post-secondary training or education. Here are the careers in that category that are expected to have the most job openings, based on BLS occupational projections for the period between 2018 and 2028 as well as 2019 wage data from the same source:
Commercial truck drivers (243,800 yearly openings): Operate tractor-trailers in order to transport goods that Americans rely on. Some trade schools offer training that can prepare you to go after a commercial driver's license (CDL).
Median yearly wage: $45,260
General and operations managers (230,000 yearly openings): Be in charge of an establishment's day-to-day activities. To qualify, you'll likely need a bachelor's degree and about five years of work experience in your particular industry.
Median yearly wage: $100,780
Registered nurses (210,400 yearly openings): Play a critical role in the assessment, care, and education of medical patients. A diploma, associate degree, or bachelor's degree in nursing is required, and you must be licensed by your state's board of nursing.
Median yearly wage: $73,300
Bookkeeping, accounting, and auditing clerks (188,500 yearly openings): Help organizations keep their financial records accurate and up to date. Many opportunities require at least a little college-level training.
Median yearly wage: $41,230
Accountants and auditors (146,000 yearly openings): Contribute to an organization's efficiency and government compliance by preparing and examining financial statements and making recommendations. Most employers require at least a bachelor's degree.
Median yearly wage: $71,550