---
---
3 Inspiring Facts About Today's Drafting Professionals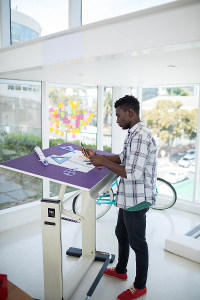 In 2018, drafters held around 200,000 jobs throughout the U.S., according to the Occupational Outlook Handbook (OOH). They are responsible for helping a lot of the things we use on a daily basis come to fruition. They're the people that other professionals turn to when they need their design ideas translated into plans that make sense—schematics that allow actual construction or manufacturing to take place.
But as you consider going after a career in this field, take note of three other compelling facts about modern drafters:
1. They Work in Several Exciting Industries
Technical renderings are needed for producing almost everything that is engineered, built, or manufactured by humans. As a result, drafters can work on projects as diverse as homes, office towers, bridges, car and airplane parts, medical equipment, computer chips, and oil pipelines.
It's true that most drafters perform work related to engineering or architecture. In fact, the OOH says that about 50 percent of them do. But other large sectors of employment in the drafting field include manufacturing (25 percent) and construction (10 percent).
And the opportunities don't stop there. Here's a more comprehensive list of areas you might choose to specialize in one day:
Architectural drafting—residential and commercial building projects
Mechanical drafting—equipment, machinery, tools, and devices for a wide range of uses
Civil drafting—major road and infrastructure projects
Electrical and electronics drafting—wiring for power systems, buildings, equipment, microchips, circuit boards, or other electronic components
Aeronautical drafting—parts for aircraft, space-bound vehicles, or other flying objects
Process piping and pipeline drafting—systems for the refinement and distribution of oil, gas, or chemicals
2. The Software They Use Keeps Getting More and More Powerful
CADD systems provide a lot of benefits for everyone involved in the design and production of engineered products and structures. For instance, they help shorten the design cycle and lower development costs. And they give drafters sophisticated tools for creating the kinds of visualizations that were once difficult, time-consuming, or impossible to achieve through pencil or ink drawings.
By the way, "CAD" and "CADD" are basically interchangeable abbreviations for the same thing: computer-aided drafting, computer-aided design, or computer-aided design and drafting (or vice versa). People call it different things, but it all falls into the same general field.
CADD technology allows you to create and store 2D or 3D schematics electronically. Your plans can contain all of the visual and instructional information necessary for production, including critical aspects like project dimensions and materials.
One of the most well-known and widely used CADD programs is AutoCAD. It's used a lot for architectural design as well as many other things. But drafters and designers across a wide spectrum of industries also use other popular software packages such as SolidWorks, CATIA, Creo, Pro/ENGINEER, and NX.
In addition to CADD, drafters increasingly get to use BIM (building information modeling) software. It enables them to view how each element of a project works together and to more effectively collaborate with other members of their team. Revit and ArchiCAD are just two examples of commonly used BIM programs.
3. They Often Make Good Salaries After a Short Amount of Training
It doesn't take long to become a drafter or CADD operator. In most cases, a certificate, diploma, or associate degree is all you need to enter the field. And that only requires about one or two years of training. Plus, it's pretty easy these days to find an online drafting program if you want to learn the necessary skills from home rather than on campus.
But even though the educational requirements are low, the potential income you can earn is pretty impressive. For example, the OOH says that the median annual salary for drafters in the U.S. was $55,550 in 2018. And the highest earners made more than $85,140.
---