---
9 Common Questions and Answers About Online Cosmetology Schools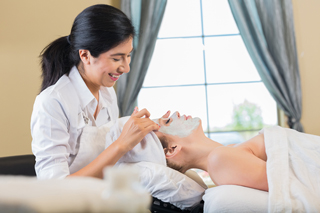 Lots of people just like you want to find out if training with online cosmetology schools is a good option for getting started in the field. An online beauty school can help you start learning the theoretical components of your chosen cosmetology occupation, which means that you could keep your current work and life commitments while learning a new trade. To help you get started, we have covered some of the most common questions below that can help you determine whether online cosmetology training is right for you.
1. What Could an Online Beauty School Teach Me?
Online cosmetology schools can offer you the same type of education that you could expect to receive if you were sitting right in a cosmetology classroom. You could acquire knowledge pertaining to just about anything from cutting and coloring hair to treating minor skin conditions to painting nails. (Keep in mind that online beauty classes are mostly theoretical in nature and you may be required to attend practical components in-person.) You will also find that what you learn will depend on the type of training that you choose.
For example, an online beauty school can provide you with training that covers a broad spectrum of cosmetology topics. Whereas if you opt for an online makeup school, then you can expect to focus on topics related to things like color theory, facial shapes, makeup application, airbrush techniques, and facial contouring. When you choose a nail technician school, online training would likely center around subjects such as nail care treatments, tools, designs, manicures, and pedicures. And with a hair school, online learning may include topics like cutting, styling, relaxing, coloring, and lightening.
So much of what you will learn really depends on the school and the type of program that you choose. Once you know the types of skills that you would like to learn, do your research and make sure that you are selecting schools that can meet your needs. You will also want to make sure that you are looking at accredited online cosmetology schools if you intend to pursue state licensing.
2. How Long Will It Take to Complete an Online Cosmetology School Program?
Like the question above, how long your training will take is largely dependent on the type of program that you choose. For example, an online nail technician course could take anywhere from three months to one year to complete. Aesthetician or skincare programs can also take three months to a year, whereas programs that strictly focus on makeup may only take two or three months to complete. Cosmetology programs are typically the longest and can take a year or longer to finish.
It is important to note that if you plan to achieve state licensing once you have completed your training, then you will want to make sure that the program you have selected will meet your state's education requirements.
3. How Do I Obtain Training Hours With Online Beauty Schools?
In order to become a licensed professional, most states will require you to have a specific number of hands-on training hours. When you take a program with an online beauty school, you may be required to attend the practical portions of the program in-person. Or you may need to find a salon or spa in your local area that is willing to let you intern or apprentice there in order to acquire your necessary training hours.
There are some online cosmetology schools that have developed partnerships with companies throughout the cosmetology industry in order to help you achieve your training hours more easily. Again, it is important to check with your state's licensing department prior to completing any of your training hours to make sure that you're adhering to your state's requirements.
4. Can I Get a Cosmetology License Online?
Many people like you who are interested in convenient and flexible training wonder how to get a cosmetology license online. Although there are beauty classes that are offered online, cosmetology licensing needs to be completed in-person. In addition to having to complete a certain number of hands-on training hours, state licensing departments typically require you to complete an on-site practical exam in order to obtain your license, as well as a supervised written portion. However, you can find practice exams online in order to help you prepare for your state exam.
5. Can I Obtain a License After Training With an Online Nail School?
Almost every state requires nail technicians to have a license in order to work in the field. So, although you can train with one of the nail tech schools online, you will likely have to attend practical components of your program in-person. Or you may be able to acquire state-approved training hours with a salon or spa in your area.
6. Are There Online Cosmetology Courses That Count Toward Continuing Education?
A growing number of online cosmetology schools are offering state-approved continuing education courses for subjects that are more theoretical in nature. And, depending on your state, you may be able to find complete online beauty class packages that will meet all of your continuing education requirements. Those refresher courses can cover subjects like:
Color theory
Cosmetology theory
Nail health
Salon success
Skin health
7. Am I Able to Become a Cosmetology Educator by Training Online?
The answer to that question really depends on the state where you reside. In some states, you can become a cosmetology instructor by becoming a licensed cosmetologist and gaining a few years of practical experience. Other states require that you complete a cosmetology teacher training program, and a few states require cosmetology instructors to obtain a license. So, before you start looking into online options in your area, you should check on the requirements outlined by your state's cosmetology board. (Also note, that like other online cosmetology programs, you will likely have to complete some of your teacher training in-class or on-site.)
8. Are Online Cosmetology Classes the Right Option for Me?
If you are motivated, self-directed, and can stay focused, then training with an online beauty school may be a great choice. Doing so can provide you with the flexibility to learn the theoretical components of the program without having to commit to attending classes. Also, if you currently work in an administrative or assisting capacity within a salon or spa, then you may have opportunities to complete practical portions of your training with your current employer.
9. Where Can I Find Additional Information About Beauty Training and Careers?
Deciding on the right educational path can be a hard decision and it is important to be confident that you are picking the best route to help you reach your career goals. If you would like to learn more about beauty training and careers, then you might find the following cosmetology resources helpful:
---
Make a Decision to Change Your Life for the Better
You are closer than ever to the beauty career that you have always wanted. And online cosmetology schools can help make getting started easier than you had imagined. Discover your training options right now by entering your zip code into the program finder below. You could be helping people look and feel great before you know it!
---