Online Cosmetology Schools
By Luke Redd
| Published
| Last Updated
Summary
By taking advantage of video and other interactive technologies, an online cosmetology school could enable you to start learning this trade from home. And due to COVID-19, many traditional beauty programs are temporarily being conducted through distance education. Depending on your state, learning remotely may be an approved way to get some of the required training you need for licensure.

Online
Programs Available
Find a Cosmetology School
Career Outlook
8.5% growth from 2018-2028
Median Hourly Wage
Cosmetologists
Job Openings
Average Yearly Openings
Length of Training
Most Common Length
Work Settings
Specializations
Hair cutting, hairstyling, hair coloring, nail technology, makeup artistry, facial treatments, skin care, barbering, salon management
Sources
U.S. Bureau of Labor Statistics
U.S. Department of Education
---
Featured School
Sponsored Listing
Not available to residents of some states
Health and Beauty Management
---
---
What You Can Learn
The courses you take through an online beauty school will depend a lot on the institution's approach to teaching and the depth of training it offers. If you are new to the cosmetology field and want to become licensed, then you will likely need some hands-on training in addition to your online or distance-education classes.
At many beauty schools, online courses only cover theory and conceptual knowledge. However, because of the COVID-19 pandemic, some schools have also found ways to help students learn and practice a variety of hands-on skills from home.
Depending on your particular program, you may get to learn about subjects such as:
Anatomy and physiology of the scalp and skin
Common disorders of skin and nails
Infection control and safety regulations
State licensing laws
Beauty-related chemistry
Color theory
Hair design and shaping concepts
Care and treatments for hair, skin, and nails
Hair cutting, styling, coloring, and texturing
Hair removal
Manicures and pedicures
Facial treatments
Makeup application
Portfolio development
Communication and professionalism
Marketing and self-promotion
Beauty product sales
Business management
How Online Cosmetology Classes Are Conducted
Online courses are typically part of a hybrid program. That means a portion of your training happens remotely (i.e., at home and over the Internet), and the rest takes place in person at your school's student salon or through an internship at a professional salon. Due to COVID-19, many beauty schools have adopted new technologies and teaching methods that allow students to practice certain kinds of hands-on techniques at home.
While learning remotely, you may have access to things like:
Interactive e-books
On-demand video lectures and tutorials
Live-streamed video demonstrations
One-on-one chats and full class discussions over video
Digital flashcards
Online discussion boards
Private Facebook groups
Digital portfolio software
Your instructors may issue a wide variety of reading and writing assignments as well as quizzes and practical exercises. For hands-on practice, you might get to use mannequin heads and hands that allow you to perform hair, makeup, and nail techniques. Alternatively, you may be asked to find friends or family members who are willing to have you practice on them. Your teachers will likely evaluate and provide feedback on each completed exercise by having you take and upload photos or videos of what you've done.
Examples of software and online platforms used by beauty school students and instructors include:
Key Benefits of Learning Cosmetology Online
No commute: You can save money on gas or other transportation costs while having more time to focus on your beauty training or other areas of your life.
Extra flexibility: Online cosmetology schools often allow you to choose a study schedule that fits well with your other responsibilities. And you may get to learn at a pace of your own choosing, one that's comfortable for you.
Potential for lower training costs: Some beauty schools charge less for online courses than in-person classes.
Length of Training
Because of state licensing requirements, hybrid or online cosmetology programs typically take the same amount of time to complete as in-person programs. But this may depend on your particular school and the state you are training in. For most cosmetology students, it takes anywhere from seven to 18 months to finish their education.*
Most Common Length of School*
(range in months)
Nail technology

Skin care

Makeup artistry

Cosmetology
---
---
Licensing & Certification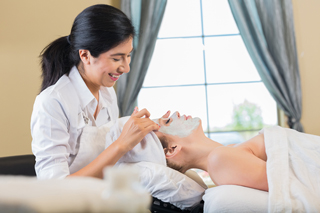 People who are new to this trade cannot get a cosmetology license online. You need to meet the requirements of your state's board of cosmetology, which necessitates completing a minimum number of training hours. In many states, a certain number of those hours must be completed in a hands-on setting. You'll also need to pass a supervised written exam. In addition, several states require applicants to pass an on-site verbal or practical skills exam.
That's why, before choosing an online hair school or cosmetology program, you should learn what the exact licensing requirements are in your state. Your online training hours may not be enough. You may need to accumulate hands-on hours through experience in a school's on-site salon or through an internship or apprenticeship.
Also, make sure that any program you consider is approved by the board of cosmetology in your state. Approved programs are often accredited by at least one of the following organizations:
During the public health crisis caused by COVID-19, some states and accrediting agencies have given approved cosmetology schools permission to temporarily change their in-person programs to distance learning. As long as they properly track students' training hours and keep their student-to-teacher ratios below a certain threshold, the remote instruction they offer will count toward state licensing requirements.
Online Continuing Education for Beauty Professionals
Once you are a state-licensed cosmetologist, you can usually renew your license online. You may need to complete a certain amount of continuing education over a period of time in order to qualify for license renewal. But that kind of education is often available through online or distance learning, including voluntary certification courses in a wide range of beauty-related areas.
State-required continuing education courses are typically related to subjects like health, sanitation, or safety and environmental laws, regulations, and guidelines.
Many cosmetologists voluntarily complete additional online beauty courses from time to time in order to better serve their clientele and keep their expertise current. For example, many existing professionals take short courses related to the latest hairstyles, new skin or facial treatments, trendy nail art, fresh marketing strategies, and more.
---
* Length of training information is based on a combination of information from the Occupational Outlook Handbook, the U.S. Department of Education, and a wide sampling of relevant program lengths from about 30 individual school websites. They are a mix of public, private non-profit, and private for-profit institutions.