How to Become a Pilot: Your Step-by-Step Guide to a Career in the Air
By Publisher
| Last Updated September 15, 2023
Want to learn how to become a pilot so you can make good money while soaring through the sky? This guide has the essential information you need. It outlines a detailed process that can help you go from having absolutely no aviation experience to being fully qualified to operate commercial aircraft.
The qualifications you need to be a pilot depend on whether you want to be a commercial pilot or an airline pilot. (Many people are surprised to learn that they are not the same thing; the summary section below explains the differences.) Essentially, you become a pilot by undergoing ground school and flight training, meeting age, language, and medical requirements, and passing a series of written and practical exams to get the certificates and ratings required by the Federal Aviation Administration (FAA). The process is explained in more detail below.
Right now is an excellent time to learn to fly. Boeing estimates that North America will need 649,000 new pilots between 2023 and 2042. And according to employment projections figures from the Bureau of Labor Statistics, an average of 16,800 positions for commercial and airline pilots should become available each year between 2022 and 2032.*
So start learning how to become a pilot by checking out the following sections:
---
Private vs. Commercial vs. Airline Pilots: A Summary
Aviation training follows a progressive path: Learning how to become an airline pilot usually requires learning how to become a commercial pilot first, which requires learning how to become a private pilot. So it's important to understand the distinctions between the various roles.
With a private pilot certificate, you can operate an aircraft for pleasure or personal business purposes, carry an unlimited number of passengers, and fly below 18,000 feet to virtually anywhere in the U.S. However, you can't be paid for your services.
It takes at least 35 to 40 hours of flight time to get a private pilot's license, but most people end up needing 60 to 75 flight hours to complete all the requirements. So, how long does it take to get a pilot's license at this level? The whole process can take anywhere from two to 18 months, depending on things like weather conditions and aircraft availability. (By contrast, a recreational pilot certificate requires fewer hours of training, but it has more restrictions. For instance, you are limited to carrying only one passenger and staying within 50 nautical miles of your home base.)
If you're interested in learning how to become a professional pilot who gets paid to fly, you will need to pursue a commercial pilot certificate. With this license, you can do things like offer air tours, engage in rescue operations, take aerial photos, and perform crop dusting. You need at least 250 hours of flight time for a commercial pilot's license. Once you get it, you can earn a comfortable income: According to the Occupational Outlook Handbook (OOH), the median salary for commercial pilots was $103,910 in May 2022.* Entry-level pilots at the commercial level earned around $54,100.
Airline pilots are what most people are familiar with: They transport people and cargo on scheduled air routes. They generally start out as commercial pilots, although some come straight from the military. The requirements to become an airline pilot include amassing at least 1,500 hours of flight time and getting your Airline Transport Pilot (ATP) certificate (which is sometimes known as an Airline Transport Pilot License or ATPL). The extra effort can definitely be worth it, since airline pilots make a lot of money. OOH figures show that the median airline pilot salary was $211,790 in 2022.
---
11 Steps to Become a Pilot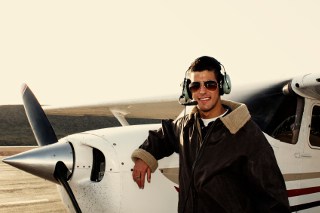 Do you dream of taking to the skies? Are you wondering how to get a pilot's license? This section provides the answers you seek. Here's what you need to do to become a pilot:
1. Try a discovery flight.
If you've ever thought to yourself, "I want to be an airline pilot" or "It might be cool to learn to fly," you may want to begin by contacting a flight school near you and arranging to take a discovery flight. It's an introductory experience that gives you an inside look at the real world of flying. A professional flight instructor accompanies you and handles the takeoff and landing, but they may let you take the controls once you're up in the air (if you're comfortable doing so).
Instructors are usually happy to answer any questions you have about flight training or flying in general. It's a relaxed, low-pressure way to see if an aviation career is right for you. You are not obligated to sign up for any further lessons.
Discovery flights normally involve about 30 minutes to one hour of air time. You will also receive a pre-flight briefing to make sure you understand what will happen on your flight and how to operate the seat belts and doors. Costs range from $100 to $400.
2. Consider a college degree.
A degree is not technically necessary to become a private or commercial pilot. However, most people who want to be airline pilots go to college for a bachelor's degree—either before or as part of completing their flight training. That's because most major airlines prefer to hire pilots who have four-year degrees. Regional airlines are often more open to pilots who lack this level of education, but there's no doubt that having a degree will make you more competitive.
The degree can be in a field like aviation, aeronautics, or aerospace engineering, but it doesn't have to be. For the most part, any major will do. (In fact, a degree in a non-aviation-related field may actually be more useful because it can give you more career options if, for whatever reason, you end up not finding work as a pilot.) Most airlines just want to know that you have the discipline and study habits to successfully meet academic challenges. After all, as a working pilot, you will continually be called upon to learn new systems, procedures, and technology.
3. Choose a flight training route.
When it comes to learning how to fly, you have many options. You can go to a flight school, enroll in a college or trade school program, get training directly from an airline, or go into the military.
Flight schools
There are a couple different types of schools to become a pilot. They are known as either Part 61 or Part 141 schools. The terms refer to the sections of the Federal Aviation Regulations (FARs) that govern how these schools operate.
Part 141 schools are evaluated and approved by the Federal Aviation Administration (FAA) and are very structured and rigid. The curriculum is set by the FAA, and the programs move at a rapid pace; they are primarily designed for students who want to make a career out of flying.

One advantage of training under Part 141 rules is that fewer flight hours are required to acquire your licenses. For instance, becoming a private pilot under Part 141 requires only 35 hours of flight time, whereas pilots training under Part 61 must log at least 40 hours. (But keep in mind that such requirements are simply minimums. It's rare for a private pilot to demonstrate all the necessary skills in less than 60 hours of flight time, so this difference may be moot.) The drawback of Part 141 programs is that the pace and inflexible scheduling may not suit all students.

Part 61 schools are mostly smaller flight schools rather than career-focused academies. In Part 61 training, flight instructors have the flexibility to adapt a program to each aspiring pilot's pace and learning style. You can work your training around your schedule and spend more or less time on certain areas as needed. This can be a good approach for students who wish to complete their training on a part-time basis. However, training this way can take longer.
Some FAA-approved pilot schools offer training under both Part 61 and Part 141.
Training under Part 61 also gives you the flexibility to do your ground school training through one of the many self-study courses available online. Ground school prepares you to pass the written FAA knowledge exams that are required of all pilots.
College or trade school programs
Colleges, universities, and technical schools offer a variety of aviation programs that include flight training (and operate under either Part 61 or Part 141). Some schools have their own fleets of aircraft, while others are affiliated with local flight schools. Many schools let you earn a degree along with your instrument and multi-engine ratings, private pilot certificate, commercial pilot certificate, and certified flight instructor designation in a single program.
Airline cadet programs
In response to the pilot shortage across the U.S., some airlines are offering cadet programs to train prospective pilots. Requirements vary slightly between programs, but all candidates must:
Read, write, speak, and understand English
Have at least a high school diploma or GED
Be legally allowed to work in the U.S.
Hold a valid passport
Be able to get a first-class medical certificate from an FAA-approved medical examiner
Here are a couple examples of airline pilot training programs:
JetBlue's Gateway Select program is designed to take an applicant with zero flight experience and teach them how to become an airline pilot. All candidates who successfully complete the four-year program are offered positions as first officers with JetBlue. You must be at least 20 years old to qualify for the program.

The American Airlines Cadet Academy provides eligible candidates with the training they need to obtain their FAA certificates and ratings as airline pilots. To qualify, you must pass a background check and be at least 21 years old by the end of the program. If you complete the program, you are guaranteed an interview with American's three regional carriers: Piedmont, Envoy, and PSA. American has flow-through agreements with these carriers that allow cadets to move up to the legacy carrier after accumulating enough experience and seniority.
Military service
Many pilots learn to fly in the military. To become a pilot for the Air Force or Navy, you have to become a commissioned officer, which requires having a bachelor's degree. You can get your degree through a civilian college or university or through the Air Force Academy or U.S. Naval Academy.
There are three ways to become commissioned as an officer:
Join a Reserve Officers' Training Corps (ROTC) program at a civilian university or college
Attend the Navy's Officer Candidate School or the Air Force's Officer Training School
Graduate from the Air Force Academy or U.S. Naval Academy
Once you are an officer, you must be selected to undergo pilot training. You will also have to pass a host of aptitude, physical, and psychological tests. If you make it through all of that, the military will pay you to train. However, you will have to commit to a certain number of years of service, so be sure you're willing to undertake such an obligation.
Military pilots often accumulate enough flight hours to qualify for positions as civilian airline pilots when they leave the armed services.
4. Apply for a student pilot certificate.
You must get a student pilot certificate from the FAA before you can fly solo in an aircraft. You don't technically need it to start taking flight training, but some flight schools require you to have it before beginning lessons.
To be eligible, you must be at least 14 years old and fluent in English. You can begin the application process online at the Integrated Airman Certification and Rating Application (IACRA) website. Once you have submitted your application, you must arrange to meet with a certified flight instructor so they can verify your identity, age, and English language proficiency. Once they have done so, your application will be sent to the FAA Airman Certification branch, and you should receive your certificate by mail within about three weeks.
Student pilot certificates do not expire.
5. Get a medical certificate.
In order to pilot a plane alone, you also need a medical certificate from a designated Aviation Medical Examiner (AME). AMEs are FAA-approved medical doctors who understand the physiological aspects of flying. During the exam, the AME will ask about your health history and evaluate things like your eyesight, hearing, and coordination. An AME must certify that you are fit to fly.
There are three classes of medical certificates:
First class is required for airline pilots. For pilots under age 40, a first-class certificate remains valid for one year. Pilots over 40 must recertify every six months. First-class certificates have the most stringent requirements, including an annual EKG for every pilot over the age of 40.
Second class is required for commercial pilots. It remains valid for 12 months. The medical requirements are virtually the same as for first class, minus the EKG requirement.
Third class is required for student pilots and private pilots. It stays valid for five years for pilots under age 40 and two years for pilots over 40. This is the easiest certificate to get, since the vision standards are not as strict as for the other two classes.
You can choose which class of certificate you want to receive. You might want to go for the class that's appropriate for the type of flying you ultimately want to do, since that will enable you to find out if you have any health conditions that will prevent you from reaching your goal. It's better to know that before investing thousands of dollars in training.
You can search for AMEs in your area through the FAA's website.
6. Earn a private pilot certificate.
You can become a pilot if you are at least 17, are fluent in English, and have at least a third-class medical certificate. Becoming a private pilot also requires that you: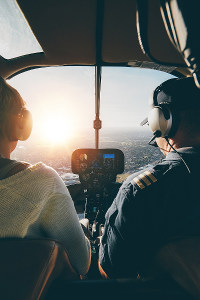 Complete ground training through a certified flight instructor or home-study course: This should cover topics like the principles of aerodynamics, stall recovery techniques, radio communication protocols, and navigation using visual flight rules (VFR). The instructor must endorse you as being ready to take the knowledge exam.
Pass a written knowledge exam with a grade of at least 70 percent: This involves going to an FAA-approved testing center and answering 60 multiple-choice questions in 2.5 hours. FAA data shows that, in 2022, more than 39,000 students took the private pilot knowledge exam, and 89 percent of them passed.
Log at least 35 to 40 hours of flight time, depending on whether you train under Part 61 or Part 141: This should include at least 10 hours of solo flying, five hours of which must be dedicated to cross-country flights. Your flight instructor must also verify in your logbook that you have demonstrated sufficient skills in pre-flight procedures, takeoffs, landings, navigation, stalls, night operations, and more.
Pass a practical flying test (known as a checkride) administered by an FAA-designated evaluator: This includes an oral exam as well as the actual flying portion. You will have to demonstrate different maneuvers like steep turns, stall recovery, and various takeoffs and landings. The whole thing takes about four hours.
Once you receive your private pilot license, you are qualified to operate single-engine aircraft under visual flight rules. That means you can fly in clear weather conditions.
7. Get your instrument rating.
If you want to be able to fly through clouds, fog, and rain, you need to learn how to navigate using only your cockpit instruments. Operating an aircraft in low or zero visibility is challenging and requires a high degree of precision. Having this ability can be handy for private pilots, but it's absolutely essential if you're planning to make a career in aviation.
To get your instrument rating, you must:
Complete ground training through a flight instructor or self-study course: You must learn how to communicate with air traffic control, use instruments for navigation and approaches, avoid wind shear, and operate the aircraft safely under instrument flight rules (IFR). Again, you need to receive an endorsement from your instructor in order to take the knowledge test.
Pass the written exam with a score of 70 percent or better: Just like with the private pilot knowledge exam, you will go to a testing center and answer 60 multiple-choice questions in 2.5 hours. The good news is that, according to FAA data, the vast majority (92 percent) of students who took this exam in 2022 passed.
Log the required number of hours: You will need at least 50 hours as pilot in command of cross-country flights, plus 40 hours in a plane or simulator demonstrating your abilities in areas like air traffic control procedures and clearances, instrument approaches, navigation systems, and emergency operations. You'll also need to do at least one cross-country flight under IFR that goes further than 250 nautical miles and includes at least three different types of instrument approaches. Your instructor must certify that you are ready for the checkride.
Pass the checkride: As before, this includes a couple hours for the oral portion and one or two hours for the flight portion.
Having your instrument rating means you are free to fly in all kinds of weather conditions.
8. Get your multi-engine rating.
Student pilots can choose to get their private pilot certificate by training in a multi-engine aircraft, but this is rare. The typical route involves becoming a private pilot, then getting multi-engine as an add-on rating. Since most commercial aircraft have more than one engine, getting this rating is an important step for anyone who wants to learn how to become a pilot for an airline.
It's actually fairly simple to get your multi-engine rating. No written exam is required, and you don't have to log a specific number of flight hours. As long as you have at least your private pilot certificate, you simply need to get an instructor's endorsement for both ground and flight training in order to take the checkride.
You need to understand multi-engine aerodynamics, procedures, maneuvers, and emergencies. Most pilots need about 10 or 15 hours of flight training to be fully prepared for the checkride. You can typically get your multi-engine rating in just a few weeks.
9. Earn a commercial pilot certificate.
You become a commercial pilot by meeting basic requirements: You must be at least 18 years old, be a licensed private pilot, hold a second-class medical certificate, and have your instrument rating. You must also:
Complete ground training: For commercial pilots, ground training covers areas like high-altitude operations, weight and balance computations, accident reporting requirements, and the use of performance charts. An instructor endorsement is required in order for you to take the knowledge exam.
Pass the written knowledge test with a grade of 70 percent or better: This one consists of 100 multiple-choice questions. You'll have three hours to complete it. According to FAA data, in 2022, 97 percent of the over 14,500 students who took the exam passed; the average score was 88 percent.
Log at least 250 hours of flight time: This must include at least 100 hours as pilot in command, 50 of which must be in cross-country flights. You'll also need to complete at least 10 hours of instrument training, one cross-country flight in daytime VFR and one in nighttime VFR, and one cross-country flight that covers a distance of 300 nautical miles and has a single segment of at least 250 miles. Your instructor must verify that you are proficient enough to take the checkride.
Pass the checkride: As usual, this includes a verbal portion and a flight portion.
Becoming a commercial pilot lets you work as a professional (i.e., paid) pilot.
10. Accumulate flight hours.
If you're hoping to become an airline pilot, you need to focus on building up your flight hours. That's because you need at least 1,500 hours of flight time before you can qualify for your Airline Transport Pilot certificate. Many commercial pilots get their certified flight instructor (CFI) certificate and spend a couple years teaching others how to fly because it's a great way to quickly accumulate the hours they need.
You could also consider working as a pilot in aerial mapping, skydiving, crop dusting, or banner-towing jobs. The more time you spend flying, the faster you can qualify for an airline position.
11. Earn your Airline Transport Pilot (ATP) certificate.
You become a commercial airline pilot by earning your ATP, which is the highest certification a pilot can obtain. With it, you are eligible to fly large commercial aircraft.
To qualify for the ATP, you must be at least 23 and have a commercial pilot certificate, instrument rating, and first-class medical certificate. In addition, you must:
Log 1,500 hours of total flight time: This must include at least 500 hours of cross-country flights, 100 hours of night flights, and 75 hours of instrument time. As noted above, most commercial pilots become flight instructors in order to build up their hours.
Complete an Airline Transport Pilot Certification Training Program (ATP-CTP): This consists of 30 hours of ground school training covering airplane performance, automation, carrier operations, meteorology, crew resource management, and more. You must also complete at least 10 hours in a simulator. The FAA publishes a list of approved ATP-CTP providers. You must complete the ATP-CTP in order to be eligible to take the knowledge exam.
Pass the ATP Multiengine Airplane written knowledge test with a score of at least 70 percent: You have four hours to answer 125 questions. FAA data shows that in 2022, 99 percent of candidates who took this exam passed. Once you pass, you have five years to complete the checkride. You do not need an instructor endorsement.
Pass the checkride: As always, there is both an oral component and a flight component.
Note that you can earn an ATP with restricted privileges at age 21. A restricted ATP (R-ATP) lets you serve as a first officer, but not as a captain. In certain cases, you can even get an R-ATP with fewer than the usual 1,500 flight hours. Here are the exceptions:
Military pilots only need 750 total flight hours.
Graduates holding bachelor's degrees from aviation programs at qualified four-year universities only need 1,000 flight hours if they completed at least 60 credit hours of aviation courses and received their commercial pilot certificate through the school's Part 141 training.
Graduates holding associate degrees from aviation programs at qualified two-year colleges only need 1,250 hours of flight time if they completed at least 30 credit hours of aviation courses and received their commercial pilot certificate through the school's Part 141 training.
Once you meet the age requirement and get the 1,500 hours of flying time, you can have the restriction removed and enjoy the full privileges of being an airline-qualified pilot.
Most pilots spend a few years as first officers at regional airlines before being promoted to roles as captains. After a few years at the regional level, you can apply for a job with one of the major airlines.
---
Frequently Asked Questions About Becoming a Pilot
1. Is it hard to become a pilot?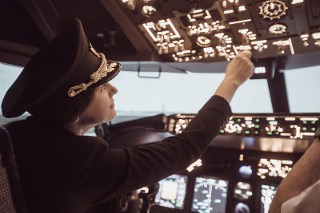 If you are motivated and committed, it isn't too hard to become a pilot. There are lots of steps to go through and challenges to meet, but many people find the process interesting and enjoyable. And the payoff is the freedom and adventure that comes with being involved in aviation.
As with any profession, becoming a pilot requires persistence and dedication. If you put in the effort to study and prepare properly for each exam and each flight, you will advance. Just take it one step at a time.
2. How long does it take to become a pilot?
That depends on what kind of pilot you want to be, the training path you take, and how often you get to fly. It can take two months to become a pilot if you're content with flying single-engine planes as a hobby. It can take three or four years (or more) to get qualified as an airline pilot and accumulate the necessary flight hours. A person who trains under Part 61 can progress at his or her own pace, which obviously varies, whereas a person training under Part 141 will follow a set timetable.
A student who flies four or five times a week will make quicker progress than a student who flies once a week or less often. And since flight training can only be done in reasonably good weather conditions, a student pilot in a mild climate will likely have more opportunities to fly than one who lives in an area that experiences more extreme or varied weather.
3. How much does it cost to go to flight school?
The cost of going to flight school varies widely; it depends on the training path you choose. It costs anywhere from $4,000 to $15,000 to get a private pilot's license. As a rough estimate, this is what you can expect to pay for your:
Instrument rating: $7,500 to $24,000
Multi-engine rating: $5,000 to $19,800
Commercial pilot certificate: $15,000 to $46,000
Flight instructor certificate: $5,000 to $15,000
ATP-CTP course: $4,000 to $11,000
Overall, it typically costs $82,000 to $102,000 or more to go from no flight experience to earning your ATP. Many training institutions offer financing, and you may be able to reduce your costs through financial aid. Here are a few examples of organizations that offer scholarships to aspiring pilots:
---
* Bureau of Labor Statistics, U.S. Department of Labor, Occupational Outlook Handbook, https://www.bls.gov/ooh/. Some careers listed may be part of a combined occupation profile (visited August 23, 2023).