What Is a Bachelor's Degree? The Essential Facts You Need to Know
By Publisher
| Last Updated July 15, 2021
You may have heard that a bachelor's degree can be a valuable asset, but you might be fuzzy about the specific details. So, what is a bachelor's degree? Why should you think about getting one? And how can you go about doing that?
Here's a quick summary: A bachelor's degree is an undergraduate credential obtained from a university or college, typically after about four years of study (though, as you will see below, that can vary).
It is the most common post-secondary credential in America. People with this level of education can choose to either enter the workforce or go on to graduate studies in order to get a master's degree or PhD.
A bachelor's degree is called that because in the 13th century, bachelor referred to a junior member of a guild who had completed the lowest level of training but had yet to master the profession. Eventually, the credential awarded to a person who completed the first stage of university training became known as a bachelor's degree. (Many people are confused about whether it's a bachelor degree or bachelor's degree; the possessive form, "bachelor's degree," is the grammatically correct one when used in a generic sense.)
This article explains the different types of bachelor's degrees that are available and how you can choose the one that's best for you. It also outlines five different ways you can earn a bachelor's degree other than attending a traditional college for four years. And it describes four key benefits of achieving this level of education.
---
Types of Bachelor's Degrees
You can study an almost infinite number of subjects at university or college that result in bachelor's degrees. The most common types of these degrees are the Bachelor of Arts (B.A.) and the Bachelor of Science (B.S.). Both are comprised of general education courses, classes that are specific to your major, and elective courses. Both can qualify you for graduate studies. However, there are some subtle differences between them.
A Bachelor of Arts degree program tends to be broad and interdisciplinary, exploring the humanities, liberal arts, and social sciences. Students typically have the flexibility to take a variety of courses outside their chosen major and customize their educational path. B.A. programs cover a vast range of concentrations, including literature, fine arts, history, philosophy, economics, journalism, and gender studies.
A Bachelor of Science degree program is typically more focused and specialized. It usually goes more in-depth within a subject area and requires students to complete more credits that are directly related to their majors. While a B.A. program is designed to help students develop communication and critical thinking skills, a B.S. program tends to emphasize technical and analytical abilities. Bachelor of Science programs frequently offer majors in areas like chemistry, physics, math, agriculture, computer science, engineering, and nursing.
However, it can get confusing because, in many instances, you can choose either a Bachelor of Arts or a Bachelor of Science track for the same discipline. For example, a bachelor's degree in business (which is the most popular degree at this level) can often be taken as either a B.A. or a B.S. The content of both programs would be very similar, but the B.A. track would typically include more courses in areas like history or a second language, whereas the B.S. option would generally involve more classes in math and statistics.
That said, there are no hard and fast rules about the distinctions between a B.A. and a B.S. In many cases, the differences are so minor as to be essentially moot. In fact, some colleges only award Bachelor of Arts degrees, even in scientific fields.
So, what is a better degree—B.A. or B.S.? Neither is inherently superior. Most employers simply want to know that you have studied a relevant field and earned a bachelor's degree; the abbreviation is typically not important.
If both are options for you, review each program's course requirements and think about your future goals. The best degree to get in college is the one that most closely aligns with your overall aims. If you want to explore a range of disciplines or enhance your communication or intercultural skills, a Bachelor of Arts might be a good choice. If you have more of an analytical bent or are hoping to focus on scientific research or lab work, a Bachelor of Science may be a better option.
Here are a few factors to think about when making your decision:
Is one program more rigorous or challenging than the other?
Does one program offer more of the courses or specializations you want?
Does one program include more appealing internships?
Is one program more commonly accepted for graduate studies in your particular field of interest?
---
How Many Years Is a Bachelor's Degree Program?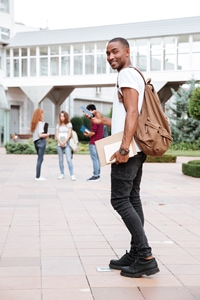 Generally speaking, it takes four years to earn a bachelor's degree if you study full-time. But some programs, such as those in areas like engineering, can require five years. In most cases, you must complete 120 semester credits (or 180 credits if your school uses quarters rather than semesters).
However, it's common for students to take more than four years to finish their degrees, particularly if they study on a part-time basis. In fact, college completion rates are calculated based on six years rather than four. According to the National Student Clearinghouse Research Center, about 68 percent of students who started at four-year institutions in 2012 had completed their degrees six years later.
Keep in mind that while some students complete their entire degree at a four-year college, many do their first two years at a community college, earn an associate degree, and then transfer to a four-year institution for the final two years of a bachelor's program. This is often a more economical route to higher education: College Board data shows that on average, a two-year public college costs $3,730 per year for an in-district student, while a four-year public institution costs $10,440.
It's also worth noting that it is possible to get a bachelor's in three years or even less. Some people do this by supplementing their regular studies with online courses and summer school. Others take special accelerated programs that operate year-round and allow students to complete their degrees sooner.
So, typically, a bachelor's degree is four years of college. But six years of college is called acceptable in terms of completion rates. And three years of college can sometimes be enough.
By way of comparison, in most cases, an associate degree is two years of college. A master's degree is one to three years of additional study once you have your bachelor's. And it takes anywhere from four to six years to get a PhD after you earn your master's.
---
How to Get a Bachelor's Degree: 5 Non-Traditional Options
Traditionally, you get a bachelor's degree by attending college for four years and completing roughly 120 credits. But that's far from the only option. Here are a few other ways you can achieve your goal:
1. Speed up your studies.
In many cases, you can get a bachelor's degree fast by taking Advanced Placement (AP) courses while you're still in high school. Depending on how well you score, you may qualify for college credit even before you graduate. More than three dozen AP courses are available, covering everything from history and psychology to physics and English. It's wise to check whether the college you plan to attend awards credit for AP classes (and what minimum scores it will accept). If you're already well-versed in a certain subject area, you can sit for the AP exam even without taking the course.
Similarly, you might be able to parlay your existing knowledge into college credits by earning a good score on College-Level Examination Program (CLEP) exams. CLEP exams cover material you would normally find in introductory college courses, so scoring well on them can often help you fulfill some of the general education requirements of a bachelor's degree. But make sure to check whether your intended college accepts CLEP exams for credit.
You can also finish your degree sooner by taking online classes on top of your regular course load and/or picking up extra classes during the summer. This can work if you're highly motivated and extremely disciplined, but watch that you don't overextend yourself. You don't want your grades to suffer. It's also important to plan out your schedule carefully, since not all courses may be available during the summer months or at the time you need to take them.
You don't necessarily have to spend time in a classroom in order to earn your bachelor's degree. An extraordinary variety of programs are available through distance learning. Even degree programs in areas like education and nursing that require supervised practicums can be completed online, although you will have to do the in-person portion at a facility in your local area.
The convenience and flexibility of Web-based programs can be very appealing to students who live far away from traditional colleges or are seeking to fit their education around family, job, or other commitments. The National Center for Education Statistics notes that in the fall of 2019, 15 percent of all undergraduates were taking distance education courses exclusively.
Studying online can result in cost savings, since you don't have to pay for on-campus housing or transportation to and from a school. Plus, online degrees from accredited schools are just as valued by employers as those that are earned the traditional way. And many of them can lead to high-paying careers.
However, studying online comes with its own challenges. To succeed, you need to be very organized and self-driven. The lack of in-person social interaction can be a drawback for some people. And if you learn best in a group setting, with direct instruction from a teacher, an online format may not be a good option.
3. Start with an associate degree.
Many students complete a two-year associate degree at a community college and then transfer to a four-year university to finish the final two years and receive a bachelor's degree. Going this route can save you a substantial amount of money, since community colleges are typically much cheaper than four-year institutions.
Articulation agreements (also known as transfer pathways or 2+2 transfer agreements) map out how community college classes can meet course requirements at four-year institutions. Some of them stipulate that a particular type of associate degree from a community college fulfills the general education requirements of the four-year school. And some guarantee admission to associate degree holders from partner institutions who maintain a certain grade point average (GPA).
Review all agreements carefully before beginning your studies. Some students end up having to take additional classes at the four-year school because many of their community college credits were not transferable. However, if you are admitted to a community college under a 2+2 program, you will be guided to select courses that will apply toward your ultimate goal of a bachelor's degree.
Note that articulation agreements are usually made between educational institutions within a certain geographic area. If you're hoping to transfer to a school in a different region, be sure to contact the school to discuss your options.
You can also start your quest for a bachelor's degree by earning an associate degree at a career college, vocational school, or technical institute. In many cases, you can then continue on to complete a bachelor's program at either the same school or a different institution. Depending on the credit-transfer policies of each college, you may be able to complete your bachelor's degree in less time than the standard four years. However, it's important to speak to an advisor to see how many of your courses can be applied to the bachelor's degree program.
4. Take an accelerated program.
Another way you can get a degree fast is by enrolling in an accelerated bachelor's program. Traditional college courses last for 16 weeks and are offered once in the fall and once in the spring. But in an accelerated program, courses are shorter (typically five to 10 weeks each) and are offered far more frequently, even through the summer. Students take the same number of classes as they would in a traditional program, but on a compressed schedule. That allows them to finish their bachelor's degrees on a faster timeline. Most programs can be completed in three years or less.
Accelerated programs can save you both time and money and enable you to begin your career sooner. If you're an organized self-starter who is keen to get a degree as soon as possible, an accelerated program could be a good way to go.
However, the fast pace and intense nature of accelerated programs can make them unsuitable for some people. If you need plenty of time to absorb learning materials or prefer to have a break between courses, an accelerated program may not work for you.
5. Consider a competency-based program.
Unlike traditional education models, which are based on seat time and credit hours, competency-based education (CBE) programs focus on subject mastery. Students are not tied to a particular course schedule; instead, they go at their own pace and demonstrate their knowledge and skills by completing projects, simulations, or portfolios. Mentors provide learning materials and guidance, but not direct instruction. If you learn well through self-study or have gained expertise through work or life experience, you can progress very rapidly through a CBE program and earn your bachelor's degree sooner.
Many CBE programs operate on a subscription basis. That means you pay a flat fee for a set period of time (typically six months) and are free to complete as many competencies as you can during that timeframe. For some students, that can mean finishing a degree for much less time and money.
However, if you tend to procrastinate or take a long time to master a competency, you could end up spending lots of money and making little progress toward your degree. To get the most out of a CBE program, you need to be very motivated and self-directed. It's also important to note that many programs require students to already have either an associate degree or a certain number of college credits under their belts.
---
4 Benefits of Getting a Bachelor's
Are you trying to decide on an educational path? Here's why you should get a bachelor's degree:
1. More employment opportunities
With a bachelor's degree, jobs in many areas become more available to you. According to the Bureau of Labor Statistics (BLS), 21 percent of all occupations require a bachelor's degree for entry-level positions. What's more, jobs requiring a bachelor's degree are projected to grow by 10 percent between 2016 and 2026, whereas occupations requiring only a high school diploma are expected to see a growth rate of just five percent over the same time period.
2. Higher earning potential
Getting a bachelor's degree can help you make more money. Employment projections from the BLS show that in 2018, the median weekly earnings for a worker with a bachelor's degree were $1,198. That's significantly more than the $862 for someone with an associate degree and $730 for a worker with only a high school diploma. In fact, one study found that, overall, having a bachelor's degree boosts lifetime earnings by 43 percent for men and 51 percent for women (compared to only having a high school diploma).
Research has revealed that getting a bachelor's degree leads people to have a more positive attitude toward their work. People with this level of education frequently report that they feel they have a career, not just a job. In one survey, 60 percent of U.S. workers with bachelor's degrees said they derive a sense of identity from their jobs. But only 38 percent of those with a high school diploma or less agreed.
4. Increased job stability
Generally speaking, those who earn bachelor's degrees have an easier time finding and holding on to jobs. BLS employment projections reveal that the unemployment rate for people with this level of training is consistently lower than the rate for those with less education. In 2018, only 2.2 percent of bachelor's degree holders over age 25 were unemployed, compared to 4.1 percent of those with only a high school diploma.
---