23 Awesome Jobs for Writers That Offer Real Opportunities
By Publisher
| Last Updated September 7, 2022
Here's a news flash: Good jobs for writers really do exist. You can parlay your love of the written word into a paying gig. The truth is that the technology, media, entertainment, public relations, marketing, publishing, and advertising industries all need people who can craft high-quality content. The range of possible writing careers is far broader than you might expect.
But, as with any creative field, it can be difficult to pinpoint opportunities. That's partly because writing jobs, in contrast to other occupations, don't follow a set formula. (If you want to become an engineer, you get an engineering degree. If your goal is to become a nurse, you complete a nursing program. But if you dream of becoming a writer, the path you need to take isn't nearly as clear-cut.)
That's why we've compiled a list of 23 jobs for many types of writers across many different fields. We've also included some tips on how to find legit freelance writing opportunities. And if you're wondering how to support yourself while getting established, you might want to check out our suggestions for day jobs that let you write on the side.
Salary information is based on May 2021 data from the Occupational Employment and Wage Statistics (OEWS) program and the Occupational Outlook Handbook (OOH).
---
Jobs for Writers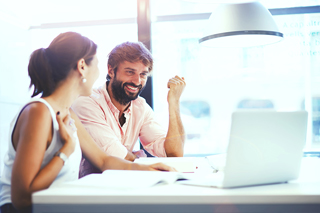 Writing is a natural fit for online or at-home work, so you don't have to be limited to jobs in your local area. Whether your interests run to business, technology, news, public relations, or the arts, you can probably find a writing job to suit you. Many of the jobs on this list even pay pretty well. Here are just a few examples of careers in writing that you may want to consider:
1. Content strategist
Content strategists combine strong writing and communication skills with analytical thinking and marketing know-how to plan, create, and manage online content that achieves specific business goals. They apply principles of search engine optimization (SEO) and study analytics to figure out what kind of content is working (and what kind isn't) so that they can adjust their strategy accordingly. Training in journalism, communications, or technical writing can be a good first step toward this career.
2. Communications director
Overseeing various types of corporate communications and making sure the public views your company in a favorable light requires a blend of top-notch writing and marketing skills. In this role, you establish the communications goals of a company and develop branding and style guidelines for press releases, articles, newsletters, email campaigns, advertisements, and other marketing materials. This is a high-level position that requires several years of experience; be prepared to work your way up.
3. Technical writer
A key skill for any technical writer is the ability to take complex technical jargon and turn it into plain English. These writers design and develop software manuals, user guides, technical specifications, and other complex documentation. A big part of the job involves drawing useful and relevant information out of software developers, engineers, and other professionals, so solid interpersonal skills are essential. Of all jobs in writing, this one has one of the best outlooks: It's expected to see faster-than-average job growth between 2020 and 2030, according to the OOH.
4. Proposal writer
A common fixture in consulting firms and sales departments, proposal writers prepare documents related to pricing, marketing, and product design. They assess requests for proposals (RFPs) and develop responses to help their employers win new business and secure contracts. To succeed in this role, you need excellent organizational and writing skills as well as an eye for detail and a solid understanding of how your company can meet the needs of potential clients.
5. Grant writer
Crafting proposals to secure financial support for foundations, non-profit agencies, and other organizations is a responsibility that falls to grant writers. They are a key part of the fundraising staff in many places. Grant writers are in charge of identifying funding sources and developing written materials that target each potential donor. Flexibility is important; some donors expect a one-page document, while others look for much lengthier proposals.
6. Web content writer
Many companies need writers who are highly skilled in researching and writing digital content like blogs, articles, and landing pages. You might be required to conduct online research or interview subject matter experts to gather information. Having some knowledge of search engine optimization (SEO) techniques is very helpful.
Median salary for a writer or technical writer: $69,510 - $78,060
7. Speechwriter
It's not just politicians and government officials that rely on speechwriters: You could also work for business executives, notable celebrities, or public relations firms. To do this job effectively, you need to be able to write persuasively about policies or principles that you may not always agree with. A degree in journalism, communications, or political science is a good place to start. Joining Toastmasters or observing debates can also be good training.
8. Screenwriter
Do you dream of creating the next Hollywood blockbuster? Screenwriters are the creative energy behind films and television shows. You could adapt a novel for the big screen, write an episode of an established show, or develop an original movie script from scratch. You need to understand the basic structure of a screenplay as well as how to create interesting characters and write peppy dialog. You also need to be open to constructive criticism: Making revisions is how screenwriters spend most of their time.
9. Novelist
When people think of careers in writing, this is often one of the first that comes to mind. If you can create compelling characters that people want to know more about, and put them in unique situations that force them to tackle a problem or undergo a change, you might have what it takes to make it as a novelist. It's not enough to have a great idea; you also need to develop an outline and work out plot points, dialog styles, and character arcs. Traditionally, novelists have worked with literary agents to market and sell their books, but self-publishing is an increasingly popular option.
10. Advertising copywriter
Creating captivating copy for print, online, television, or radio advertisements is another way to put your writing skills to good use. The ultimate aim of an advertising copywriter is to make people want to buy a particular product or service. Whether you're creating slogans, billboards, radio jingles, or social media ads, you need to be able to say a lot with just a few words. Internships can be a good way to get started in this field.
11. Marketing communications specialist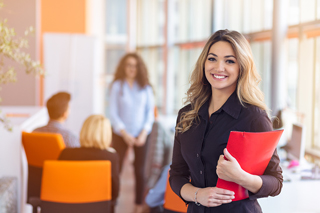 Also known as communications officers, these specialists create content that furthers an organization's marketing goals: brochures, e-books, press releases, and so on. This role involves making sure that all written content follows branding guidelines and uses the company's agreed-upon voice. You need some knowledge of business and marketing as well as communications to make it in this field.
12. Book editor
Suggesting changes and improvements to a manuscript that an author has slaved over for months or years requires tact and diplomacy as well as editing skills. Book editors are responsible for shaping and developing a manuscript to get it ready for publication. Your job is to bring a fresh eye to a piece of text and work with the author to strengthen the fundamentals and structure of the story. Many editors work for publishing houses, but going out on your own as a freelancer is also possible.
13. Copy editor
Copy editors are the quality assurance technicians of the writing world. They carefully read through a piece of written material to root out spelling errors, grammar problems, and style inconsistencies. While a book editor deals with the big-picture structure and form of a story, a copy editor gets into the nitty-gritty details and makes sure the text aligns with editorial guidelines. In some cases, copy editors are also responsible for fact checking. You'll likely need an English or journalism degree to snag a copy editing job.
14. Public relations specialist
Cultivating relationships is key to the success of a public relations specialist. After all, you need to be on good terms with journalists, editors, bloggers, and other content producers in order to effectively control and manage the public image of your client or company. The ability to convey a message clearly and succinctly will serve you well in this field. Internships are a great way to get your foot in the door of many public relations firms.
15. Social media specialist
More and more companies are realizing they need to maintain a social media presence, which means lots of opportunity for writers who know how to tailor messages to the demographics, text limits, and content styles of platforms like Facebook and Twitter. You could find yourself blogging about the latest high-tech gadget or analyzing metrics on the company's audience and views. Training in marketing or communications can be helpful.
16. Translator
If you can write fluently in more than one language, you can seek work as a translator. And you may not have to look far to find opportunities: Employment in this field is expected to grow 24 percent between 2020 and 2030. You could work in areas like law, healthcare, publishing, and education. You need meticulous attention to detail to do this kind of work. Just remember: It won't be your job to make changes to (or improve upon) the text.
17. Columnist
Columnists are basically unshackled reporters: They're paid to give a subjective opinion on current events. As a columnist, you're expected to offer persuasive and reasoned opinions and perspectives on anything from city council's latest traffic bylaw to the current state of the U.S. economy. Many columnists also write books or serve as experts on radio and TV talk shows. You need several years of experience in your niche (e.g., politics, humor, fashion, sports, whatever) to be considered for a columnist role.
18. Journalist
Whether you focus on TV, radio, print, or the Web (or more likely a combination of those), you will spend much of your time as a journalist searching out newsworthy information and turning your findings into articles, scripts, and podcasts. Most journalists start with entry-level writing jobs as general reporters, but with experience you could work your way into a niche like sports, business, science, or the arts. News can break anywhere, anytime, so be prepared for a non-traditional schedule.
19. Film critic
Being a film critic involves more than just getting to watch movies for free. You get to frame your thoughts as an informative review that draws people in. That means you need to have a thorough understanding of the filmmaking process. You also need to have solid interviewing skills and a knack for finding unique angles that make your story stand out from the crowd, so getting some journalism training will serve you well.
Median salary: $48,370 for all reporters
20. Proofreader
Proofreaders are the last line of defense for a piece of content. They make sure there are no errors in the grammar, spelling, spacing, or margins of a document. In the publishing world, proofreading is the final step after the copy edit is complete. Proofreaders also check that the table of contents is formatted correctly and that any photos have appropriate captions. A degree in English or journalism can give you the skills you need for this job.
21. Greeting card writer
More than 75 percent of people buy greeting cards based on the connection they make with the text, according to the Greeting Card Association. Whether you're creating a funny happy birthday message or a compassionate get-well card, you need to craft concise verses that touch people's emotions. The key is to come up with something that a broad spectrum of people can relate to. Playing around with rhymes, allusions, and metaphors can be good practice.
22. Travel writer
For wordsmiths with wanderlust, a career as a travel writer may be what's needed to satisfy those creative and nomadic urges. You could develop a wide range of content, from guidebooks and magazine features to blogs and how-to-travel articles. Coming up with original and interesting ways to describe a destination can be a real challenge. This is almost entirely freelance work, which means self-promotion is a big part of the job.
23. Ghostwriter
A ghostwriter is an "invisible" contributor to a piece of content. You write it; your client gets to claim the credit for it. As a ghostwriter, you could be writing corporate blogs, putting out social media updates in a celebrity's name, or transforming a client's ideas, research, or life stories into a book. Ghostwriting can lead to many opportunities, though the field is not without controversy.
Average earnings: Rates vary enormously
---
How to Find Legitimate Freelance Writing Jobs
Whether you're a newbie looking for your first paid gig or an experienced professional seeking a bit of side business, going freelance may be right up your alley. But finding legitimate job postings can be a challenge. We've listed a few sites here that gather and post solid opportunities. (And most of these sites won't charge you anything to access their listings.)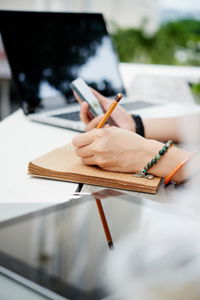 Always be sure to read the fine print before you apply for any project. Some sites offer their listings for free but take a cut of any earnings you receive. And beware of content mills that expect writers to churn out articles at a breakneck pace for absurdly low rates (sometimes as low as one cent per word). It's up to you to do your research and decide if an opportunity is right for you.
---
The Pros and Cons of Ghostwriting
Does the idea of writing under someone else's byline intrigue you? A growing number of executives, politicians, celebrities, and notable professionals are hiring ghostwriters to turn their thoughts into a marketable form of content. Working as a ghostwriter can be a great way for aspiring writers to polish their skills and make some money. But before you decide to become a pen-for-hire, you need to understand the pros and cons.
Pros
You can write about any or all topics without worrying about being publicly judged on the quality of your work, since your name is not attached to the content. If you have an established reputation in a particular niche, ghostwriting in another area can let you experiment without damaging your public brand.
You get a chance to step into the lives of fascinating people who have reached the pinnacle of their professions.
You can often charge more for ghostwritten copy precisely because of the lack of recognition you receive for the work. Plus, you usually get paid up front instead of having to wait on royalties from sales.
Promoting the book is not your responsibility (and sales make no difference to you if you received a one-time payment up front), so you can just move right on to the next project.
Cons
No byline generally means you can't use your work in your portfolio, which obviously makes it difficult to demonstrate your writing chops to potential clients. You can end up relying on your existing clients to refer you to future business, which doesn't always happen.
Letting someone else take credit for your work can be demoralizing. You will likely have to sign a non-disclosure agreement that specifies you can never imply that the name on the cover isn't the person who actually authored the book. You might even have to watch your client explain to an interviewer how he or she went about writing the words you so painstakingly crafted.
If the book becomes a best-seller or wins a Pulitzer, you get no part of the royalties or rewards.
Some writers view ghostwriting work as a simple business transaction and wholeheartedly recommend it. Others feel it's unethical to allow someone to purchase content and pass it off as their own. Make sure you do your research before getting involved so that you fully understand the deal.
---
Day Jobs for Aspiring Writers
Getting established as a writer takes time, but you probably still have bills to pay. You might want to consider a side job that won't stress you out but will still let you have plenty of time to work on your craft. Here are a few suggestions:
Retail stock clerk: Unloading trucks and putting items on shelves is physical work, but it's often done at night or in the early morning, leaving you time for creative pursuits.
Cab driver: This is a fairly low-stress career that lets you choose your own hours. Plus, you can get great material for stories as you meet people from different walks of life.
Security guard: You might be able to write during long stretches of downtime, especially if you work night shifts.
Bartender or restaurant server: You can make extra money from tips and meet lots of colorful characters who might inspire your writing.
Office cleaner or housekeeper: This kind of work keeps you physically active without draining your mental resources.
Tutor or writing coach: You can keep your creative juices flowing by helping others polish their prose.
---
Write Your Next Chapter
Now that you know that plenty of jobs for writers are out there, it's time to think about how you can best prepare to take advantage of those opportunities. Do you have the skills you need for the job you want? Vocational colleges and trade schools offer career-focused training for all kinds of occupations that involve writing. So explore convenient programs near you by entering your zip code into the search tool below!
---