42 Great Jobs for Business Majors With a Bachelor's or Better
By Publisher
| Last Updated June 17, 2021
Organizations in every industry need people who can lead teams, manage money, and make data-driven decisions. That's why jobs for business majors are so incredibly diverse and wide-ranging. Your education can prepare you to make an effective contribution to just about any sector you can name.
Plenty of students wonder, "What jobs can I get with a business degree?" But honestly, it might be easier to list the ones you can't get. That's because business is a broad field that encompasses everything from accounting and marketing to human resources and management.
Business programs are designed to teach you how companies organize themselves, raise revenue, allocate resources, and create value. By completing such training, you develop your analytical, leadership, problem-solving, and decision-making skills. These are valuable and versatile abilities that can be applied in a myriad of ways. As a business major, jobs in private companies, nonprofit organizations, and government agencies all become open to you.
Many people find good jobs with associate degrees in business. But the list of jobs below is divided into entry-level positions for business graduates with a bachelor's degree and jobs that require some work experience or a higher level of education. These ideas are intended to get you pondering the extraordinary variety of career possibilities that could be in store for you. Use them as a springboard for your own exploration!
Median salaries are based on data from the Occupational Employment and Wage Statistics (OEWS) program unless indicated as being from (1) PayScale or (2) Indeed. All figures are rounded to the nearest thousand.
---
Why Study Business?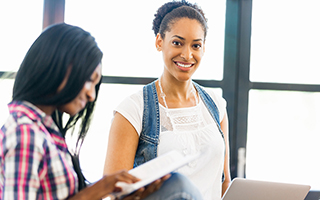 Business has long been the most popular undergraduate major among American college students. In fact, of the 2 million bachelor's degrees that were awarded between 2018-2019, 19 percent of those degrees were in business. More students received bachelor's degrees in business than in all of the STEM fields combined.
But if it's that common, is a business degree useless? Not at all. Its popularity stems from the fact that a business education can open the door to a vast range of employment possibilities. You can do a lot with a general business degree: pursue sales positions, go into advertising, become a management trainee, start your own business, and much more.
Plus, an incredible range of concentrations and specializations are available within the broader disciplines of business administration and business management. Good business majors include:
Accounting
Finance
Actuarial science
Human resources
Marketing
Advertising
Hospitality management
Management information systems
Healthcare administration
Supply chain management
International business
Business economics
Nonprofit management
Each specialization comes with a whole host of career opportunities. For example, jobs you can get with a finance degree include financial planner, investment banking analyst, and credit counselor. If you specialize in marketing, you can become a product manager, retail buyer, or market research analyst. With a focus on human resources, you can pursue a position as a corporate trainer or benefits specialist. The possible careers in business are nearly endless.
Ultimately, business is a good degree choice for anyone who's interested in learning how to evaluate data, build relationships, and boost an organization's bottom line.
---
How Much Do Business Graduates Make?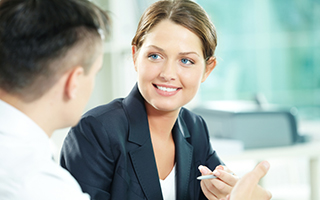 Careers for business majors often come with good pay. According to a Georgetown University report that cites median earnings, you can make $66,000 with a business degree at the bachelor's level. That's pretty decent, considering the overall median salary of someone with a bachelor's degree is $62,000.
Of course, your earnings will depend on your area of focus as well as your level of education. For example, the report notes that you can make $64,000 with a business management degree at the undergraduate level. But if you get a graduate degree in business management, you could make about $82,000 per year.
Overall, the report says that the highest-paying business majors at the bachelor's level are actuarial science ($89,000), management information systems ($81,000), and business economics ($77,000). Among graduate degrees, actuarial science is the business major that makes the most money ($123,000), followed by business economics ($101,000) and finance ($101,000).
Keep in mind that your income will also depend on the type of position you land. As you will see in the lists below, the highest-paying business jobs are typically those in upper management, such as CEO ($184,460), financial manager ($129,890), and sales manager ($126,640). But even non-management roles often command comfortable salaries. For instance, a business analyst makes about $79,605 a year, while a management consultant (sometimes known as a business advisor) makes $85,260. And an investment banking analyst earns around $116,159.
---
23 Entry-Level Jobs for Business Majors With a Bachelor's Degree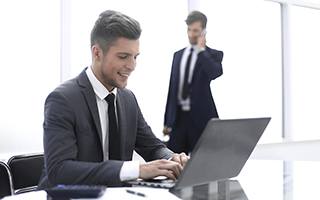 It takes about four years to get a degree in business at the bachelor's level. Putting in that time can be well worth it, as this type of education can lead to career opportunities in finance, marketing, sales, human resources, event planning, and a variety of other sectors. So, what jobs can you get with a business degree at the undergrad level? Here are almost two dozen options:
1. Investment banking analyst: $116K2
This is one of the highest-paying jobs you can get right out of business school. Investment banking analysts interpret economic trends and assess financial data in order to help their employers close deals, complete mergers, or acquire new business. They scrutinize the financial health of different companies, create valuation models, and develop pitch books.
2. Actuary: $108K
Actuary consistently ranks among the best jobs for business majors who love math, statistics, and finance. These professionals are responsible for calculating and managing risks for insurance companies. They use their business knowledge and analytical skills to assess the likelihood of negative events and come up with policies to mitigate the financial fallout of such events. You'll need to pass a few exams in order to become certified.
3. Financial planner: $88K
Devising strategies to help clients achieve their financial goals can be a highly rewarding way to use your business degree. Financial planners provide advice on everything from reducing taxes and choosing investments to selecting insurance and preparing for retirement. Becoming a Certified Financial Planner can raise your profile and help you attract new clients.
4. Financial analyst: $82K
The primary task of financial analysts is to evaluate economic conditions and assess the fundamentals of different companies in order to help their employers make sound business decisions. They study the performance of various stocks and bonds and try to determine which investments provide the best opportunities. A bachelor's degree can get you started in this field.
5. Business analyst: $78K2
This role bridges the gap between the operational and technical sides of a company. Business analysts define and document business objectives and stakeholder requirements, then translate those needs into functional requirements for the development team. Taking information technology courses as part of your degree can be very helpful.
6. Logistics specialist: $75K
With a bachelor's degree in business admin, you can pursue positions that involve getting raw materials and products from one place to another in a timely and cost-effective way. Logistics specialists manage and track the movement of goods in order to ensure that the supply chain operates as efficiently as possible. Manufacturing companies, transportation service providers, humanitarian organizations, and the armed forces all rely on people with this type of expertise.
7. Accountant: $72K
Tracking the financial health of companies is the role of accountants. They record transactions, calculate payroll, prepare tax returns, and make sure that all applicable regulations are followed. Entry-level accounting jobs are open to candidates with bachelor's degrees in business; completing an internship while you're still in college will boost your employment prospects.
8. Securities trader: $70K1
Traders focus on buying and selling bonds, stocks, derivatives, commodities, and other securities under the direction of portfolio managers. It's critical to stay up-to-date on market conditions; these are fast-paced jobs. With a business degree that concentrates on finance, economics, or accounting, you can qualify for entry-level positions. Keep in mind that you will also need a license from the Financial Industry Regulatory Authority (FINRA).
9. Market research analyst: $64K
What do consumers want to buy and how much are they willing to pay? That's what market research analysts try to discern. They monitor sales trends, collect data through surveys and focus groups, and present their findings in reports for company decision-makers. These are some of the fastest-growing jobs for business administration majors; employment in this field is expected to grow 20 percent between 2018 and 2028, according to the Occupational Outlook Handbook.
10. Retail buyer: $64K
Deciding what merchandise will appear on store shelves is the main task of retail buyers. They study sales data and evaluate market trends in order to forecast what types of products will sell best. They are also involved in managing inventory and negotiating contracts with vendors. Many buyers focus on specific market segments, such as clothing, toys, or sporting goods.
11. Loan officer: $63K
Customer service is an important part of loan officers' jobs. That's because they're responsible for guiding clients through the loan application process. These officers review the financial history, income level, and credit rating of each applicant in order to determine if the loan should be approved. Some of them specialize in personal loans, lines of credit, mortgages, or commercial loans.
12. Financial services sales representative: $62K
Some common jobs for college business majors who are just starting out involve contacting potential clients to pitch products such as credit cards, checking accounts, loans, or mutual funds. The idea is to offer financial solutions based on each customer's needs. Depending on the specific products you sell, you may need to be licensed by FINRA.
13. Human resources specialist: $62K
Positions in human resources (HR) are among the most common entry-level jobs for business management majors. HR specialists assess the staffing needs of an organization and find qualified candidates to fill job openings. They review resumes, interview applicants, conduct background checks, and orient new hires. They also process the paperwork required when employees leave an organization.
14. Internal auditor: $59K1
Many companies rely on internal auditors to determine whether their organizations are functioning as well as they could be. Auditors scrutinize the operations of a business (often focusing on financial reporting) in order to identify weaknesses or inefficiencies. Their job is to look at how tasks are carried out to see if the business is complying with the appropriate regulations or standards.
15. Fundraiser: $58K
Fundraising is one of the best business jobs for people who are committed to a cause and passionate about making a difference. These professionals raise money by organizing events, coordinating media campaigns, applying for grants, and appealing to potential donors. Volunteering with charities or other nonprofit organizations while you're still in college can help you get your foot in the door.
16. Account manager: $54K1
Keeping clients happy is the name of the game for account managers. Once the sales team brings new clients on board, account managers work to nurture those relationships and ensure that the company delivers what the clients need. Their main job is to boost customer satisfaction and generate additional revenue from existing clients by selling add-on services or products. A bachelor's degree in business, advertising, or marketing is good preparation for this career.
17. Advertising sales representative: $53K
Advertising sales representatives focus on selling media space or airtime to companies that are seeking to promote their services or products. These reps meet with potential advertisers to learn about their needs and explain how different types of ads (such as print, online, or television) can best reach the clients' target markets. Communication skills are paramount in this career.
18. Corporate event planner: $51K
Making sure that meetings, conventions, and trade shows go off without a hitch is the job of corporate event planners. They create budgets, select venues, negotiate vendor contracts, make travel arrangements, coordinate catering, oversee attendee registration, and organize audiovisual equipment. When the event is over, planners make sure clients are satisfied and vendors are paid. Training in event management, business management, or hospitality management can help you develop relevant skills.
19. Insurance agent: $51K
Want to help people protect themselves from the unexpected? Insurance agents assess clients' needs and financial resources in order to recommend appropriate coverage. They often sell a variety of insurance types, such as life, health, property and casualty, or long-term care policies. You'll need to be licensed by your state.
20. Employment recruiter: $50K1
When businesses have open positions that need to be filled, they often turn to recruiters to find qualified candidates. Recruiters can work for a single company within the human resources department or for multiple companies as independent contractors. They search for candidates on networking sites, conduct screening interviews, and make recommendations to hiring managers. It's important to be detail-oriented.
21. Media planner: $50K1
A common fixture in advertising agencies, media planners are in charge of placing ads in the right places and at the right times. They collect data on people's reading and viewing habits in order to determine the most effective way for a company to connect with its target audience. You need to be well-versed in all types of entertainment, from network TV shows and national newspapers to popular blogs and social media sites.
22. Business reporter: $46K
If you have a knack for explaining business trends and economic concepts in plain English, you may find opportunities as a business journalist. In this role, you can use your understanding of how companies work to help readers understand issues affecting the financial markets or particular industries. Writing for the campus newspaper is a great way to start accumulating some clips to show potential employers; you might also want to showcase your expertise by keeping a blog.
23. Credit counselor: $46K
Why not use your business know-how to help financially stressed people get back on track? Credit counselors assess the state of their clients' finances and come up with recommendations for managing spending and clearing outstanding debts. They also provide general advice on budgeting and expense tracking. Certification is available through the National Association of Certified Credit Counselors (NACCC).
---
19 Business Jobs That Require Experience or an Advanced Degree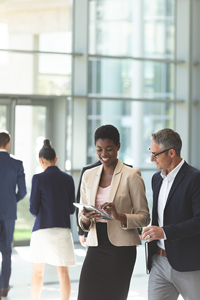 As you might expect, many of the top jobs for business majors are not entry-level positions. Instead, they require you to get a bit of real-world experience or work your way up through the ranks. And some (especially the best-paying jobs) are generally reserved for candidates with higher levels of education. That could explain why about 22 percent of those who complete a bachelor's degree in business go on to get a graduate degree in the field. After all, an MBA is a professional degree that can open plenty of doors.
Have a look at 19 business careers that you can pursue once you have some experience and/or a graduate degree:
1. Chief executive officer (CEO): $184K
CEOs are the top-ranking executives in organizations. They're in charge of setting overall strategy, formulating policies, and managing business operations. They are the public faces of their businesses and bear the ultimate responsibility for their companies' performance. A higher-level degree can definitely be an asset; you'll also need extensive experience in management or supervisory roles.
2. Financial manager: $130K
Maximizing profits while minimizing costs is all in a day's work for financial managers. They analyze sales and economic data, direct the allocation of company assets, and advise senior executives about the best ways to generate revenue and improve market positioning. They also supervise staff members who prepare budgets and financial reports. A master's degree and several years of experience are typically required.
3. Sales manager: $127K
As the leaders of their companies' sales teams, sales managers hire and train staff, assign territories, and set targets. They also analyze sales data in order to gauge customer preferences, determine pricing, and customize pitches. A big part of this job involves mentoring and coaching sales staff in order to improve their performance. It's important to have a few years of sales experience.
4. Corporate lawyer: $123K
Would you like to help organizations conduct business better? Corporate lawyers provide advice on companies' legal rights and responsibilities. They evaluate potential ventures, negotiate deals, draft agreements, and ensure that their clients' interests are well protected. A business degree provides an excellent foundation for a legal career, but you'll still need to complete law school and be admitted to the bar in your state in order to practice.
5. Product manager: $108K2
Imagine a job where you transform consumer needs into innovative products. Product managers evaluate business objectives and market conditions in order to set an overall vision and strategy for a product line. They are the people who decide what should be built and when. They establish feature requirements, oversee design and development, and ultimately guide products to market.
6. Health services manager: $101K
Whether they are in charge of a single department or an entire hospital, health services managers are responsible for making sure that high-quality patient care is delivered in an efficient way. They hire and supervise staff, create budgets, monitor spending, and oversee patient billing. They also ensure that their facilities comply with all relevant laws and regulations.
7. City manager: $92K1
Looking for a chance to apply your business skills to the public sector? City managers are tasked with coordinating and overseeing the operations of municipal governments. Under the direction of city councils, these managers create budgets, hire administrators, and direct policy implementation. Negotiating contracts and maintaining harmonious labor relations are often key aspects of the job.
8. Management consultant: $85K
When companies need to solve operational issues or boost their overall efficiency, they often bring in management consultants to help them find the best way forward. Consultants interview staff members, study financial reports, and observe business procedures in order to come up with recommendations to improve performance and create value for the company. Many of them focus on one industry, such as technology or healthcare.
9. Sports agent: $74K
Are you fascinated by the business aspect of sports? Sports agents work out the details of contracts between athletes and teams, sponsors, or event promoters. They also manage their clients' finances, handle public relations issues, and provide career guidance. Many start out as interns in sports agencies and accumulate years of experience before becoming agents. In most states, you'll need to be registered in order to act as an agent for student athletes.
10. Business development manager: $73K1
Securing new opportunities to generate revenue and improve a company's competitive advantage is the focus of business development managers. These professionals concentrate on business growth. They research and identify new prospects, develop strategic partnerships, and come up with ideas for new products or services. Most of them have significant work experience in sales or marketing.
11. Knowledge manager: $73K1
The main responsibility of knowledge managers is to oversee the collection, curation, and distribution of a company's information assets. These professionals assess what a company's staff need to know and determine the best ways to disseminate that information. That means maintaining a knowledge base about a business's products, people, and services and making it available to employees through content management systems. A bachelor's degree and several years of experience are the usual requirements.
12. Compliance officer: $69K
Compliance officers are in charge of ensuring that companies' policies and procedures are in line with regulatory requirements. They identify risks within organizations, develop policies to manage those risks, and track the effectiveness of their efforts. Many of them work in the financial services industry, but opportunities can also be found in the telecommunications, healthcare, and oil and gas sectors. Professional certification is available.
13. Corporate travel manager: $67K1
Many large companies rely on corporate travel managers to plan and coordinate travel arrangements for employees in accordance with company policies. The idea is to ensure that a business's travel budget is used appropriately and effectively. Typical tasks include negotiating favorable rates with vendors, overseeing expense claim processing, and providing advice on things like visas and insurance. Many employers look for candidates with managerial experience.
14. Social services manager: $67K
Someone has to lead the team that provides assistance services to community members facing social challenges. That's the role of social services managers. They write funding proposals, create budgets, recruit and train staff, and oversee program implementation. They also evaluate the effectiveness of various initiatives. Many positions call for an MBA or an advanced degree in social work.
15. Benefits specialist: $65K
The primary goal of benefits specialists is to obtain the best deal on a comprehensive benefits package for company employees. These specialists research and evaluate perks like health insurance, dental benefits, retirement savings plans, employee wellness programs, and much more. They compare costs and advise management on the best options. Most positions require several years of human resources experience.
16. Corporate trainer: $61K
To ensure that staff members have the skills they need to perform their roles better and create value, many organizations hire corporate trainers. This position focuses on teaching job-specific skills to corporate employees. That could mean coordinating executive development programs for workers who are hoping to move up or organizing retraining programs to help employees adjust to technological changes. You'll need a few years of related work experience.
17. Commercial property manager: $59K
These professionals manage revenue-generating properties like hotels, shopping malls, and office buildings. They meet with prospective tenants, conduct background checks, negotiate leases, collect rents, and ensure that repairs and maintenance activities are carried out. A degree in business administration along with plenty of real estate experience can help you get into this role.
18. Restaurant manager: $55K
Making sure that all customers have a pleasant dining experience is the ultimate goal of restaurant managers. They hire and supervise employees, order supplies, manage budgets, and arrange for services like cleaning and laundry. They also ensure that the restaurant complies with health standards. A degree is not technically required, but hospitality management training and food safety certification will serve you well. Many managers start out as servers or cooks and work their way up.
19. Hotel manager: $54K
Hotel managers oversee all aspects of hotel operations, from reservations and housekeeping to maintenance and marketing. They aim to make sure that all guests have a pleasant stay and that the hotel runs smoothly and efficiently. They recruit and monitor staff, establish room rates, track expenditures, and coordinate building maintenance. They also deal with guest questions and concerns. Experience is critical; you need to understand how all the different departments work together.
---
Enhance Your Professional Potential
You've explored the extraordinary array of jobs for business majors, so now you can focus on getting the training you need to achieve your aspirations. Did you know that vocational colleges and trade schools offer streamlined programs that can help you gain the market-ready skills you need to move your business career forward? Just put your zip code into the search tool below to generate a list of convenient training options in your area!
---