Finding the Best Desk for College Students (and the Best Chair, Too)
By Publisher
| Last Updated February 25, 2022
For college students, finding the best desk is essential for academic success. Why? Hours spent slumped over the wrong desk, staring into the blue light of a laptop screen, can be tiring and even cause physical issues, like a sore, stiff neck.
Before you start shopping for the best desk, though, keep in mind some of these important factors:
Adjustable height—can you lift the desk easily?
Ergonomics—say goodbye to back pain.
Simple design—not a lot of places to collect dust.
Size—will it fit in your dorm room?
Price—what's your budget?
Assembly—is it pre-assembled or easy to assemble, or does a professional need to assemble it?
We hope you'll enjoy our handy guide for finding the best desk for college students—and maybe some of the best chairs, too.
This article contains affiliate links. We are compensated with a small commission, at no extra cost to you, for sales made through the links.
---
Best Desks for College Students Under $100
1. JOISCOPE Home Office Computer Desk
This compact little desk for college students packs a lot into its small footprint. Besides the desk surface (which comes in both vintage oak and solid black finishes), there's a small area where you can place a cup of coffee or a small printer. The desk also includes two shelves to stow textbooks or other supplies. Its industrial style makes it no-nonsense, solid, and compact. Buyers complement the desk's ample legroom and room for two monitors.
Pros
Solid construction
Easy to assemble
Cons
Some complaints about missing parts
Laminate desktop scratches easily
Buy on Amazon
2. Cubiker Computer Desk
Another choice easy on the budget when you're shopping for the best desk for college students, this unit is compact and simply designed. It includes a hanging storage pocket to stash supplies, a few books, or even a Bluetooth keyboard. The desktop comes in various finishes, including black, natural, dark brown, light brown, and walnut. You can even choose how much space you need (or what will fit!) because the desk width ranges from 32 inches to 63 inches. Purchasers say the desk is sturdy, attractive, and ideal for a small room.
Pros
Sturdy steel structure
Easy to assemble
Variety of finishes to fit your décor
Cons
The finish is not stain resistant
Too low for people over 5' 8"
Buy on Amazon
3. Coleshome Computer Desk
This simple, minimalist desk for college students comes in various finishes and sizes, ranging from 31 inches to 63 inches in width. The desktop is both waterproof and scratch resistant. The frame's construction features heavy-duty, powder-coated steel to ensure stability. The desk's adjustable feet allow a customized height for a variety of surfaces, ranging from laminate to carpet. Purchasers say they were blown away by how easy this desk is to assemble—and how attractive it is.
Pros
High value for the price point
Easy assembly
Sturdy
Cons
Some complaints that screws are the wrong size
Buy on Amazon
---
Best Desks for College Students—Mid-price ($100-$250)
1. American Trails Freestanding Ladder Desk
This attractive desk delivers a lot of bang for the buck. It's made of solid maple wood, rather than particleboard, and has three shelves above the desktop itself. There's also a lower shelf and a pull-out drawer to stow your gear. This U.S.-made desk offers plenty of space for books and notebooks. For stability, the ladder attaches to the wall. This desk for college students comes in two finishes: white, or natural maple and white. Buyers praise the desk's quality, ease of assembly, and attractive style.
Pros
Sturdy hardwood construction
Easy to assemble
High quality
Cons
Only suitable for people under 5'2"
Some complaints about missing parts
Buy on Amazon
2. Office Oasis Computer Desk With Cable Management
This small desk offers three feet of desk space and is the perfect size for most dorm rooms. It comes in three finishes—black, pear (blonde wood), and teak. It features a cable management tray with zip ties to secure cables and keep your work area tidy. Users praise the desk's solid construction, ease of assembly, and the manufacturer's promise that if the desk is damaged in transit, you can call them for a replacement—no return necessary.
Pros
Cable management tray
Waterproof and scratch-proof
Sturdy
Cons
Buy on Amazon
3. Tempered Glass Computer Desk
If you're looking for a small computer desk with a sleek modern look, this is worth your consideration. The clear tempered glass top coupled with chrome legs fits nicely with nearly any décor. Buyers praise the desk's ease of assembly (although warning—the glass top is heavy), and its chic aesthetic. Easy to clean with window cleaner and a soft cloth, this desk for college students will serve you for years.
Pros
Sleek modern look
Easy to assemble
Waterproof
Cons
Buy on Amazon
---
Best Desks for College Students—Corner Desks
---
Best Desks for College Students—Foldable
1. JSB Small Folding Desk
This folding desk is perfect for a small dorm room with limited space. Setup is easy, and so is folding it down. Its sturdy wrought iron frame provides stability and offers hooks for headphones and a side bag to stash pens, notebooks, or whatever else you need to store. The desk comes in three finishes—white, black, and brown. You can also customize the desk and order it without the hooks, with additional hooks, or without the side bag.
Pros
Super-easy assembly
Ample workspace
Cons
Must remove desktop before folding
Buy on Amazon
2. Elephance Folding Desk
This stylish little folding desk comes in three finishes—white, black, and black oak. Best of all, it comes fully assembled. The steel frame is sturdy, and the desktop is made of P2 particle board, which is higher quality than the typical particleboard used in furniture. An attached Velcro strap is included to hold the table together while folded. Buyers across the board seem pleased with the desk, and compliment its ease of use, functionality, and attractive style.
Pros
Pre-assembled
Sturdy
Attractive
Cons
No drawer or keyboard tray
Buy on Amazon
3. GreenForest Folding Desk With Shelf
This folding desk features a small top shelf and comes fully assembled. Big plus: it folds completely flat so that you can stow it under a bed, a chair, or in a closet. The desk provides a bit more study space, while not taking up the entire dorm room. Holding up to 88 pounds, the desk is solid and can accommodate two monitors. It comes in three finishes—black, brown, and espresso.
Pros
No assembly required
Folds down easily
Solid
Cons
No drawers or keyboard tray
Buy on Amazon
---
Best Desks for College Students—Standing
1. SIDUCAL Mobile Stand-Up Desk
This adjustable desk allows you to stand or sit with the twist of a few knobs. While sturdy, the desk is lightweight and easy to move around, thanks to the rolling casters. Both the front and rear desktops are also adjustable so that you can control the height and angle of each. The desk comes in oak, rustic brown, white, black, and pink. Purchasers praise this little desk, saying it's easy to assemble, easy to move, and an excellent value for the price.
Pros
Cons
Small desktop
Wheels tend to lock while moving
Buy on Amazon
2. Flexispot MT3 Mobile Standing Desk
This desk for college students is a step up from the Siducal standing desk above. It features a pneumatic gas spring that lets you raise or lower it easily. Only two wheels lock, making this desk easy to move. The MT3 offers some handy features, such as a backpack hook and a tiltable desktop. Buyers say it's easy to assemble and comes with clear instructions.
Pros
Easy assembly
Sturdy design
Pneumatic spring mechanism
Cons
Buy on Amazon
3. Stand Steady Cruizer Express
This mobile workstation packs a lot into a small package. It has a pneumatic mechanism for easy raising and lowering. There's a fold-out mouse pad on one side of the desk surface and a fold-out cup holder on the other. There's also built-in cord management to control clutter. Two locking casters keep things steady. Purchasers mention the unit is easy to assemble.
Pros
Easy assembly
Good features
Cons
Buy on Amazon
---
What Is the Best Desk Chair for College Students?
1. BestOffice Ergonomic Chair
This budget-priced chair is constructed with a mesh back to keep you cool, as well as comfortable lumbar support. Whether you use it as a gaming chair or a desk chair, the flip-up arms make it easy to move around or even sit cross-legged. The chair comes in seven colors, ranging from standard black to hot pink. Purchasers say they were happily surprised by how comfortable the chair is.
Pros
Good for people weighing less than 250 pounds
Mesh back keeps users comfortable
Adjustable height and angle
Cons
Not suitable for heavier people
Buy on Amazon
2. Soges Ergonomic Kneeling Chair
Kneeling chairs look awkward but are good for your back and core muscles because they force you to assume a neutral sitting position. This chair features a sturdy adjustable steel frame and locking wheels. Holding up to 220 pounds, the chair features faux leather upholstery placed over high-density foam. Buyers rave about how using the chair has improved their back and hip issues.
Pros
Helps back and neck pain
Improves posture
Cons
Weight capacity—only holds 220 pounds
Buy on Amazon
3. Gaiam Classic Balance Ball Chair
Sure, you can use your balance ball as a chair, but the Gaiam Classic is a game changer. Why? The first reason is the frame. You can get a stationary frame or a frame that allows you to swivel. Both have casters. Second, the chair comes with an air pump to keep the ball inflated, as well as an exercise guide. Third, the ball itself comes in seven colors. Micro-movements from sitting on a balance ball can do a lot for core muscle strength. The ball chair holds up to 300 pounds.
Pros
Comfortable
Lightweight
Ergonomic
Cons
Only good for people who are between 5'5" and 5'10" in height
Buy on Amazon
---
We hope this guide to the best desk for college students has been useful. Please read on to see our FAQs.
---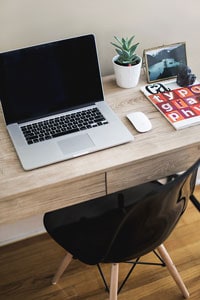 FAQs
Do colleges provide desk chairs?
Most college dorm rooms do provide a desk chair. However, it may not be to your liking or meet your needs. Talk to your college advisor to learn more.
What is a chair with a desk attached called?
A classroom desk or student desk.
Should I buy a chair for college?
First, consider what the standard dorm chair is like and if it's comfortable. You don't want to have to sit on an uncomfortable chair for nine months.
---