Cosmetology Schools in Texas
Last Updated
By attending one of these cosmetology schools in Texas, you can be taught the skills you need to kick-start a career in an area like hairstyling, makeup artistry, or esthetics.
Beauty schools in Texas can give you hands-on instruction in the fundamentals of cosmetology and esthetics, from safety and sanitation practices to product knowledge to industry trends. You can also learn professional techniques related to hair design, nail technology, makeup, hair removal, and skin care.
Many Texas cosmetology schools even help students meet requirements for getting industry licensing. Discover an esthetician school that can get you on track for a career in the rewarding and enjoyable field of beauty.
Inquire about the programs below by asking for more details from the cosmetology schools in Texas that trigger your curiosity!
---
---
Texas Cosmetology Schools
Sponsored Listings
---
---
3 Common Questions About Cosmetology Careers in Texas
Cosmetology schools in Texas can prepare individuals like you for rewarding and diverse career opportunities. You could achieve a position that engages your sense of style and creativity and also offers freedom and flexibility. Many cosmetologists are able to set their own hours, and some even go on to start their own businesses.
If you're considering a career in beauty, then you may have important questions such as "What are the licensing requirements?" or "What is the average salary of a cosmetologist?" Take a look below to discover the answers to three common questions about cosmetology careers in this state.
1. How Do I Obtain a Cosmetology License in Texas?
Your first step toward becoming a licensed cosmetologist is completing a program approved by the Texas Department of Licensing and Regulation (TDLR). Depending on your program choice, you can prepare to become a cosmetologist, barber, esthetician/skincare specialist, or nail technician (also known as a manicurist/pedicurist).
Along with successfully completing your program of study from one of the approved beauty schools in Texas, you will need to achieve the minimum required training hours for your profession in order to take the TDLR's licensing exam. The training hour requirements are as follows:
Cosmetologist—1,500 hours
Barber—1,500 hours
Esthetician—750 hours
Nail technician—600 hours
A cosmetology license in Texas is all-encompassing. Along with providing hair services, you can also offer facial and nail treatments, including manicures and pedicures. The esthetician and nail technician licenses are only required for individuals wanting to offer those specific services without the addition of hair care.
Upon becoming licensed, cosmetologists, estheticians, and nail technicians must complete a minimum of four hours of continuing education every two years. There are no continuing education requirements for barbers. However, all four professions require license renewal every two years upon the date of original licensure.
2. What Is the Average Salary of a Texas Cosmetologist?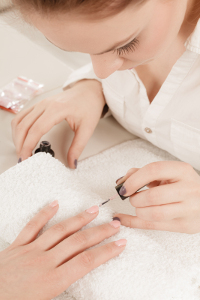 Here is a breakdown of the average annual wages earned by cosmetologists, estheticians, and nail technicians statewide in 2018, according to the Texas Workforce Commission (TWC):
Cosmetologists—$25,524
Estheticians—$28,596
Nail technicians—$24,186
Some factors that can influence your total earnings include your level of experience, employment type, location, and the amount of tips or commissions you earn. Many cosmetology workers in Texas are self-employed, which can lead to greater flexibility and earning potential. And the region where you work can also make quite a difference. The highest-paid cosmetologists were found in the Austin area, whereas the highest-earning nail technicians were in the Alamo region.
3. What Is the Expected Job Outlook for Cosmetologists in Texas?
People working in the cosmetology profession in Texas can expect a strong job outlook. TWC estimates that there could be 7,479 job openings in the field over the decade between 2016 and 2026, which would mean an 18.7-percent increase in the number of jobs. And skincare specialists in Texas are expected to enjoy job growth of 19.8 percent from 2016 to 2026. Considering these projections, it could be an opportune time for you to begin your cosmetology career.
---
Where Do I Go From Here?
With cosmetology schools in Houston, San Antonio, Dallas, Amarillo, El Paso, and other places in between, your journey can begin right here. Uncover the possibilities, and discover the programs nearest you by entering your zip code into the search box below!
---