34 Great Jobs for People with Disabilities
Plus, 8 Tips on How to Find the Job You Want
By Publisher
| Last Updated July 22, 2020
Good jobs for people with disabilities are possible to find. No matter what type of disability you might have, you can discover the satisfaction that often comes from realizing—and using—your strongest abilities and skills.
Besides, more and more organizations are now actively creating jobs for disabled people. In fact, great opportunities can be found within nearly every industry. The government, healthcare, technology, and financial sectors, in particular, are increasingly becoming more welcoming to those who are physically or mentally challenged.
In this article:
Data on the prevalence of disabilities is based on the 2019 version of the Annual Disability Statistics Compendium. Average annual salaries are based on 2019 estimates from the Occupational Employment Statistics (OES) program.
---
Planning Your Future Career
America is home to more than 20 million working-age individuals who live with at least one disability. If you're one of them, then understand that you are absolutely capable of achieving your career goals. You just need to find the people and organizations who will support your enthusiasm and determination. And you need to know how to conduct an effective job search.
So as you explore what your future might hold, take some time to look into the many career options you may not have considered before.
The following suggested jobs for disabled people are intended to help you begin that journey. But they are just ideas based on what other people with disabilities have been able to accomplish. You are a unique individual with your own interests and talents. Try not to limit yourself. If you can imagine a career you want, then you may be able to make it happen.
Use this list as a starting point. And keep in mind that some of the ideas in each disability category may also work for people who fall under one or more of the other categories.
---
Career Areas for People Who Are Physically Disabled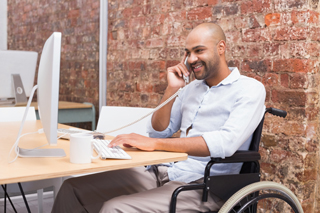 About 9.4 million Americans between the ages of 18 and 64 live with mobility problems or other physical limitations. But having such a disability doesn't always have to mean giving up a career. Regardless of whether your impairment is a result of a congenital defect, accidental injury, or something like a neuromuscular disease, it may be possible for you to build a satisfying vocational life. And whether or not you use one, these options all are suitable jobs for people in wheelchairs. Here are some of the occupational areas you might want to explore:
1. Medical Administration
You don't usually need to be very mobile to work in a medical office or hospital department. And many employers in this industry value having people on staff who understand what some of their patients might be going through. Plus, areas like medical billing and coding often provide opportunities for telecommuting.
Average salaries:
Medical office assistants: $35,720
Medical records and health information technicians: $46,590
Medical and health services managers: $115,160
2. Accounting
Handling financial matters as an accounting or bookkeeping specialist can be a great way to keep your mind engaged. And it's something you can do from a desk customized just for you.
Average salaries:
Bookkeeping and accounting clerks: $42,960
Accountants and auditors: $79,520
3. Pharmacy Services
In recent years, many pharmacies have become more open to providing jobs for disabled adults. So it's possible to have a career as a pharmacy technician or assistant. Plus, some pharmaceutical companies also offer opportunities in sales to outgoing people who have disabilities and experience taking certain medications.
Average salaries:
Pharmacy aides: $30,490
Pharmacy technicians: $35,250
Sales representatives for drug companies: $92,980
Pharmacists: $125,510
4. Marketing and Market Research
If you live with a disability, then you have the potential to offer a lot of useful insights to companies and other organizations that want their brands, products, and services to connect with people like you. The marketing industry is full of ways to use your creativity or analytical abilities.
Average salaries:
Marketing specialists and research analysts: $71,570
Marketing managers: $149,200
5. Vocational Counseling
Why not help others find great jobs for people with disabilities? With the wisdom drawn from your own experiences, you can do a world of good as an occupational guidance counselor to disabled students and adults.
6. Almost Any Career That Lets You Work from Home
You might be in a situation where the less you have to go out, the better. In that case, jobs for disabled people at home can be a terrific option. Example careers that can provide such an opportunity include areas like computer support, medical transcription, graphic design, writing, and web development.
Average salaries:
Medical transcriptionists: $35,210
Graphic designers: $56,510
Computer support specialists: $56,550
Writers and authors: $73,860
Web developers: $82,370
---
Careers for People That Have Intellectual Disabilities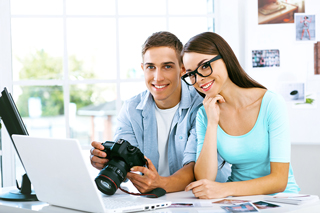 More than 8.8 million working-age Americans have some kind of cognitive disability. And hundreds of causes exist for intellectual disabilities that result in conceptual, social, or practical-living impairments. As a result, people within this category display a very wide array of possible talents. So not all of these career ideas are appropriate for everyone. But they do represent some very interesting jobs for the disabled among us who deal with conditions like Down syndrome or autism spectrum disorder. Consider these examples:
1. Culinary Arts
Commercial kitchens offer opportunities that are well-suited to those who need routine as well as those who have a lot of inherent creativity.
Average yearly wages:
Restaurant cooks: $28,700
Bakers: $29,630
Chefs and head cooks: $56,310
2. Design, Illustration, or Photography
Many people who have an intellectual disability are very artistic by nature. Maybe you're one of them. If so, you can turn your unique way of seeing the world into a fun career in the visual arts.
Average yearly wages:
Photographers: $45,440
Graphic artists: $56,510
Interior designers: $60,990
Painters, sculptors, and illustrators: $63,030
Multimedia artists and animators: $84,780
Fashion designers: $86,110
3. Broadcasting Technology
Some people have shown that they can thrive by working behind the scenes at a television studio or radio station.
Average yearly wages:
Broadcast technicians: $46,800
Camera operators: $64,960
Sound engineering technicians: $67,090
4. Truck Driving
Imagine the sense of freedom you might get from being out on the open road. Learning to drive a semi-truck may be totally possible for you.
Average yearly wages:
Light truck or delivery services drivers: $38,520
Heavy and tractor-trailer truck drivers: $46,850
5. Heavy Equipment Operation
Trucks aren't the only large pieces of mobile machinery that need people to operate them. Some intellectually disabled adults have had success learning to work equipment like bulldozers and backhoes.
Average yearly wage: $54,210
6. Veterinary Assistant
There's something about working with animals that can really draw out the very best in a person. So if you love dogs, cats, and other critters, then this might be an excellent option for you.
Average yearly wage: $29,690
7. Computer Programming
People with conditions such as Asperger syndrome can flourish in a career that utilizes their ability for focused and intelligent problem solving—without having to be around too many other people. Maybe you fit that profile and will go on to become something like a video game programmer or mobile software developer. Did you know that mobile app developers have some of the most satisfying jobs you can get? It's true. CNN Money even named mobile app developer as the number one best job in America.
Average yearly wages:
Computer programmers: $92,610
Applications and systems software developers: $111,620
---
Careers for the Visually Impaired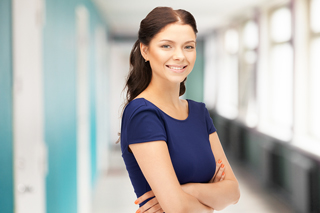 Over 3.8 million Americans between the ages of 18 and 64 have some type of visual impairment. But assistive technologies that allow them to work and contribute continue to get more sophisticated. Braille computer displays and voice-command technology are just two examples. So visually impaired professionals can be found in almost every vocation. That said, here are a few particularly compelling jobs for blind people:
1. Teaching and Early Childhood Education
Young people are curious and always looking for new sources of inspiration. As a person who is blind or has impaired vision, you can bring your distinctive insights to the classroom or playground, which can challenge students' imaginations and inspire them to grow.
Average salaries:
Childcare workers: $25,510
Teacher assistants: $29,640
Elementary school teachers: $63,930
2. Paralegal Services
Law firms may be able to use your unique perspective on issues. Plus, you may find your niche in providing legal assistance to clients who live with a disability and want a professional they can easily relate to.
3. Music Production
As a visually impaired person, one of your gifts might be an enhanced ear for music. And that could mean you have a talent just waiting to be used for recording, editing, or mixing songs and sound.
Average salaries:
Audio equipment technicians: $51,260
Audio recording engineers: $67,090
Producers in the music recording industry: $95,390
---
Careers for Those Who Are Deaf or Hearing Impaired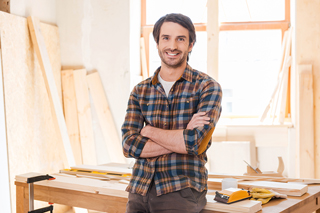 Hearing disabilities such as deafness affect close to 3.9 million working-age adults in America. But people in this category have a higher rate of employment than any other disability group.
And, like those with vision disabilities, people who have hearing disabilities have found career opportunities in just about every sector. Even so, some options stand out, such as:
1. Performing Arts
Talented performers come in all varieties, but many deaf people have proven that they have the skills and charm to excel in areas like acting and show production.
Average wages:
Actors: $29.14 per hour
Theatrical arts producers: $69,060 per year
Movie producers: $109,540 per year
2. Drafting
This option is good for anyone who really enjoys focusing on something without a lot of distraction. Plus, you get to play a role in making buildings or other structures come to life.
Average yearly wages:
Civil and architectural drafters: $58,080
Mechanical drafters: $60,500
Electronics and electrical drafters: $65,720
3. Science
Whether it's biotechnology, chemistry, or something else, many people with hearing impairments have achieved incredibly meaningful careers in the sciences.
Average yearly wages:
Conservation scientists: $67,040
Wildlife biologists: $67,200
Chemists: $84,150
Sociologists: $90,590
Atmospheric scientists: $97,160
Geologists: $108,350
Astronomers: $122,270
Physicists: $131,080
4. Carpentry
This skilled trade can be truly enjoyable, especially if you're the type of person who has an extra keen eye for detail.
Average yearly wage: $52,850
5. Medical Laboratory Technician
Accurate diagnostic testing is a crucial part of the healthcare system. And it requires great vision, which may be a strength of yours. Plus, in some jobs, you don't have to communicate with too many people face-to-face.
Average yearly wage: $54,780
---
Careers for Those With Psychiatric or Emotional Disorders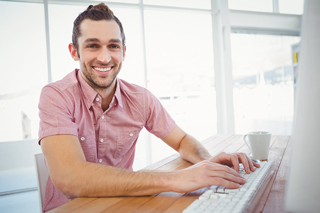 Many Americans are considered to be disabled if a condition like depression, anxiety, bipolar disorder, or schizophrenia affects their ability to function in a job setting. Yet, a lot of people with such disabilities are capable of having successful careers, especially if they find therapies or medications that work for them.
If you fall under this category, you might thrive in careers where you get to work alone and don't necessarily have to socialize much with other people. The first four examples below are often associated with that type of work setting.
However, like many people with psychiatric or emotional conditions, you might actually do better in a more social setting. It sounds a bit counterintuitive, but getting to closely interact with other people in a structured environment each day can be healing. So the last four examples below represent more socially oriented options.
1. Electronics Engineering
Imagine being involved in the design and testing of different kinds of electronic devices. As an engineer or technician in this field, you may get to work with fascinating electrical circuits in a neutral setting.
Average yearly wages:
Electronics engineering technician: $66,240
Electronics engineers: $110,210
Computer hardware engineers: $123,030
2. Welding
Welders frequently get to work on projects alone for long stretches of time. Plus, the physical aspect of this trade can benefit your sense of well-being since it places a lot of focus on your hands instead of on what's happening in your mind.
Average yearly wage: $45,190
3. Electrician
The electrical trade is often another good option for people with psychiatric disabilities. It is physical in nature, but it is also very interesting and can allow you to work alone or with only a few other people.
Average yearly wage: $60,370
4. Computer Animation
In this vocation, you may be able to turn your mental disability into a real strength. After all, many of the world's most creative artists and animators have succeeded in spite of their psychiatric conditions. Maybe you're the kind of person who would benefit from making your creativity come to life every day.
Average yearly wage: $84,780
5. Cosmetology
Making other people look and feel beautiful can be very satisfying. Plus, this social career offers a lot of positive interpersonal interactions while also allowing you to put your creativity to good use.
Average yearly wages:
Nail technicians: $27,390
Hairstylists, hairdressers, and cosmetologists: $31,530
Barbers: $35,190
6. Massage Therapy
Just like cosmetology, this career offers the chance to benefit from using your hands as well as being social. And you can be sure that just about all of your clients are going to be happy to see you since you provide a service they really look forward to.
Average yearly wage: $47,180
7. Dental Hygiene
Helping people achieve and maintain good oral health can be very enjoyable. In fact, many dental hygienists absolutely love their jobs since they get to meet a lot of different people but also get to use a lot of interesting technical skills.
Average yearly wage: $77,230
8. Physical Therapy Assisting
As someone living with your own challenges, you can provide a real human touch in this occupation. It's a career option that involves helping all kinds of injured, recovering, or physically disabled people achieve greater mobility or range of motion. Seeing the progress you help them accomplish can feel incredibly gratifying.
Average yearly wage: $58,520
---
Good Jobs for People With Learning Disabilities
This category sometimes gets overlooked, maybe because the different types of learning disabilities are so diverse. After all, one person might have imperfect reading, writing, or spelling abilities, whereas another person may have difficulty with using numbers, speaking, thinking, or listening. Even problems with memory, time management, and organization are sometimes considered learning disabilities.
So well-known conditions such as dyslexia and ADHD are only two of the many possible learning disabilities that can make it challenging to build a successful career. But you don't have to be held back by your challenges. Some of humanity's greatest contributors—such as Leonardo da Vinci and Albert Einstein—may have had learning disabilities.
Although you might have challenges in one area, you may have real strengths and talents in another. For example, many people with at least one learning disability have valuable traits such as resilience, empathy, or creativity. Others seem to have a natural ability to speak in public or see the bigger picture. That's why a lot of the careers that have already been mentioned (such as design and teaching) are often good jobs for people with learning disabilities. Here are a few other possibilities to consider:
1. Filmmaker
A lot of people with dyslexia or other learning disabilities have a heightened ability to distinguish different faces and objects from one another while also visualizing how various elements can come together into a single image. Frequently, they are also good at quickly processing a whole series of images. As a result, filmmaking is often a worthwhile path to explore.
Average yearly wages:
Film and video editors: $87,300
Directors of motion pictures: $109,540
2. Entrepreneur
Big-picture thinking is a trait that many professionals with learning disabilities use to their advantage. In fact, some of the world's most successful business people have said that they achieved prosperity because of dyslexia or other learning difficulties. They've been able to find connections between ideas that other people can't see. And they've had the courage to persist in the face of all kinds of challenges.
Yearly pay: Varies widely, from less than $50,000 to more than $200,000
3. Counselor
Since growing up with a learning disability can be very challenging, those who do often develop a lot of empathy for anyone else who is struggling. That's why some people who have learning disabilities find that the field of counseling provides a good place for their talents. They can help comfort and advise other people by being truly genuine and understanding.
Average yearly wages:
Rehabilitation counselors: $40,160
Addictions and mental health counselors: $49,950
School counselors: $61,000
4. Broadcast News Anchor or Correspondent
Special talents like public speaking come naturally to some people with learning disabilities. So it might be worth investigating careers that involve being in front of a camera or audience. Broadcast news is a fascinating option since you may be able to do a lot of public good by reporting on what's happening in your community or around the nation.
Average yearly wages: $62,400
5. Nursing Assistant
This occupation is another option that can allow you to take advantage of your empathetic nature. Plus, providing basic care to medical patients or residents of nursing facilities can be a great way to experience a sense of pride and meaning. And the job typically involves relatively simple tasks like feeding, dressing, bathing, moving, and grooming patients.
Average yearly wages: $30,720
---
How to Conduct an Effective Job Search If You Have a Disability: 8 Tips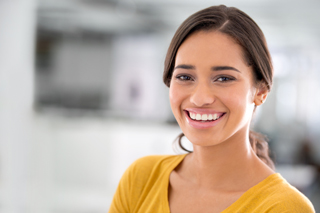 There are plenty of satisfying jobs for people with disabilities. All kinds of Americans have found them, and you can too. It just takes dedication to the job-search process and a willingness to step outside of your comfort zone. After all, the best jobs tend to go to those who demonstrate so much confidence in their abilities that employers are able to see past their limitations. With that in mind, here are eight tips to help you get through this part of your journey:
1. Get Clear About Your Goals
Too often, people with disabilities fall into the trap of being willing to take any jobs that they can get. They don't seek out specific job opportunities, and they exude an ambivalent attitude about their ambitions. But potential employers want to see that you have genuine enthusiasm about a particular line of work.
So it's essential that you get serious about narrowing down what you really want to do. Even if you can't narrow it down to a specific career, see if you can figure out which skills you want to use or develop. Having more well-defined goals shows potential employers that you truly care about making a contribution.
2. Find Help
Conducting your job search alone might not be the best idea. You may be able to avoid a lot of common mistakes—and achieve success more quickly—by enlisting the support of others. Most communities have non-profit or government-run agencies that provide assistance to people who are seeking disability employment. Why not find out what they offer?
3. Know Where to Look
A lot of job opportunities can be found through organizations that actively generate or promote openings for those with disabilities. In some cases, you might even be able to take advantage of special hiring processes. That's why it's smart to get the support of local agencies; they can often show you where those opportunities are. Two great examples of where you can find disability employment openings include: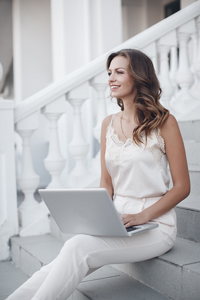 The National Telecommuting Institute, Inc. (NTI): This not-for-profit organization specializes in identifying and developing work-at-home opportunities for Americans with physical disabilities. NTI matches people with part-time or full-time jobs—and helps train them—in fields like virtual customer service, technical support, survey work, quality-control monitoring, and business-to-business telemarketing.
USAJOBS: As part of the U.S. Office of Personnel Management (OPM), this resource helps a lot of people with disabilities connect with good job opportunities throughout the federal government. It lists thousands of job announcements—for opportunities in several countries—from hundreds of federal agencies. Plus, it offers information about the Schedule A Hiring Authority, which often gives federal agencies a faster option for hiring individuals who have psychiatric, intellectual, or severe physical disabilities.
4. Make Your Ambitions Known
Don't be shy about telling friends, family, or other people that you encounter in your life about your employment aspirations. Make it known that you'd like to find a good job so that they see you as someone who is actively trying to make things happen rather than someone who is sitting idle. You'll likely get more encouragement that way, attain better job leads, and maintain a higher level of hope and optimism.
5. Start Volunteering
It's amazing what you can learn through volunteer opportunities. Many people with disabilities have gained marketable skills through volunteering and gone on to find great jobs that pay well. Plus, being a volunteer gives you a chance to expand your network of professionals who can serve as references. And it's a good way to avoid social isolation while getting used to working in a structured environment.
6. Think Carefully Before Revealing Your Disability
You may want to avoid disclosing that you have a disability during certain phases of your job search. After all, you probably don't want potential employers prejudging your abilities or stereotyping you before even having the chance to meet you face-to-face. That's why a lot of disability-employment counselors recommend not mentioning your limitations on your resume or in your cover letter.
That said, in some situations, revealing your disability can be to your advantage. For instance, if you are going after a job in a federal agency, then disclosing your disability can make you eligible for Schedule A hiring. And some employers actually seek out professionals with disabilities in order to add more diversity to their teams. In addition, at the application or interview stage, you might be legally required to disclose your disability if you will require any special accommodations.
7. Interview Like a Pro
Every job interview is an opportunity to showcase your strengths. So it's essential to play up your talents and abilities. Obviously, your disability may become a topic of discussion, especially if you have visible limitations. But it's best to turn those limitations into positives by acknowledging your challenges and explaining why they've given you abilities that other people might not have.
For example, maybe your disability has given you more persistence, a better work ethic, and an ability to take on new challenges at a higher level than other professionals. Focus on how you can add value to each organization, and describe your talents in as much detail as possible.
If you need accommodations, then be honest about it. But make sure that you know what those might be. For instance, will you need a flexible work schedule, adaptive equipment, modified job duties, or any special day-to-day assistance? Let potential employers know what you'll need, but try to keep them engaged about all of the great things that you can contribute in spite of your limitations.
8. Don't Give Up
Even the most talented and qualified people without disabilities sometimes run into roadblocks. So if you're not getting the opportunities you want, don't lose hope. Keep trying. Your confidence and self-esteem are the biggest assets that will keep you in the running. It's only a matter of time before your job-search efforts start generating results. Stick with it.
---
Helpful Laws and Resources
Section 503 of the Rehabilitation Act requires all American government agencies—as well as all companies that get money from the federal government—to work toward building workforces consisting of at least seven percent disabled adults.
And don't forget this: The Americans with Disabilities Act also includes a lot of protections from employment discrimination. The law is designed to ensure that everyone is able to be involved in their communities, and that includes those who envision working while disabled.
Many resources even exist to help employers understand what accommodations can be made for workers with various types of limitations. For instance, the Job Accommodation Network publishes a comprehensive alphabetical listing of that information. With this kind of resource at your fingertips, you can be more open about your impairments.
---
Take a Confident Step Forward
Jobs for people with disabilities are widespread. So take action toward securing the kind of career you want. Plenty of convenient training options exist, and they're easy to find. Simply enter your zip code into the following school finder to quickly generate a list of nearby schools that can help you!
---