America's Fastest-Growing Careers & Industries: Find a Job With a Bright Outlook
Last Updated April 12, 2022
Picking a career path and going to school is a huge decision. Discovering the fastest-growing careers and industries in the country is a smart move. It can mean the difference between opening yourself up to almost unlimited potential versus graduating from college only to find limited opportunities in your chosen field.
The good news is that the top-growing careers in America are not clustered in one or two industries. They are quite spread out and diverse, which means that there are opportunities for people with a variety of backgrounds, interests, and professional goals. You can find opportunities in sectors like health care, information technology, business services, and the skilled trades. Some of the fastest-growing jobs are highly creative. Others are highly technical. Some are hands-on, while others are more introspective and interpersonal. So it is likely that you can keep true to yourself while still choosing a career field that is full of potential.
Take a moment to discover America's top four fastest-growing industries, top 10 fastest-growing careers, and 10 careers with a large number of future openings. Doing so could inspire you to take your career in a new direction—a direction that leads to a future filled with success!
Information on job growth and average annual job openings for each occupation is for the decade between 2018 and 2028 and is based on employment projections from the Bureau of Labor Statistics (BLS). Average hourly earnings are based on 2019 data from the Occupational Employment and Wage Statistics (OEWS) program.
---
Top 4 Fastest-Growing Industries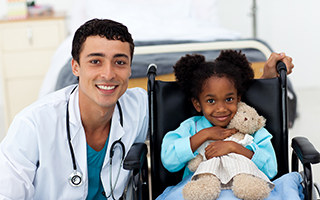 There are many vibrant and robust industries found across the country that are experiencing substantial growth. They offer some of the best jobs and brightest futures for Americans.
Take a look at four of the fastest-growing industries in America to get a better idea of where you may want to focus your career training and job search efforts.
Industry growth information is based on industry projections from the BLS. Average hourly earnings for each industry are based on Industries at a Glance data from the BLS.
1. Healthcare and Social Assistance
It is estimated that, from 2018 to 2028, total job growth within the health care and social assistance industry will be 17 percent. And, based on April 2020 data, the average hourly earnings across the sector are $28.62. The potential for good job opportunities and earnings is being fueled by the growing number of Americans who require health care and social assistance services. Just consider that:
The U.S. Census Bureau estimates that by 2030, Americans aged 65 years and older will account for 23 percent of the country's population.
Around 40 percent of American adults have been diagnosed with multiple chronic conditions.
Over 21 percent of Americans use government assistance programs each month.
There is immense pressure on the health care and social assistance system. That means that the need for skilled professionals within the sector will continue increasing over the years in order to meet the demand for services from the population.
2. Educational Services
Projections indicate that the education sector will see 13-percent job growth over the decade between 2018 and 2028. The U.S. is experiencing a widespread shortage of qualified teachers. Many districts have serious difficulty finding people with the right credentials, particularly in subjects like science, math, and special education. So career opportunities in this field should be abundant.
3. Construction
It is estimated that the construction industry will experience 11-percent growth in the number of jobs that are available from 2018 to 2028. And, based on April 2020 data, workers in the construction industry earn an average of $31.37 per hour. So there is definitely potential to find good job opportunities and earn great money.
That is largely due to the fact that the U.S. has one of the largest construction markets in the world. Private-sector construction spending in the country exceeded $990 billion in 2018, and the value of new construction put in place is projected to reach more than $1.5 trillion by 2022.
You can expect to find excellent opportunities to expand your career in this fast-growing sector.
4. Professional and Business Services
Small firms (i.e., those with fewer than 500 employees) make up a large part of the business climate in America. The U.S. Small Business Administration says there are almost 31 million small businesses across the country. Collectively, they create about 65 percent of all new jobs. And they employ more than 47 percent of the private workforce.
So it should really come as no surprise that the professional and business services sector is expecting jobs to grow in number by 8 percent from 2018 to 2028. And many of those jobs are well-paying. Just consider that employees in this sector earn an average hourly wage of $35.70, based on April 2020 data. Additionally, due to the size and scope of the industry, the job opportunities can be quite interesting and diverse.
---
Top 10 Fastest-Growing Careers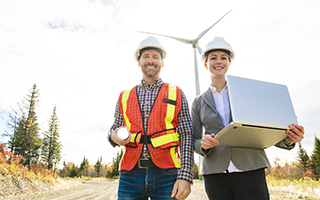 The fastest-growing jobs in the country are found within a variety of industries and can appeal to all different kinds of people. Opportunities can be found in just about any field, from green energy to health care. So take a moment to explore 10 of the top-growing careers in the nation in order to find out which professions appeal to you.
1. Solar Photovoltaic Installer
Now is a great time to begin a career in which you can help create a greener world for future generations by reducing harmful emissions. The Solar Energy Industries Association expects the total installed photovoltaic capacity in America to more than double between 2019 and 2024. You could soon be working on the leading edge of green technology by playing a part in installing, maintaining, and repairing solar panels.
Job growth: 63 percent
Average hourly pay: $22.52
Typical education requirements: Certificate or diploma
2. Wind Turbine Technician
According to American Clean Power, the wind energy industry accounted for more than 120,000 jobs throughout the U.S. in 2019. And those numbers are expected to grow.
From 2009 to 2017, the average price of wind energy in the U.S. dropped by over 70 percent due to lower wind turbine prices, lower installation costs, and improved capacity. So more efficient pricing and operations are leading to an increase in the demand for wind energy. Growth has also been fueled by a production tax credit (PTC) that is due to remain in place through 2020. The U.S. Department of Energy is estimating that total installed wind capacity will increase by more than 257 percent from 2020 to 2050.
And preparing to enter the wind energy sector doesn't take as long as you might expect. Most wind turbine technician programs can be completed in one to two years. That's all the time you may need to prepare for a fun and meaningful career that is full of potential.
Job growth: 57 percent
Average hourly pay: $27.26
Typical education requirements: Certificate or diploma
3. Home Health Aide
Senior and elderly care is one of the fastest-growing career fields, and that is one of the biggest reasons why home health aides are in high demand. Home health aides are the people who take care of the day-to-day tasks in care homes and other nursing facilities that house seniors, the elderly, and adults with debilitating illnesses and disabilities. You could be responsible for helping your patients get dressed, eat their meals, and use the bathroom. Administering medication, checking vital signs, tidying rooms, arranging transportation, and keeping patients engaged with social activities are all potential responsibilities of home health aides as well.
You have a number of educational options to choose from in order to prepare to become a home health aide. Many people opt to take patient care technician programs in order to acquire the necessary skills. Nursing assistant or aide programs could also prepare you for this career path. And many of them take a year or less to complete. So it may not take long for you to begin making a positive impact for other people who are in need of compassionate care.
Job growth: 37 percent
Average hourly pay: $12.71
Typical education requirements: Certificate or diploma
4. Personal Care Aide
Like home health aides, personal care aides help out with everyday activities like cooking, cleaning, shopping, and personal grooming. The difference is that personal care aides are not responsible for medical-related tasks like handing out medications or monitoring vital signs. Most personal care aides work for agencies that support seniors and people with disabilities.
Formal training isn't always required, so you can start making a difference in clients' lives very quickly. However, you may need to get certified in CPR.
Job growth: 36 percent
Average hourly pay: $12.71
Typical education requirements: High school diploma
5. Occupational Therapy Assistant
Occupational therapy assistants help people retain and improve their independence, which is highly important among an aging population. Their work can allow a client to continue living at home instead of having to go into an extended care facility.
Occupational therapy assistants have a hands-on role with patients. You may get to carry out tasks like teaching patients how to use their equipment, helping patients with their exercises and stretches, assisting children with developmental disabilities, and working with the occupational therapist to monitor patients' progress.
In two years or less, you could complete your training and be ready to take on a growing and important career.
Job growth: 33 percent
Average hourly pay: $29.75
Typical education requirements: Associate degree
6. Information Security Analyst
Keeping sensitive information safe from unauthorized users is one of the fastest-growing jobs in America. Banks, hospitals, and all kinds of private corporations need to be able to safeguard personal data and maintain privacy.
As an information security analyst, your job is to stay one step ahead of the hackers. You could be responsible for installing firewalls, developing security policies and procedures, monitoring systems for vulnerabilities, and investigating any breaches that occur.
Job growth: 32 percent
Average hourly pay: $50.10
Typical education requirements: Bachelor's degree
7. Physician Assistant
As the demand for health care increases, so do the demands for doctors' services. And doctors simply cannot keep up with those demands. That is why physician assistance has become one of the top-growing jobs. Physician assistants take on responsibilities related to examining, diagnosing, and treating patients, which means carrying out many of the same tasks that physicians do. In some communities where there are severe doctor shortages, physician assistants may be the only primary care providers.
Most physician assistants have worked in other areas of health care prior to advancing their careers. Although a bachelor's degree may be accepted in some circumstances, you will likely need to earn a master's degree in order to become a certified physician assistant. But meeting the experience and education requirements is definitely a worthwhile investment considering the amount of earning potential and job opportunities that it could open you up to.
Job growth: 31 percent
Average hourly pay: $54.04
Typical education requirements: Master's degree
8. Statistician
The world is increasingly driven by data, and that means there is great demand for statisticians to help businesses, academic institutions, and government agencies make sense of the information. Statisticians collect data through surveys, polls, questionnaires, or other methods. They must figure out who should be sampled and how big the sample size should be. Then, they use sophisticated computer software to find meaningful patterns or relationships in the resulting data.
You will most likely need a master's degree in statistics or math, but federal government positions are often open to candidates with a bachelor's. Training in computer programming can boost your job prospects.
Job growth: 31 percent
Average hourly pay: $46.00
Typical education requirements: Master's degree
9. Nurse Practitioner
Nurse practitioners play an increasingly important role within the medical system, and that is why they are listed as having one of the fast-growing careers. Nurse practitioners are advanced practice nurses (APRNs), and they often perform a lot of the same duties as doctors. Your responsibilities could include creating patient care plans, performing physical examinations, ordering diagnostic tests and analyzing the results, prescribing medications, and consulting with other medical professionals regarding patient care plans and treatments.
To become a nurse practitioner, you will require a high level of education and experience. Most nurse practitioners start out in the field as licensed practical nurses or registered nurses. You need to be a licensed RN in order to become a nurse practitioner, and you will also need to have a master's or doctorate degree. Once you get to that level, you can enjoy the excellent pay and job opportunities that come with being able to provide high-quality patient care.
Job growth: 28 percent
Average hourly pay: $53.77
Typical education requirements: Master's degree
10. Speech-Language Pathologist
This role involves assessing and treating issues related to communication or swallowing, which covers a broad area. For instance, you could help a child with autism learn appropriate social communication, assist an adult to overcome a stutter or enunciation problem, or work with a stroke victim who has difficulty speaking or swallowing.
You'll need a graduate degree to get into this field, and licensing or registration is required in all states.
Job growth: 27 percent
Average hourly pay: $39.43
Typical education requirements: Master's degree
---
10 Careers With a Large Number of Future Openings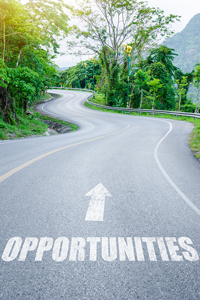 Along with the fastest-growing careers detailed above, you may want to check out 10 more professional fields that are expecting a large number of future openings. They are considered booming careers because it is anticipated that they will have a combination of strong job growth and high employee replacement needs, which is largely due to workers retiring. So here are 10 more positions that are worth your consideration.
1. Registered Nurse
Registered nurses take on a critical role by providing direct patient care in a variety of different health care settings. Due to the immense number of expected job openings, you will likely find opportunities among employers ranging from hospitals and doctors' offices to schools and community health clinics. You can perform fulfilling and engaging work in unison with physicians and other medical professionals. And you may even choose to specialize in a specific area of interest, like addictions, labor and delivery, or rehabilitation.
Annual job openings: 210,400
Average hourly wage: $37.24
Typical education requirements: Associate or bachelor's degree
2. Nursing Assistant
With the growing demand for medical services throughout the country, the need for nursing assistants is increasing as well. You can position yourself among other nursing professionals who work hard to deliver high-quality care to patients. And it does not take long to prepare for entering the field. In a year or less, you could be ready to take on jobs that have you helping patients carry out their day-to-day activities and assisting nurses with other basic medical care tasks.
Annual job openings: 190,700
Average hourly wage: $14.77
Typical education requirements: Certificate or diploma
3. Accountant
As the business world evolves, globalizes, and becomes more complex, the need for professional accountants becomes stronger. A growing economy, emerging international markets, and evolving tax laws and regulations mean that a lot of organizations are turning to accountants for help with ensuring that they are following laws, keeping accurate financial records, and paying taxes accordingly. And, as an accountant, you can set up efficient accounting practices in order to help an organization identify how to save and make money.
Annual job openings: 146,000
Average hourly wage: $38.23
Typical education requirements: Associate or bachelor's degree
4. Childcare Worker
If you love working with children, then this could be an opportune time to pursue a career as a childcare worker. The field is expecting a high number of openings, and you can likely prepare to enter the sector quickly since most career training programs are quite short. Along with opportunities in a variety of childcare facilities, you could also have the potential to go into business for yourself. Many people just like you choose to open home-based childcare businesses, and this can be especially ideal if you have your own small children at home. Either way, you could soon be offering important services to other parents and enjoying the love and laughter that comes with taking care of children.
Annual job openings: 177,900
Average hourly wage: $12.27
Typical education requirements: Certificate or diploma
5. Truck Driver
Not everyone is cut out for a typical office job, and that may include you. The good news is that there are many options for people who do not desire to work at a desk all day long. Truck driving is one of those options. As a commercial truck driver, you can enjoy the freedom and flexibility of spending your days out on the open road hauling goods from one destination to another. The opportunities within this field range from short hauls driving within your city or region to long hauls that could require you to be on the road away from home for several days at a time. A truck driving school can help you learn to handle a large commercial vehicle safely.
Annual job openings: 238,400
Average hourly wage: $22.52
Typical education requirements: Completion of CDL training
6. Administrative Assistant
Administrative assistants have important jobs that help keep organizations running smoothly. They can be assigned a variety of tasks in the front office and behind the scenes. You could be responsible for supporting executives, managers, and other staff members at all levels of an organization. Answering phones, responding to emails, scheduling appointments, managing files, preparing reports, and supervising office staff are just a few examples of the many tasks that you could be responsible for completing. Administrative assistants are needed in almost any industry, but some of the largest employers include elementary, secondary, and post-secondary institutions, as well as government organizations.
Annual job openings: 233,500 (not including jobs in the medical and legal sectors)
Average hourly wage: $18.84
Typical education requirements: Certificate or diploma
7. Licensed Practical or Vocational Nurse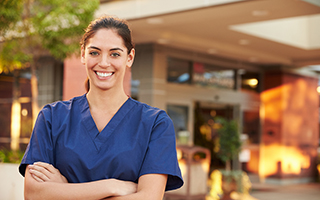 Licensed practical and vocational nurses (LPNs and LVNs) work at a level in between nursing assistants and RNs. They support RNs and other health care professionals by carrying out important tasks like taking vital signs, collecting samples for lab work, and observing patients and maintaining their records. Like the other nursing professions, you could find job opportunities in settings like hospitals, outpatient clinics, and nursing homes.
Annual job openings: 66,300
Average hourly wage: $23.32
Typical education requirements: Certificate or diploma
8. Medical Assistant
Medical assistants perform essential support services in clinical settings in order to free up the doctors' and other health care providers' time so that they can focus on offering essential care. You may be responsible for handling administrative responsibilities like scheduling appointments, processing insurance forms, and updating patients' records. If you choose to get formal training at a medical assisting school, you may also be qualified to handle more advanced clinical responsibilities like checking vital signs and assisting the doctor or nurse practitioner during examinations.
Annual job openings: 99,700
Average hourly wage: $17.17
Typical education requirements: Certificate or diploma
9. Software Developer
Software development is a field that offers both excellent job opportunities and earning potential. It is a profession that offers you the chance to develop both your creative and technical expertise. You can see the software development cycle through from start to finish—from identifying an organization's needs to creating software products to implementing and updating the software systems or applications that you have developed. You may choose to specialize in either applications or systems software development. And, depending on your specialty, you could find openings with organizations like computer systems designers, software publishers, and manufacturers. You may also find jobs within IT departments for large corporations or public organizations.
Annual job openings: 134,600
Average hourly wage: $53.66
Typical education requirement: Bachelor's degree
10. Automotive Service Technician
The skilled trades sector is well-known for having a lot of future job openings, and automotive service technology is one of the careers that tops the list. Using your hands, a variety of tools, and modern diagnostic equipment, you could be responsible for diagnosing, repairing, and maintaining a wide range of cars and trucks. It is important for you to have extensive knowledge of the different kinds of tools and equipment used in the field because today's vehicles are increasingly complex and often have several different types of electronics systems. By gaining professional repair skills, you could be ready to pursue job opportunities with vehicle dealerships and auto mechanic shops. You could even run your own business.
Annual job openings: 74,000
Average hourly wage: $21.58
Typical education requirements: Certificate or diploma
---
Start Preparing to Excel in a New Career
Are you feeling the excitement? The inspiring feeling that comes from knowing that there are a lot of options for fast-growing careers that can offer you incredible opportunities? Keep that feeling going by discovering the training possibilities that can help lead you to the new job that you want so badly. All you need to do is enter your zip code below to find out which programs are being offered at schools near you!
---