Beauty & Cosmetology Schools in California
Last Updated
Cosmetology schools in California make it fun to learn how to boost the looks, well-being, and self-confidence of other people.
And they make it especially easy to begin your own upward journey toward a career that, for many beauty professionals, feels as warm and alive as the California sun.
But beauty schools in California offer more than just enjoyable learning experiences. They also provide down-to-earth training that can prepare you to pass California's licensing exams. That means you can get all of the potential of a dazzling beauty career along with the actual skills and credentials to drive your success.
In California your creative ambitions can pair with lavish opportunities in the beauty industry. Why not set those dreams in motion right now? Enter your zip code to find a school that meets your needs.
California Cosmetology Career Info
---
---
California Cosmetology Schools
Sponsored Listings
Cosmetology
Esthetician (Esthetics)
Make-Up Artistry
Spa Nail Technician
---
---
California Cosmetology Career Info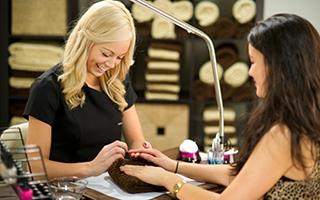 Cosmetology schools in California help provide students with the skills needed to prepare for a career with lots of possibilities. Although the terms "cosmetologist" and "beautician" are often used interchangeably, they indicate different levels of training, with cosmetologists often possessing a wider range of skillsets than beauticians.
For example, many schools offer courses that go beyond hairstyling, perming, and hair coloring techniques. As a student attending one of the beauty schools in California, you might learn about:
Pedicures and manicures
Facials and other esthetician services
Maintaining a sanitary environment
State procedures regarding blood-borne pathogen control
Improving your consultation and communication skills
Safely and appropriately using cosmetology tools
The physiology of hair, nails, and skin (i.e., recognizing disorders and diseases)
Employment Opportunities for Cosmetologists in California
With cities like Los Angeles and San Francisco constantly attracting thousands of budding actresses, actors, and models, the potential for licensed cosmetologists to find employment in California may be higher than it is in other states. According to the Occupational Outlook Handbook, employment opportunities for cosmetologists across the U.S. are expected to increase eight percent between 2018 and 2028. In addition, data from the Occupational Employment Statistics program shows that California employs the highest number of hairdressers, hair stylists, and cosmetologists in America.
Advantages of Working as a Licensed Cosmetologist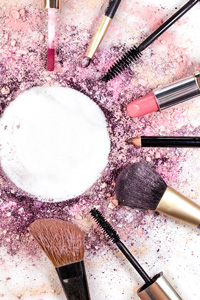 You might have the choice of working for a business or independently as the owner of your own cosmetology firm.
The work environment is generally indoors, climate-controlled, and pleasant compared to many other kinds of workplaces.
Positions are often widely available for licensed cosmetologists, whether in salons, spas, cruise ships, retirement villages, or other applicable venues.
Cosmetology is a creative, people-oriented field where no two days are alike. If you cringe at the thought of working in isolated cubicles or performing the same, boring tasks every day, then you might consider checking out cosmetology schools in California.
Earning a California State Board of Cosmetology License
Completing a cosmetology program that includes 1,600 hours of training can prepare you to take the practical and written examinations required to earn your license from the California Board of Barbering and Cosmetology.
Once you earn your state cosmetology license, you must renew it every two years—either online or through an automated system established by the state board of cosmetology. Although you do not need to take continuing education courses to renew your license, you may want to consider taking specialized courses at a cosmetology school to remain current with industry trends.
According to the California Board of Barbering and Cosmetology, students can take the exam, or portions of the exam, as many times as they need to for one year without paying extra fees. If a student fails to pass both portions of the exam in a year's time, they will then need to re-take both the practical and written sections as well as pay another fee.
---
What to Do Next
Enter your zip code in the search tool below to find a beauty school in California that's right for you.
---