61 Christmas Gifts for College Students in 2019
By Crystal Lee
| Last Updated September 15, 2020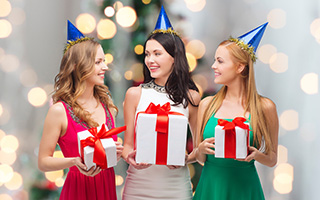 Trying to think of good Christmas gifts for college students can be a challenging task. It can be hard to decide which gifts are best. Do you buy them something useful and related to their studies, go with something they can enjoy on their downtime, or maybe find a way to combine both?
Whatever approach you take, here are a few questions that you may want to ask yourself when preparing to purchase Christmas gifts for students:
What are their personal styles and favorite items? This can help you determine the types of gifts that they will love and think are cool.
What is the size of their living space? A student living in a dorm is going to have much less space than a student who shares a house with roommates.
Do they already own it? You want to be certain that you're buying them something they can use. Consider including a gift receipt if you're not sure.
Is the gift going to require accessories or subscriptions they can't afford? Cool gifts can quickly lose their luster if students cannot afford to use them.
So now that you have considered the student you are buying gifts for, you may need some inspiration. Get your holiday shopping list ready by checking out our guide that includes both practical and fun gift ideas for college students broken down into three price ranges, as well as sections for him and her:
---
This article contains affiliate links. We are compensated with a small commission, at no extra cost to you, for sales made through the links.
---
Christmas Gift Ideas Under $50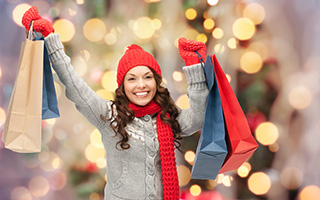 1. Printed Duct Tape
—Believe it or not, duct tape can come in pretty handy, especially for a college or university student trying to fix something on the cheap. And it can be a cool novelty gift when it comes in a favorite print like camo or superheroes.
2. Stress ball
—What college student doesn't need to release tension once in a while? A squishy, squeezable stress ball can be the perfect gift for anyone who needs to work out a little frustration.
3. Personalized Coffee Mug
—A coffee mug personalized with favorite photos and sayings is a simple, personal gift that reminds the college student in your life of a special person or an unforgettable moment.
4. Space Organizers
—Many college students live in small spaces such as dorms, apartments, or houses shared with roommates. Organizers for the kitchen, living room, bathroom, bedroom, and desk can come in handy and reduce the clutter in a small area.
5. Flask
—Flasks are one of those great Christmas gifts for college guys, although there could certainly be women who would like this gift too. There are many different styles and designs available, and you can even buy a stainless steel flask and have it personalized with a name, message, or funny phrase.
6. Wooden Crate
—A wooden crate might sound like a weird gift, but an artsy and creative college student would probably appreciate it. Along with being decorative, crates also have practical uses. A crate can serve as a storage container, an organizer, and even a coffee table, end table, or nightstand.
7. Shirt-of-the-Month Club—Are you shopping for students who love T-shirts? Whether they like shirts with a vintage style, funny sayings, or modern images, a shirt-of-the-month club can deliver a new shirt monthly that students would happily add to their T-shirt rotation.
8. Clip Lamp
—A battery-powered clip lamp is a great gift for busy college students on the go. They can use it around their home or take it with them on the bus, to the library, and any other setting where they could use some extra light.
9. First Aid Emergency Kit
—Accidents happen, and the reality is that most college students are not going to be equipped with essentials like bandages and first aid ointment. So you could set them up with the basics needed to take care of minor cuts, scrapes, and burns.
10. Portable Phone Charger
—College students are busy, and most of them usually don't go anywhere without their phones. So you can imagine how troubling it is when they're out and realize that their phone is not charged. You can help prevent that letdown from happening by giving a portable phone charger.
11. Essential Oil Diffuser
—With an essential oil diffuser, college students can fill their living spaces with aromas that are grounding, calming, or uplifting. You can include any number of oil blends that can help with everything from getting a good night's sleep to clearing and focusing the mind—all things that can benefit college students and make their dorms smell much better too.
12. Card Game
—A part of attending school is having fun with your friends. That can easily be achieved with one of the popular card games like Cards Against Humanity
, Never Have I Ever: The Adult Party Card Game of Poor Life Decisions
, or Exploding Kittens
. These games can be seen as both slightly inappropriate and completely hilarious—a winning combination for many college students.
13. Personal Humidifier
—Dry winter air can wreak havoc on a college student's skin. Personal humidifiers that can easily fit on a desk or nightstand can be the perfect solution.
14. Scratch Map
—Are you trying to come up with Christmas gift ideas for college students who like to travel? Consider purchasing a scratch map. You can choose from maps of the world or a specific continent or country that the student can hang on the wall and scratch off all of the places that he or she has traveled.
15. Chef's Knife
—If the college student you're shopping for enjoys spending time in the kitchen, then a good-quality chef's knife is a must. And it's something that most college students won't splurge on themselves.
16. Chalkboard Glasses
—When you have a group of friends together and everyone is drinking from the same style of glasses, it's easy to mix up whose glass is whose. Chalkboard glasses solve this problem. People can write their names on their glasses, and the chalk easily washes off later. You also have the option of purchasing chalkboard labels that adhere to the glasses that the gift recipient already owns.
17. Fleece Blanket
—Is there anything better than cuddling up under a cozy blanket? This is a great Christmas gift for a college student who wants to keep warm during all of those late-night study sessions.
18. Frying Pan
—A good non-stick frying pan is an essential item for college students who do their own cooking. In addition to traditional aluminum frying pans, there are many other non-stick surfaces to choose from like cast-iron, ceramic, silicone, and titanium.
19. Hangover Kit
—For many people who have attended college or university, a hangover kit may have come in handy at least once. This is a DIY gift for which you can put things together like water, ginger ale, vitamin packs, mouthwash, ibuprofen, and antacids.
20. Sandwich Maker/Panini Press
—Anyone who has attended college knows that grilled cheese sandwiches almost fall into their own food group. If this describes the college student you are shopping for, then a sandwich maker or panini press may be a great gift choice.
21. Photo Book—If you are buying a gift for a college or university student who has moved away from family and friends to attend school, consider giving him or her a photo book. Companies like Picaboo, Shutterfly, and Walmart offer a large number of styles and designs. You just upload pictures and can make a custom photo book that is sure to bring a smile to a homesick college student's face. And it is a great keepsake that can be kept for years.
22. Multi-Charging Station
—Most college students own multiple devices that require charging. And when living with roommates, charging devices can sometimes be a challenge. This is where a multi-charging station comes in. It allows a person to charge several devices at once with the use of only one outlet.
23. Pajamas & Slippers
—Comfort is key when attending school, whether spending long hours studying or having a movie marathon. What better way to spend that time than in a pair of warm and cozy pajamas and slippers? Some of the more popular companies selling PJs include Bare Necessities, H&M, Joe Boxer, and Lazy One.
24. Support pillow
—A pillow that provides good support for the back and neck can be just what a college student needs to stay comfortable while lounging on a bed reading, studying, or watching Netflix.
25. Backpack or Messenger Bag
—Busy college students usually have a lot of stuff to pack around with them. A good-quality backpack or messenger bag can make the difference between traveling around in comfort and having an aching back. And there are countless options and styles to choose from that can suit just about any student.
26. Personal Safety Kit
—A personal safety kit can be useful for a female college student, especially if she has evening classes or a job where she could be walking alone after dark. You can buy a kit or put one together with items like a pocket whistle, personal alarm, and pepper spray.
27. Streaming Media Player
—Streaming media devices are easy to use, convenient, and even portable, which are the kinds of product benefits that a lot of college students desire. Media players offer all kinds of features, including the ability to access video websites and apps like YouTube and Netflix. They can also be used to make Skype calls and go on Facebook. Essentially, they offer a simple and affordable way to turn any TV into a smart TV.
---
Christmas Gift Ideas Under $150
28. Gift Card for Something Fabulous—Is there something that the college student in your life would love to do but would never spend the money on? Maybe getting a manicure, massage, or going out for a nice dinner tops the list of things that he or she would love to do. Get him or her a gift card—or even two—for a little pick-me-up.
29. Bluetooth Speaker
—Students usually love their music (and rightfully so) because it can help them study, unwind, or gain energy. Bluetooth speakers let them amplify the tunes from their smartphones or other devices. Some models are even splash-proof.
30. Smartphone Projector
—Get a gift that allows college students to turn their dorms, bedrooms, or living rooms into home theaters. The options vary from the most basic cardboard models to high-quality HD pocket projectors.
31. Water Garden
—Are you shopping for a college or university student who is a bit of a nature lover or gardener? Consider getting him or her a water garden. The idea was first introduced with Back to the Roots, a company that produces a water garden containing a small fish tank with an herb garden on top. It is a closed-loop system in which the fish feed the plants and the plants help keep the water clean.
32. Bean Bag Chair
—What is the college experience without a bean bag chair? An essential for many college students, hours can be spent in these comfortable chairs that come in a variety of styles and colors.
33. Fitness Tracker
—Are you buying a Christmas gift for a college student who is concerned with his or her fitness levels? You may want to consider buying a personal fitness tracker like a Fitbit. These devices can track a person's steps, measure distance and calories burned, monitor sleep, and send stats to a smartphone or computer.
34. Noise-Cancelling Earbuds or Headphones
—These are a great gift idea for college students who are always on the go with music in their ears. Noise-cancelling earbuds or headphones can provide thousands of hours of high-quality sound.
35. Mattress Topper
—Dorm room beds are not always super comfortable. A mattress topper can make it easier for your college student to drift off to dreamland.
36. Instant Pot Mini
—Here's the ultimate multifunctional kitchen gadget for students who are short on space. The Instant Pot is an all-in-one device that works as a pressure cooker, slow cooker, oven, stove, and even yogurt maker. Just be sure to check whether it will be allowed in a dorm room.
37. E-Reader
—This is a practical gift, especially when you consider that many textbooks are now available electronically. And it's an even better gift option if the college student you are shopping for loves to read in his or her spare time. Some of the top-rated e-readers include the Amazon Kindle, Barnes and Noble Nook, and Kobo Aura or Glo.
38. Single-Serve Coffee Brewer
—A lot of college and university students are powered by coffee. Their worlds may cease to exist without it. So help them out a little and buy them a single-serve coffee brewer like a Keurig, Nescafe, or Tassimo machine. Your college student will always have coffee ready to go at the push of a button.
39. Concert Tickets—Send your gift recipient out for a fun night of enjoying his or her favorite band, comedian, or performer. Buying a pair of tickets would be ideal so that a friend can attend also, allowing them to have a night out and create some great college memories.
40. Birchbox Subscription—Birchbox offers subscriptions for beauty and grooming baskets that are sent out monthly. Baskets can be customized and can also include accessories as well as household and food items. You could also take a DIY approach and create a self-care basket filled with all of the student's favorite products.
41. Healthy Snacks
—Are you concerned about the amount of ramen noodles and mac and cheese that the college student in your life is consuming? Help him or her out by having healthy snacks delivered on a monthly basis via a subscription with Amazon Prime or a fruit-of-the-month club.
---
Christmas Gift Ideas Over $150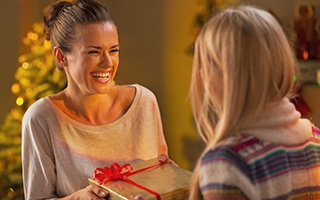 42. Pedal Bike
—A pedal bike is a great gift idea for college and university students who have larger areas to travel around for school and work. A bike can make commuting a little easier and provide some exercise at the same time. And there are many bike styles and options to choose from.
43. Action Video Camera
—Get a cool gift for the active college student in your life. Products like GoPros or Polaroid Cubes are loved by sports enthusiasts because they can easily take live action videos while taking part in fun activities such as mountain biking, snowboarding, and scuba diving.
44. Smart TV
—Make a college student's day by giving him or her a smart TV. These units can connect to the Internet so that a person can directly access Netflix and video-on-demand services as well as social networking and other websites. Some TVs are also capable of instant messaging and video calling. Depending on how much you want to spend, there are many cool features available.
45. Amazon Echo
—Surprise the student in your life with a multimedia voice-activated speaker. The Amazon Echo plays all of his or her music from popular sites and apps like Prime Music and Spotify. It can also look up information to answer questions, provide the weather, and report the news. And it can even call for an Uber ride, order pizza, and control home features like lights and thermostats.
46. Video Game Console
—Does the college student you are shopping for love to game? He or she would probably enjoy a new gaming system like a Sony PlayStation 4, Microsoft Xbox One, Microsoft Xbox 360, or Nintendo Switch. These units connect to the Internet so that users can game with friends remotely as well as access web and video services like Netflix and YouTube.
47. Tablet
—Tablets are multi-purpose and can be both practical and fun for college and university students. They can use them for surfing the Web, reading, studying, taking notes, filming, and photographing. Some of the top-rated tablets include the Amazon Fire, Apple iPad, Google Pixel, Samsung Galaxy, and Sony Xperia.
---
Christmas Gifts for College Girls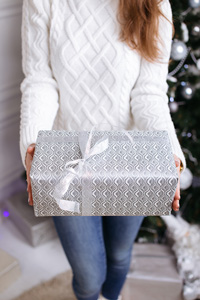 48. Adult Coloring Books
—Help relieve the stress that the college girl in your life experiences by buying her a couple of adult coloring books. Coloring is an artistic and creative activity that can be done almost anywhere, and it can bring a great sense of calm peacefulness.
49. Essential Oils
—Essential oils have many uses that can be helpful for students. They have been known to help with almost anything from boosting immunity to improving focus and concentration. At the very least, they can help a dorm room smell much better.
50. Coconut Oil Skincare Products
—Coconut oil is an all-natural, trending product right now that has many different uses—skincare being among the top ones. Treat the female student you know to some wonderful moisturizing skincare products.
51. Tea-Based Products
—Green tea and matcha tea powder are some of the top-selling consumer products right now. There are many benefits associated with drinking tea, and tea is also an ingredient in many skincare products
. Discover tea products that the female student in your life will love.
52. Jewelry Candles
—Does the female college student that you are shopping for love jewelry? How about candles? You may want to buy her one of the top-trending products right now that brings those two things together: jewelry in candles. She can freshen the air in her room and be surprised with a new fashion accessory.
53. Yoga Mat Bag
—College students who love to practice yoga can always use a beautiful mat bag for carrying their gear to and from classes. Choose from a variety of styles and colors to find the bag that perfectly suits the student in your life.
54. Leggings
—Leggings are a required wardrobe item for many women. And for those who love leggings, they can never have too many pairs. If the female student you are shopping for wears leggings, then she'd definitely be happy to receive a new pair or two. And if you're unsure of size or style, a gift receipt is always a smart idea.
---
Christmas Presents for College Guys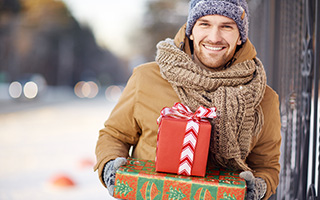 55. Toaster Bags
—There might not be a handier gift for a college guy living in a dorm than a product that allows him to quickly make a grilled cheese sandwich in the toaster. As an added bonus, most toaster bags are reusable and multi-purpose (i.e., they can also be used in the oven or microwave for all kinds of foods, including pizza, chicken nuggets, and frozen waffles).
56. Beard Oil
—Does the college guy in your life keep a well-groomed beard? If so, you might want to buy him a moisturizing beard oil that helps keep his skin and facial hair looking and feeling amazing. You may also want to check out additional men's grooming products
that he may like.
57. Swiss Army Knife
—What guy doesn't want a Swiss army knife or similar multi-tool? When you are in college, you just never know when a bottle opener, screw driver, pliers, or pair of scissors could come in handy.
58. Carry-On Cocktail Kit
—If the college guy you're shopping for occasionally flies home and enjoys a mid-flight drink, then consider buying him a cool gift that can also help him save some money. Most kits are TSA-approved, but it is best to make sure of that before you buy one.
59. Electric Shaver
—Anything that is convenient and saves time is usually well-loved by college guys. If the student you are buying for likes to be clean-shaven, then you may want to get him a nice electric shaver to help cut down on the time that he has to spend getting ready for his day.
60. Drone
—When it comes to cool gifts for college guys, drones probably top the list. When the college guy in your life needs a break from his studies, he can have some fun flying his drone around campus. And since most drones are equipped with cameras, he could take some neat videos and pictures.
61. Club Lid Hat Subscription—If the male student in your life is never caught without his hat on, then you may want to get him a subscription to a service that gives him a new hat every month. It's a great gift that can keep giving well beyond the holidays.
---