Electrician Apprenticeships
By Luke Redd
| Last Updated August 14, 2020
Summary
Being an apprentice electrician is necessary if you want to become a journeyman in this good-paying trade. So it's worth learning how to get an electrician apprenticeship, complete your paid training, and pass your state exam (if required).
Electrician apprenticeships can be your ticket into the rewarding skilled trades industry.
By including an apprenticeship as part of your electrician training, you can gain on-the-job skills and knowledge under the direction of experienced professionals. Here is a comprehensive guide on how to become an electrician, beginning with pursuing an electrician apprenticeship:
---
Apply for an Electrician Apprenticeship
In most cases, becoming an electrician at the journeyman level requires that you complete four or five years of paid training as an apprentice. But before applying for an apprenticeship, it may be worthwhile to learn a few basics by finishing a short electrical technology program at a nearby trade school. Doing so might give you a competitive edge against other applicants.
That said, a common first step in learning how to become an electrician apprentice is to apply with the National Electrical Contractors Association (NECA)—the national voice of the electrical construction industry, committed to bettering the industry through research, education, advocacy, and standards development. NECA sponsors over 300 joint training apprenticeship programs that can allow electrical apprentices to earn a wage while gaining industry-standard skills and knowledge.
---
Choose a Specialty and Complete Your Coursework
NECA is associated with many regional and local chapters, which offer an electrician apprenticeship curriculum developed by their National Joint Apprenticeship and Training Committee (NJATC). After finding your local chapter and researching its offerings, you may have the option of choosing a specialty for your apprenticeship, such as residential wireman, VDV installer technician, outside lineman, or inside lineman.
No matter which chapter or specialty you choose, your electrician apprenticeship will be a multi-year undertaking, combining theoretical classroom instruction with extensive real-life experience. Most electrical apprenticeship programs include at least 144 classroom hours, as well as an annual minimum of 2,000 hours spent on-the-job.
Keep in mind that, in some states, you may need to register your apprenticeship or apply for an electrician apprentice license before beginning any training on actual job sites.
Initially, your apprentice electrician job description will likely include a lot of helper duties such as holding tools, carrying materials, cleaning work sites, and performing other basic tasks as directed by an electrical journeyman or master electrician. But as your training continues, you'll be asked to do things that require more and more skill, all while being supervised. It's just one of the many rewarding aspects of becoming an electrician through this process.
---
Apprentice Electrician Salary: Earn Money While Training on the Job
As an apprentice electrician, salary or wages are usually paid based on an hourly rate. According to the U.S. Department of Labor, apprentices begin at $15.00 an hour, on average. But your wage increases as you gain more skills. In 2019, the average pay of a fully trained electrician in the U.S. was $29.02 per hour, according to the Occupational Employment Statistics program.
During your real-world training, your progress might be assessed from time to time through an electrician apprenticeship test designed specifically by your employer.
---
Pass the State Examination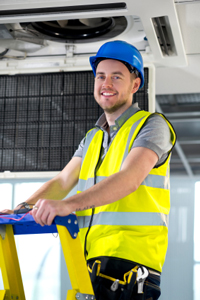 After successfully completing your electrical apprenticeship program, your next step is to become an electrical journeyman by passing a licensing examination. (These tips on how to ace an exam can come in handy for completing this step.) Licensing requirements can vary by state, and multiple licensing examinations exist. However, most states have a minimum requirement of successfully taking the electrical journeyman's examination, administered by state licensing boards.
Once you have become a licensed electrical journeyman, you'll be free to pursue full-paying electrician jobs. You will also have the opportunity to further your classroom training in order to upgrade your skills in the areas of fiber optics, telecommunications, safety, programmable logic controls, the National Electric Code, and more.
---
Research Your Electrician Career Options
As a licensed journeyman, a variety of career options could be available to you. For example, you could choose to pursue an electrician position with a local contractor. The NECA website is a good place to start your job search, as it often posts job opportunities with contractors.
If you are willing to continue your education in order to gain business and management skills, you could also prepare to start up your own business, working as a freelance electrician.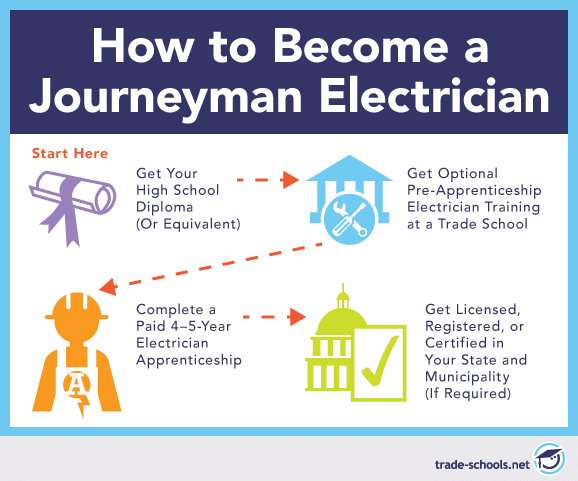 ---
How to Become a Journeyman Electrician: A Quick Summary
The path to becoming a journeyman electrician can vary a little bit from state to state, especially when it comes to licensing requirements. That's why some people seek additional information from their state governments, or electrician schools in their area. That said, here are the most common steps that you'll probably need to take:
Get your high school diploma, GED, or equivalency certification.
Consider completing some pre-apprenticeship electrician training at a trade school.
Find and apply for an electrician apprenticeship.
Register as an electrical apprentice or trainee (if your state requires it).
Complete your paid apprenticeship, which may take four to five years.
Apply for and get your state electrician license, along with any required licenses or certifications in your municipality. This step may require you to pass an exam that tests your knowledge of the National Electric Code, local regulations, and other aspects of the trade.
---
Take Action to Become an Electrician
Now that you have a better understanding of how to become an apprentice electrician, and reaching your goal of becoming a licensed electrician, it's the perfect time to take action. This guide to electrician schools and programs can be a great place to begin your research. And if you want to find an electrical school near you right away, simply enter your zip code in the search box below to get started!
---