LaSalle College Vancouver
Vancouver, BC
Last Updated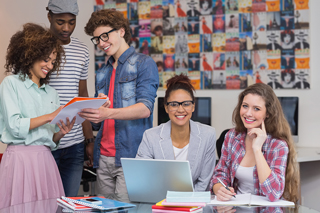 You want to learn in an environment that is conducive to your goals, dreams, and creativity.
You want to be surrounded by a network of people who fuel your imagination and inspire you each day. LaSalle College Vancouver can provide you with both the education and the environment you desire. The school's campus is in the city's vibrant Renfrew-Collingwood neighbourhood to the east.
At LaSalle College Vancouver, you will find a wide variety of programs. From Animation Art & Design to Professional Recording Arts to Fashion Design & Marketing, you can train to work in some of today's most exciting career fields. LaSalle College Vancouver offers students a doorway into the thrilling, fast-paced culinary world, with training including everything from Culinary Arts to Hospitality & Restaurant Business Management.
With a modern and innovative approach to education, LaSalle College Vancouver provides hands-on training and real-life experiences, whether it's an externship at an approved outside establishment or working in the student-run restaurant, you can graduate ready to seek entry-level employment. The helpful staff will be there for you each step of the way. From the Student Affairs Department who works to keep you positive, entertained, and informed to the Financial Planner who helps you seek financial aid (available to those who qualify), you can benefit from the support.
The professional staff is there to guide you and bring out your full creative potential and give you the broad experience you deserve using industry-related technology and equipment. With everything from a surround sound studio, automated music production facility, film soundstage, effects animation labs, games labs, and internet broadcast studio to industrial kitchens, art rooms, and a 40-seat restaurant, you will be provided with the environments that enable you to really flex your creative muscles and create your best work.
Take control of your education and career future by exploring the program choices and requesting more information today!
---
LaSalle College Vancouver Areas of Study
---
Game Design & VFX
Do you have a passion for interactive video games or entertainment with great visual effects (VFX)? At LaSalle College Vancouver, you can go "behind the scenes" and start developing professional abilities that let you expand upon your imagination and creativity. These hands-on programs provide the opportunity to learn skills for exciting career areas like game design, character animation, 3D environment modeling, video game programming, special effects design, and a whole lot more.
Game Design & VFX Programs:
3D Modeling for Animation & Games - Diploma
Animation Art & Design - Diploma
Game Art & Design - Diploma
Game Programming - Bachelor of Science
VFX for Film & Television - Diploma
Visual & Game Programming - Diploma
---
Graphic Design
Generate extra momentum in your creative journey. LaSalle College Vancouver can help you learn how to conceptualize and execute effective solutions to all kinds of visual design challenges. Whether it involves designing print projects or creating engaging experiences on the Web, your training will include creative skills development in a full range of important areas. You'll even get to practice with the same kinds of design tools and software packages used by today's professional designers.
Graphic Design Programs:
Graphic Design - Bachelor of Design
Graphic Design - Diploma
Graphic Design & Foundation for Design - Diploma
---
Interior Design
You probably already have a keen sense of how function and style complement each other. So why not build on that awareness by learning what it takes to design indoor spaces that are both functional and visually pleasing? You'll have the opportunity to expand your talents in all kinds of relevant areas—from drawing and drafting to choosing lighting and textiles. Plus, you'll be taught about the important standards and requirements for the design of residential, commercial, and institutional interiors.
Interior Design Programs:
Interior Design - Diploma
Interior Design - Bachelor of Applied Design
---
Audio & Film
What are your biggest interests? Do they include music, movies, or great television? LaSalle College Vancouver helps all kinds of creative people pursue their ambitions of contributing to the entertainment and media arts industries. You can join them. Among many other things, these programs are designed to help you develop professional skills like sound recording, mixing, and mastering for the recording arts sector or writing, directing, and editing for the film industry.
Audio & Film Programs:
Digital Film & Video - Diploma
Digital Photography - Diploma
Professional Recording Arts - Diploma
Professional Recording Arts (LIPA) - Diploma
---
Fashion
Are you inspired by the work of famous fashion designers? Do you dream of making your own impact in the world of fashion? As a student at LaSalle College Vancouver, you'll get the chance to turn your aspirations into action. Whether you want to learn more about designing, marketing, or merchandising, you can increase your knowledge of the fashion industry and develop a lot of hands-on skills. For example, imagine expanding your abilities in areas like drawing, patternmaking, sewing, product development, trends forecasting, promotions, and retail management. These programs even offer chances to participate in photo shoots, fashion shows, and other special events.
Fashion Programs:
Fashion Design - Diploma
Fashion Marketing - Diploma
---
Culinary
Imagine having an exciting career that enables you to spend each day delighting other people with delicious food or attentive hospitality. By training at LaSalle College Vancouver, you can move a lot closer to that vision. So which path will you choose? Maybe you'll learn how to prepare amazing cuisines while refining your skills at cooking, baking, and menu planning. Maybe you'll expand your talents for making tantalizing desserts, pastries, or baked treats. Or maybe you'll explore what it takes to become a master of the details in relation to owning or managing a restaurant.
Culinary Programs:
Baking & Pastry Arts - Diploma
Baking & Pastry Arts Level 1 - Certificate
Culinary Arts - Diploma
Culinary Arts Level 1 - Certificate
Culinary Arts & Restaurant Ownership - Advanced Diploma
Hospitality & Restaurant Business Management - Diploma
---
LaSalle College Vancouver Location
Renfrew Campus
2665 Renfrew St
Vancouver
BC
V5M 0A7