Massachusetts Electrician Training
Last Updated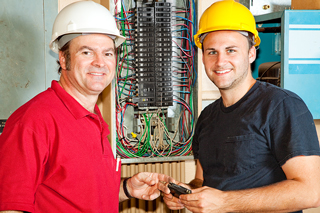 The electrical trade is varied and valued, which makes it a wise choice if you're interested in entering the skilled trades. By training at one of these Massachusetts electrician schools, you could soon be working for contractors, construction companies, utility providers, or even as your own boss. Plus, the demand for qualified electricians should continue to stay strong due to aging buildings that require repairs and new building projects.
Choosing a trade school for your electrician training can give you options. Many industries—from manufacturing to movie production—require skilled electricians to keep things running smoothly. Your classroom education could include subjects like blueprint reading, safety standards, and much more. Trade schools can also provide you with hands-on instruction that can prepare you to install, maintain, and repair the electrical systems that power our homes, businesses, and schools.
Plus, electrician schools in Massachusetts can you help you acquire the necessary knowledge to pursue certification after you graduate. So, if a career that allows you to work with your hands is what you're after, then request more information today!
---
Featured School
Canton
Chicopee
Worcester
Electrician: Industrial, Commercial, & Residential