New York Institute of Photography
Online
Last Updated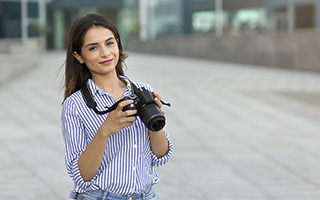 Expand your photographic skills at a pace that works for you—and begin learning how to make money with your new abilities.
The New York Institute of Photography (NYIP) makes it simple to start becoming a better photographer, no matter where your particular interests lie. Whether you're a hobbyist or aspiring full- or part-time professional, this school can help you achieve your goals. You'll have the opportunity to receive personalized feedback and mentorship from an experienced pro.
Plus, you can access your training whenever you want, from anywhere you have an Internet connection. And you'll have plenty of time to complete your course—up to 18 months. That way, you can expand your skills and portfolio on a schedule that fits your busy life.
So take advantage of your enthusiasm for capturing striking images. Follow your true ambitions. Ask NYIP to share additional details with you today!
---
Fun, Flexible, Fully Online Photography Courses
Through a combination of audio, video, and text lessons, each NYIP course provides an engaging learning experience. Real photography professionals have prepared all the materials, and students get to benefit from their insightful feedback when submitting assignments.
No matter which photographic genres you want to learn more about, you'll get the chance to improve your ability to capture amazing images. Your training will include essential aspects like lighting, composition, camera lenses, and exposure. You'll even learn about getting paid for your photographic skills.
In addition, online training is available for students who want to learn how to make videos.
Business for Photographers
Fundamentals of Digital Photography
Nature and Landscape Photography
Photojournalism
Photoshop for Photographers
Portrait Photography
Professional Photography
Travel Photography
Video Making
Wedding Photography
---
Start Mastering What You Love
You already enjoy photography, so imagine being even better at it. NYIP is ready to help. And you can try any course for up to two weeks—risk-free. (If, within that period, you decide the training isn't right for you, NYIP will refund your money.) So take action right now by requesting more information!
---
Click here to view the NYIP cancellation policy.