How to Become a Certified Nursing Assistant: CNA Training Options and FAQs
Last Updated
Are you interested in a healthcare career working directly with patients that doesn't require a college degree? Learning how to become a certified nursing assistant (CNA) can be the first step toward meaningful work essential to supporting people in need of care, and the other medical professionals who are part of a patient's team.
CNA training can teach you how to work under the supervision of a registered nurse (RN) or licensed practical nurse (LPN) to provide round-the-clock patient care. As a nurse's aide or assistant, you are your patient's first point of contact when they need help with their daily activities and the person they talk to most. So, you can have a unique opportunity to build meaningful connections with patients.
The number of jobs for CNAs is set to increase over the next few years as our aging population increases. There are plenty of job opportunities for nursing assistants, aides, and attendants, and that's not all. Plus, your skills will always be relevant, no matter what the economic climate is.
---
Note that there are several job titles that encompass the role of certified nursing assistant (CNA), which are often used interchangeably. These titles include nurse aide, nursing care attendant, and nursing attendant.
---
CNA Training and Career FAQs
What are the main steps to become a CNA?
Obtain your high school diploma or GED
Complete mandatory nursing assistant training (virtual or in-classroom)
Complete supervised clinical training
Sit the nursing assistant competency exam
This will lead you to gain a CNA certification. You can then apply to be on your state's CNA registry or nursing aide registry.
Your certification will last for two years. After that, depending on your state, you may have to do further training or another competency exam to renew your certification status.
Becoming a nurse assistant gives you an excellent opportunity to decide if you want to take your nursing career further by training to be an RN or LPN.
What do certified nursing assistants do?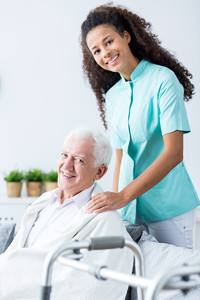 CNAs provide direct patient care in all kinds of settings, including hospitals, assisted living homes, and nursing care facilities. These professionals help patients that are too sick or weak to look after themselves and provide compassionate care. In addition, they often get to know patients' likes and dislikes, learn about their lives, and help protect vulnerable patients.
The role of a CNA can include:
Checking and recording vital signs, such as blood pressure or temperature
Documenting patients' observations
Helping patients bathe or use the bathroom
Assisting patients to brush their teeth, comb their hair or get dressed
Changing the position of bedridden patients
Dressing skin wounds
Feeding patients
Communicating with patients' families
As you'll be in close contact with your patients, you'll also often be the first one to notice if there is anything wrong. By reporting your observations to the supervising RN, you can make a significant difference in someone's life from a seemingly small intervention.
Becoming a CNA means you need to be:
18 years old or over
compassionate
willing to learn
physically able to lift and support patients
good at using initiative to work in a team
A few states may allow you to gain your CNA license at 16 years old. But keep in mind that some employers may choose not to hire until applicants are at least 18 years old.
What's the difference between a certified nursing assistant (CNA) and a registered nurse (RN) or licensed practical nurse (LPN)?
Both registered nurses and licensed practical nurses have more advanced training and education than certified nursing assistants.
CNAs are responsible for basic patient care under the supervision of a nurse (LPN or RN). Training typically can be completed in a matter of months.
LPNs can generally perform more straightforward medical procedures, such as inserting catheters and administering injections and other forms of medication. They can also discuss treatment plans with doctors, patients, and their families. LPNs require more schooling and have more responsibilities than nurse assistants.
RNs take a more advanced role in patient care and diagnosis. They can interpret blood tests and other diagnostic test results, administer medication and work with medical staff to coordinate patient care. RNs also generally supervise LPNs as needed. RNs require more training than the other two careers outlined.
Healthcare is all about teamwork. All nursing staff are crucial to the smooth functioning of a healthcare environment, centered around the most important person: the patient.
How long does it take to become a certified nursing assistant?
CNA training programs can last anywhere between 4 weeks to 12 weeks (1-3 months). The length of training time will depend on the state you live in and which course you apply for. CNA programs generally include a required number of hours working under supervision in a clinical setting.
How many clinical hours does a CNA need?
You will usually have to complete around 16 hours of supervised clinical training, though this can vary between course providers. The mandatory training can range from 75 hours to over 120 hours depending on the state you are in.
Can I do CNA training part-time?
Many CNA training programs can be carried out part-time. Plenty of students have part-time jobs or other personal responsibilities.
The classroom component of a CNA course schedule is likely to be the most flexible. Some CNA courses can also be completed online. Keep in mind that you may have to work 12-hour shifts when you start your clinical training hours.
It's always better to plan ahead. Find out from your nearest community college if they run a part-time nursing assistant training course.
Can I take the CNA competency exam without taking classes?
Most states require you to complete a set number of hours of training before you can take the exam. This is for your safety and the safety of your patients; you should be equipped with the clinical skills and practical know-how needed to care for sick and vulnerable patients.
The competency exam will consist of a written component and a practical skills test. You'll be evaluated on five different skills in this practical test, the first of which will always be handwashing. You'll have a set amount of time to complete your tasks, which will vary depending on the skills assigned to you.
It might take you longer to complete the full nursing assistant training, but it's better to have it. This will give you the best chance to pass the competency exam and gain your certification.
Do you have prior healthcare experience? Do you think this will help you sit the competency exam without needing further training? Contact your state registry to find out if you need to complete the mandatory training.
How much do CNAs earn?
The US Bureau of Labor Statistics groups certified nursing assistants along with similar job titles that encompass the same job duties, including nurse aides, nursing care attendants, and nursing attendants.
The lowest 10 percent (generally entry-level) earned $23,880 annually, or $11.48 per hour.*
The median salary for CNAs came in at $30,310 annually, or $14.57 per hour.*
The highest-earning 10 percent received more than $44,240 per year, or $21.27 an hour.*
Some states tend to pay nursing assistants more than others do, so depending on where you live, you may make more or less than these wage estimates. For example, Alaska, New York, California, the District of Columbia, and Oregon all pay a median wage higher than $18.00 per hour.*
How is the job outlook for nursing assistants?
As our aging population increases, there is a higher need for nursing staff, including assistants and aides. The projected job growth rate for this industry from 2021 to 2031 is 5%, which is about as fast as average for all jobs.* However, nursing assistants have the additional assurance that hands-on patient care can't be replaced by technology or outsourced, so it's a reliable choice for the future.
Is it worth becoming a CNA?
Many professionals in this field would say, yes, absolutely! Of course, ultimately it depends on your goals, qualities, and limitations. But if you're already interested in a patient care career, this is a great place to start. You also get a chance to work in the field and decide if advancing your nursing education is a good idea for the future. Nursing assistant training also provides direct clinical experience, which can help transition you into another healthcare field if you prefer.
By providing a positive experience for patients under your care, you can develop a strong sense of job satisfaction. In addition, making a difference to people in need of medical attention and their concerned and loving family members can be incredibly rewarding.
---
Get Started on Your CNA Training Today!
Ready to start your journey toward a rewarding and reliable career as a certified nursing assistant? Take the next step and find CNA classes near you.
---
* Unless otherwise noted, salary information is based on May 2021 data from the Occupational Employment and Wage Statistics (OEWS) program. Job growth and average yearly openings estimates are from the Bureau of Labor Statistics and are for the 2021 to 2031 period.