National American University
Last Updated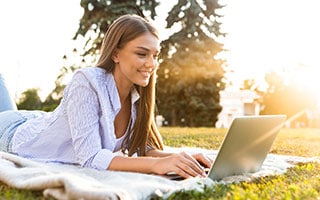 Get an online education that's focused on you.
With National American University (NAU), you can prepare for new opportunities in a convenient way that fits your schedule. All programs are structured with flexibility in mind, so you can complete your education without needing to pause your other commitments. You can even leverage past credits or experiences in order to finish your program more quickly.
This regionally accredited university has been operating for more than 78 years, which includes over 20 years of experience at providing online education. It offers an enormous variety of career-relevant certificate and degree programs that can help you get ahead. Whether you are pursuing your first post-secondary credential or seeking to earn an advanced degree, NAU can provide the expertise and support to make it possible.
Instructors have experience in their respective fields, and they are dedicated to helping students succeed. The school also offers a full array of online services that are available 24/7, including a library, bookstore, and career center.
Plus, all NAU students are provided with their own success coach to help them along their educational journey. You can also benefit from the guidance of an enrollment counselor and finance counselor, who will work with you to design a customized plan for reaching your unique goals.
In addition, NAU has a new tuition structure for undergraduate programs that is designed to make your education more affordable. As you earn more credit hours toward the completion of your program, the cost per credit hour decreases.
Qualified students can also receive financial aid to help cover educational costs for eligible programs. And because NAU recognizes the sacrifices of those who serve, eligible veterans, active-duty service members, and their families can receive reduced tuition on programs.
So take aim at your long-term ambitions. Request additional information from NAU Online right now!
---
NAU Online is composed of several institutions:
The College of Business, Technology, and Health Management offers certificate, associate, and bachelor's degree programs in some of today's fastest-growing fields.
The Henry-Putnam School of Strategic Security provides certificate and degree programs that concentrate on counterterrorism, protection, intelligence management, criminal justice, and foreign languages.
---
NAU Online Programs
---
Accounting
Begin mastering the skills involved in tracking an organization's financial dealings and maintaining accurate records. These programs will also cover basic business principles and introduce you to specialized accounting software.
Certificate
Accounting, Bookkeeping and Auditing
Associate Degree
Bachelor's Degree
---
Business
Expand your professional expertise through NAU Online's wide range of business programs. By focusing on an area like management, marketing, or logistics, you can develop the skills and abilities to help all kinds of organizations thrive.
Certificates
Business Administration
Human Resource Management
Management
Marketing
Tourism & Hospitality Management
Associate Degrees
Business Administration
Business Logistics
Health and Beauty Management
Management
Small Business Management
Bachelor's Degrees
Aviation Management
Business Administration
Construction Management
Human Resource Management
Management
---
Healthcare Information & Management
Start learning how to provide essential administrative support in the healthcare industry. Whether you're interested in coding and billing or managing people or processes, you can begin to become the kind of professional who helps keep the medical system functioning.
Diplomas
Healthcare Coding
Medical Billing and Coding
Associate Degrees
Health Information Technology
Medical Administrative Assistant
Medical Office Management - Clinical Specialist
Medical Staff Services Management
Bachelor's Degree
---
Information Technology
Take your technical interests and abilities to the next level. You can prepare to play a key role in the IT field by developing marketable skills related to programming, creating websites, managing networks, supporting end users, or securing information systems.
Certificates
Computer Support Specialist
Network and Server Administrator
Web Development
Associate Degree
Bachelor's Degrees
Information Technology
Information Technology - Emphasis in Cybersecurity & Forensics
---
Strategic Security & Protection Management
Give yourself the opportunity to create a safer environment for your fellow citizens. In these programs, instructors will demonstrate how to collect intelligence, assess risks, and develop proactive strategies to protect both people and infrastructure.
Entry-Level Certificate
Certificates
Physical Security and Risk Assessment
Security Management
Bachelor's Degree
Strategic Security and Protection Management
---
Intelligence Management
Generate fresh possibilities for your future by learning how to gather, analyze, and synthesize critical information related to national security. You can receive training in areas like identifying sources of information, assessing the reliability of intel, anticipating future threats, and preparing reports for decision-makers.
Entry-Level Certificate
Certificates
Intelligence Collection
Intelligence Collection and Analysis
Bachelor's Degree
---
Terrorism & Counterterrorism Studies
Adopt a high-level approach to keeping the country safe. These programs can help you become skilled at identifying common characteristics of terrorists, recognizing the factors that can lead to dangerous incidents, and developing preventive security measures.
Entry-Level Certificate
Bachelor's Degree
Terrorism and Counterterrorism Studies
---
Criminal Justice
Examine the legal principles and ethical issues involved in upholding the rules of society. These degree programs can help you gain a foundation of skills related to law enforcement, corrections, and the court system.
Associate Degree
Bachelor's Degree
---
Foreign Languages
Open the door to new opportunities by boosting your ability to communicate effectively in a language other than English. These programs can help expand your oral and written skills as well as your cultural understanding. They're even designed around the federal government's language scoring techniques, so you can pursue fascinating roles in the intelligence or security fields.
Certificates
Arabic
Dari
Farsi
French
Hindi
Mandarin Chinese
Portuguese
Russian
Spanish
Urdu
---
Go After Your Vision
Start shaping the future you deserve. Ask NAU Online to send you more details today!
---
Accreditation
National American University is accredited by the Higher Learning Commission (hlcommission.org), a regional accreditation agency recognized by the U.S. Department of Education.
National American University has received specialized accreditation for its business programs through the International Accreditation Council for Business Education (IACBE) located at 11374 Strang Line Road in Lenexa, Kan., USA. The list of accredited business programs can be found on the IACBE website: http://iacbe.org/memberpdf/NationalAmericanUniversity.pdf.
The Associate of Applied Science degree in Health Information Technology is accredited by the Commission on Accreditation for Health Informatics and Information Management Education (CAHIIM), www.cahiim.org.
---