---
3 Wyoming Industries to Consider Training For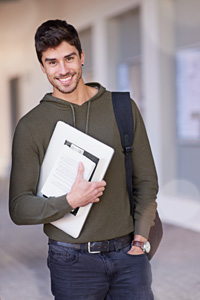 The Rocky Mountain region is full of spectacular beauty and places you never want to leave. But it's also home to flourishing towns and cities that are alive with opportunity. And Wyoming, in particular, has a lot going for it.
As the Bureau of Economic Analysis (BEA) points out, this state has the smallest population in America. Yet, its residents have been part of some great accomplishments. For instance:
Wyoming doesn't have a state income tax.
Over an 8-year period ending in 2018, the number of unemployed people in Wyoming decreased by 42 percent.
Personal income in Wyoming rose more than 31 percent between 2008 and 2018, according to the BEA.
BEA data also shows that Wyoming's GDP reached $39.1 billion in 2018.
All of that economic success has been generated by a number of different industries. But here are three that really stand out:
1. Health Care
Wyoming's health care sector offers a lot of attractive career opportunities to people within the state. In fact, according to the Occupational Employment Statistics (OES) program, more than 21,000 of the state's residents are employed in this industry. And with about 20 percent of the region's population expected to be elderly by 2030, the need for health care workers may rise.
2. Transportation
With major interstate highways like I-25 and I-80 running through the state, Wyoming is a compelling location for many companies that specialize in ground transportation and logistics. Plus, the OES says that more than 22,000 people in the state have occupations related to this industry. On average, they earn an annual wage of over $46,000.
3. Computer Networking Technology
Attracted by a favorable climate for data hosting and electricity costs that are 28 percent lower than the U.S. average, a number of technology companies are making capital investments in Wyoming. So demand is increasing for various types of tech professionals. For instance, employment of software applications developers within the state is projected to grow by more than 27 percent from 2016 to 2026.
---