Colleges & Trade Schools in Utah
By Publisher
| Last Updated
Vocational colleges and trade schools in Utah offer skills-driven training for a range of appealing career sectors. They help many students become successful contributors in a region that continues to have one of the nation's strongest job markets.
---
Education & Training in Utah
With affordable housing costs, a booming economy, and a variety of post-secondary training options, Utah has many advantages for prospective students.
Key Benefits of the Region for College Students
Low debt: On average, Utah's college graduates have less student loan debt than grads in any other area of the country.
A greater sense of security: Utah ranks number 11 among states with the lowest violent crime rates.
A hot economy: Based on data from the Bureau of Economic Analysis, Utah's economy is one of the strongest in the U.S., with the second-highest annual rate of job growth between 2014 and 2019. And Salt Lake City topped our list of the best cities for jobs.
Student Costs in Utah
The cost of attending a vocational college, university, or trade school in Utah depends on factors like your program choice and your residency status. Here are the average tuition and fees at the state's four-year schools, based on National Center for Education Statistics (NCES) data from 2018-2019:
Public schools: $6,731 (in-state); $21,557 (out-of-state)
Private schools: $7,852
Tuition costs may be lower at two-year institutions.
Based on the same NCES estimates, the average room and board costs at Utah schools were as follows:
Public schools: $7,658
Private schools: $7,952
---
---
Utah College & Trade School Accreditation
Accreditation is a voluntary process by which schools demonstrate they meet an independent agency's quality standards. Federal financial aid is only available to students who enroll in schools that have received regional or national accreditation from agencies recognized by the U.S. Department of Education.
For Utah schools, the regional accreditor is the Northwest Commission on Colleges and Universities (NWCCU). National accreditors include organizations like the following:
Accrediting Commission of Career Schools and Colleges (ACCSC)
Accrediting Council for Continuing Education & Training (ACCET)
Council on Occupational Education (COE)
Private trade and technical schools that are not accredited must register with the state's Division of Consumer Protection.
FAQs About Being a Student in Utah
How do housing costs in Utah stack up?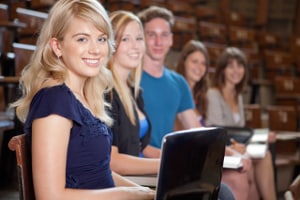 The median monthly rent on a studio apartment in Utah is $835. It's $922 for a one-bedroom unit. Those figures are lower than the nationwide medians: $934 and $953, respectively.
Can students get special deals on public transit?
Students at several universities and colleges can receive discounted or even free use of the Utah Transit Authority (UTA) system. UTA offers bus and rail services throughout Box Elder, Davis, Salt Lake, Summit, Tooele, Utah, and Weber counties.
What other resources can Utah students take advantage of?
Utah's Academic Online Library was specifically designed to help support post-secondary students' education. It enables students at participating colleges and universities to enjoy remote access to research databases and electronic journals.
---
Utah Schools
Sponsored Listings
---
---
Industry Information
Manufacturing, construction, financial services, and information technology are just a few of the many industries on the rise in Utah.
Fastest-Growing Industries
Employment projections from the Department of Workforce Services (DWS) show that the industries below will grow at the fastest rates over the 2018-to-2028 period:
Professional, scientific, and technical services (44%): Workers with the specialized skills to provide services in bookkeeping, engineering, advertising, and the law could see heightened demand for their expertise.
Real estate and rental and leasing (36.5%): More opportunities are expected to emerge within companies that lease equipment, allow the use of patents or trademarks, or rent, manage, appraise, or sell real estate.
Construction (31.8%): Many additional workers will be needed to erect, renovate, and repair Utah's buildings, roads, and physical infrastructure.
Finance and insurance (30.2%): An increasing number of positions are projected to become available in banks, insurance firms, and other establishments that facilitate or support financial intermediation activities.
Healthcare and social assistance (29.9%): Tending to the physical, mental, and social well-being of Utah residents will require more skilled professionals in the years ahead.
Careers Related to the Industries Above
Average Annual Wages
Paralegals

Property managers

Insurance sales agents

Carpenters

Medical assistants
Other Key Industries
In addition to financial services and healthcare, the Utah Governor's Office of Economic Development (GOED) has identified the following sectors as playing a significant role in the state's economic vitality:
Advanced manufacturing: More than 143,000 Utah residents work in manufacturing. What's more, the average earnings in this sector are almost 40 percent higher than the state average.
Aerospace and defense: Utah's 900-plus aerospace companies collectively employ over 31,000 people across the state. Companies like Boeing, Lockheed Martin, and Northrup Grumman have significant operations here.
Energy: Utah has large reserves of coal, oil, and natural gas. Plus, according to the U.S. Energy Information Administration, the state ranks 11th for solar generating capacity. It also features five wind farms as well as multiple geothermal facilities.
Information technology: A CompTIA report says that Utah had one of the fastest tech job growth rates in 2019. The report also estimates that tech employment will expand by 34 percent between 2018 and 2028—the country's second-highest rate.
Life sciences: Utah companies that develop, produce, and distribute medical devices and pharmaceuticals generate more than $9 billion in yearly sales. Employment in this sector grew by almost six percent between 2017 and 2018 alone.
Careers Related to the Industries Above
Average Annual Wages
Software developers

Biomedical engineers

Industrial machinery mechanics

Oil & gas drill operators

Welders
Career Information
Many of Utah's most promising career opportunities are related to animal health, business, and skilled trades. Completing training beyond high school can help you get ready to go after them.
Job Growth
24.4% from 2018 to 2028
Job Openings
Yearly Average
Average Salary
(all occupations)
Population

Number of Employers

Key Industries
Advanced manufacturing, aerospace and defense, energy, information technology, life sciences
Sources
Utah Department of Workforce Services
U.S. Bureau of Labor Statistics
U.S. Census Bureau
Utah Governor's Office of Economic Development
Fastest-Growing Careers in Utah
According to DWS data, the following occupations are expected to see the greatest employment growth rates in Utah from 2018 to 2028. Average wages are drawn from Bureau of Labor Statistics (BLS) estimates for Utah.
Statisticians (81.6%): Collect data through surveys, experiments, and other methods, then apply advanced quantitative techniques to draw meaningful conclusions. Some positions can be had with a bachelor's degree, but a master's degree may serve you better.
Average yearly wage: $71,320
Veterinarians (73%): Examine, diagnose, and treat dogs, cats, hamsters, birds, horses, and other animals. You need to complete a doctoral degree in veterinary medicine and pass a national exam to become licensed.
Average yearly wage: $88,810
Computer and information research scientists (72%): Delve into fundamental computing theories and devise new models and methods for improving technology. A master's degree is commonly required, but a bachelor's degree may be enough for some government positions.
Average yearly wage: $99,870
Veterinary technicians (71.6%): Support veterinarians' work by carrying out tasks like taking x-rays, administering medications, and restraining animals during procedures. To become licensed in Utah, you must complete an approved program or accumulate 6,000 hours of work experience, then pass a national exam.
Average yearly wage: $30,610
Veterinary assistants and laboratory animal caretakers (67.5%): Clean cages and treatment rooms, sterilize instruments, and monitor animals both before and after surgery or other procedures. Formal training is not typically required, but is helpful.
Average yearly wage: $24,090
Good-Paying Careers With the Most Yearly Job Openings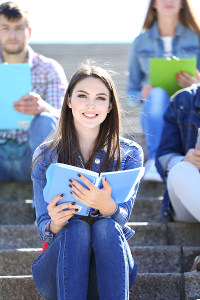 Every year in Utah, abundant opportunities emerge in occupations that pay more than the state average wage. Post-secondary training can help you prepare for them. Below are a few of the top examples, drawn from DWS projections and BLS wage estimates.
General and operations managers (6,430 yearly openings): Keep a business or other organization on track by organizing staff and coordinating departmental activities. Most positions at this level require a bachelor's degree plus significant industry experience.
Average yearly wage: $83,130
Registered nurses (2,090 yearly openings): Monitor patients' conditions, help carry out tests and treatments, and provide advice about managing injuries or illnesses. Completing an approved program is the first step toward acquiring the necessary state license.
Average yearly wage: $67,970
Electricians (1,930 yearly openings): Set up and maintain electrical wiring, components, and equipment in homes, factories, and businesses. Trade school training can help you gain the experience required to sit for the journeyman license exam.
Average yearly wage: $51,410
Business operations specialists (1,690 yearly openings): Help businesses with specialized activities like conducting energy audits, promoting sustainability, selling goods online, or managing security. A bachelor's degree is typically required.
Average yearly wage: $73,410
Market research analysts and marketing specialists (1,680 yearly openings): Collect data on market trends to discover what products consumers want to buy and how those products should be priced and promoted. You will likely need a bachelor's degree.
Average yearly wage: $57,730
---
Vocational Training Can Help You Advance
Colleges and trade schools in Utah enable motivated students to make real progress toward their professional goals by focusing on skills development for growing career sectors.