San Antonio Trade Schools & Colleges
By Publisher
| Published
| Last Updated
San Antonio trade schools and colleges provide convenient ways to develop skills for growing career fields. By pursuing vocational training in this city, you can be well-positioned to find success in its rapidly expanding labor market.
---
Education & Training in San Antonio
Attending a college, university, or technical institute in San Antonio can enable you to enjoy a range of unique advantages.
Key Benefits of the Area for College Students
Solid employment growth: According to an Emsi report, the number of jobs in the San Antonio-New Braunfels metro area increased by 11.4 percent between 2014 and 2019. That far outpaced the nationwide rate of 7.3 percent.
Plenty of young people: According to U.S. Census Bureau data from 2019, the median age of metro-area residents is lower than the median age for both Texas and the U.S. overall.
Fewer traffic headaches: Of the 25 most congested Texas roads, only one is in Bexar County.
Costs
Costs vary among colleges, universities, and vocational schools in San Antonio. But according to Data USA, the median tuition among the area's four-year institutions breaks down like this:
Public schools: $5,307 (in-state); $16,742 (out-of-state)
Private schools: $27,900
---
---
Trade School Accreditation
Schools that hold national or regional accreditation from organizations approved by the U.S. Department of Education have demonstrated that they meet established quality standards. Federal financial aid is only given to students who attend schools that are accredited through such organizations.
Recognized accreditors for Texas post-secondary institutions include the Southern Association of Colleges and Schools Commission on Colleges, the Accrediting Commission of Career Schools and Colleges, and other agencies.
Private institutions also need to be authorized or approved by the state.
Financial Aid for San Antonio Students
The federal government offers a wide range of grants and other types of student financial aid. San Antonio students can also check out the offerings at the state level.
Plus, help is available from non-governmental organizations. For example, the San Antonio Education Partnership (SAEP) offers a scholarship to students from designated high schools who enroll in participating institutions and meet other eligibility requirements. And the San Antonio Area Foundation has details on dozens of scholarships for which you may be eligible.
FAQs About Being a Student in San Antonio
Does San Antonio have affordable rates for off-campus housing?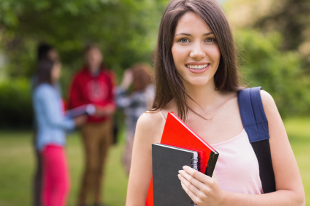 Rental prices are fairly reasonable. According to census data, a studio apartment in the San Antonio-New Braunfels metro area rents for $875 per month on a median basis. That's less than the Texas median ($900) as well as the national median ($934).
When it comes to one-bedroom units, the median rate in San Antonio-New Braunfels is significantly lower than the statewide median ($884 versus $954). It's also a good deal compared to the national median of $953.
What are the options for students who can't or don't want to drive?
VIA Metropolitan Transit operates its fleet of buses throughout San Antonio and much of Bexar County seven days a week. The convenient Next Bus service allows you to get real-time alerts on bus arrivals delivered to your phone or other mobile devices. Plus, each bus provides free Wi-Fi, making it easy to stay connected during your journey.
And students can qualify for special deals. If you attend a school that participates in the U-Pass program, you can ride for free. Other university, college, and trade school students can purchase discounted semester-long passes.
What other resources can San Antonio students benefit from?
Through cafécollege, you can get free assistance with exploring careers, planning your college path, and applying for financial aid. Help is available online or by phone.
Plus, Bexar County residents can take advantage of BiblioTech, which offers free access to a collection of digital resources, including books, newspapers, and databases. You can also borrow a tablet or portable hotspot if need be.
---
San Antonio Schools
Sponsored Listings
Automotive Service Technician
Combination Welding
Diesel Heavy Truck Technician
Heating, Ventilation, Air Conditioning, and Basic Refrigeration
Business Accounting Specialist
Computer Support Specialist
Cosmetology Operator
Electrical Technician
Medical Assistant
Medical Billing and Coding Specialist
Medical Office Specialist
Pharmacy Technician
---
---
Industry Information
San Antonio's vibrant economy is supported by a mix of industries, including technology, energy, social services, and more.
Fastest-Growing Industries
Based on Texas Workforce Commission (TWC) projections for 2018 to 2028, the sectors below should see the most rapid employment growth rates in the Alamo region (which includes San Antonio and surrounding counties).*
Individual and family services (98.3%): An enormous increase in demand is expected for workers who arrange essential social supports for older adults, kids, people with disabilities, and others.
Local messengers and local delivery (97.4%): Workers who pick up and deliver documents and other small packages within the San Antonio area will likely see higher demand for their services.
Nonscheduled air transportation (82.9%): Companies that operate chartered flights and other specialty air services will need more staff members in the years ahead.
Oil and gas extraction (79.4%): Many new opportunities are expected to open up for workers with the skills to bring San Antonio-area reserves of petroleum and natural gas up to the surface.
Software publishers (66.5%): This expanding sector includes professionals who contribute to the production, distribution, installation, or support of packaged, downloadable, or subscription-based software.
Careers Related to the Industries Above
Average Annual Wages
Technical writers

Cargo & freight agents

Child, family & school social workers

Oil drillers

Couriers & messengers
Other Key Industries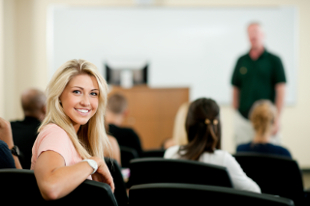 According to Greater: SATX, additional sectors that are key to the region's economic success include the following:
Aerospace: San Antonio is a key player in the maintenance, repair, and overhaul (MRO) space. Companies like StandardAero, Boeing, and Knight Aerospace all have major operations here.
Bioscience: According to BioMedSA, more than 18 percent of the San Antonio workforce is in this industry. Over 1,400 clinical studies were underway here in 2019 alone. The region also hosts two of the largest hospitals and one of the biggest military healthcare systems in the country.
Cybersecurity: San Antonio boasts the second-highest number of certified cybersecurity professionals in the nation. The region is home to one of only four National Security Agency cryptologic centers outside Maryland, and the only one in Texas.
Financial services: Frost Bank and USAA both have their headquarters here. This sector already supports over 100,000 jobs in San Antonio. And that number is expected to grow eight percent by 2023.
Manufacturing: The San Antonio Manufacturers Association has nearly 1,700 members. Companies in the region produce automobiles, machinery, chemicals, food and beverage products, aerospace components, and more.
Careers Related to the Industries Above
Average Annual Wages
Industrial production managers

Network administrators

Credit analysts

Medical scientists

Aircraft mechanics
Career Information
San Antonio residents can find good career prospects in business, technology, engineering, and education. College-level training is often required.
Job Growth
(Alamo region*)
15.7% from 2018 to 2028
Job Openings
Yearly Average
(Alamo region*)
Average Salary
(all occupations)
Population
(city)
Number of Employers
(Bexar County)
Key Industries
Aerospace, bioscience, cybersecurity, financial services, manufacturing
Sources
Texas Workforce Commission
U.S. Bureau of Labor Statistics
U.S. Census Bureau
San Antonio Economic Development Foundation
Fastest-Growing Careers
Of the occupations that employ 100 people or more, the ones listed here are expected to expand the fastest over the 2018-to-2028 period in the region that includes San Antonio. That's according to TWC employment projections.* Unless otherwise indicated, yearly wages represent Bureau of Labor Statistics (BLS) estimates for the San Antonio-New Braunfels metro area.
Geoscientists, except hydrologists and geographers (56%): Collect samples and conduct lab tests to study the structure, composition, and other physical properties of the earth. You will need a bachelor's degree and, in some cases, a license from the Texas Board of Professional Geoscientists.
Average yearly wage: $90,580
Personal care aides (49.8%): Assist with basic tasks like cleaning, washing clothes, and preparing food. A high school diploma is enough to get started.
Average yearly wage: $21,480
Information security analysts (47.4%): Take steps to safeguard computer systems and develop plans for what to do in the event of a breach or other disaster. A bachelor's degree is typically required.
Average yearly wage: $91,080
Gambling service workers (46.8%): Carry out support tasks at racetracks, such as taking bets or giving out winnings. Good customer service skills are essential, but you don't need any formal training.
Petroleum engineers (45.8%): Come up with safe and efficient ways of drilling for and recovering oil and natural gas. You must complete a bachelor's degree.
Average yearly wage: $172,890 (statewide)
Good-Paying Careers With the Most Yearly Job Openings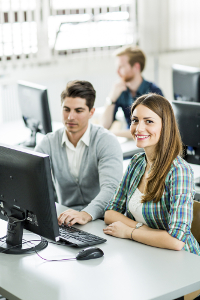 With post-secondary training, you can gain the qualifications you need for occupations with numerous open positions and pay more than the San Antonio metro area average. Check out some of the top examples drawn from BLS wage data and TWC employment projections.*
General and operations managers (1,715 yearly openings): Keep an establishment moving forward by coordinating its staff and daily activities. A bachelor's degree is commonly necessary, as is a few years of experience in your specific industry.
Average yearly wage: $118,950
Registered nurses (1,607 yearly openings): Contribute to the recovery and continued well-being of sick and injured people. You must be licensed by the Texas Board of Nursing, which requires graduating from a state-approved program and passing both a state and national exam.
Average yearly wage: $72,410
Accountants and auditors (1,170 yearly openings): Track income and expenses, prepare financial statements, and make sure all records are compliant with government regulations. Most of these professionals hold bachelor's degrees.
Average yearly wage: $75,240
Elementary school teachers (1,091 yearly openings): Use class discussions, hands-on projects, field trips, and other techniques to help young students learn important concepts. To meet the certification requirements of the Texas Education Agency, you must start by completing a bachelor's degree and a teacher preparation program.
Average yearly wage: $56,160
Business operations specialists (1,082 yearly openings): Share specialized expertise in an area like energy auditing, security management, sustainability, customs brokering, online merchandising, or continuity planning. A bachelor's degree is the usual requirement.
Average yearly wage: $75,940
---
Trade School Can Boost Your Professional Ambitions
The programs at San Antonio trade schools are designed to help students learn career-ready skills for appealing vocational fields. By checking out the available options, you can begin pursuing a life with more opportunities.
---
* Job growth and job opening numbers are based on projections for the Alamo workforce development area, which includes Bexar, Comal, Guadalupe, Wilson, Karnes, Atascosa, McMullen, Frio, Medina, Bandera, Kendall, Kerr, and Gillespie counties.