Why South Dakota Schools Are Part of a Successful Region: 3 Student-Friendly Benefits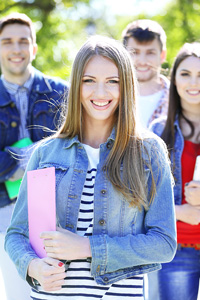 It doesn't take long to realize that South Dakota is special. With fewer than a million residents, this state might be considered small. But the people here have turned the region's size into a major strength. In fact, it would be hard to find another state where collaboration, kindness, and honest work are valued as much as they are here. The region simply has a character that invites success.
That's why the South Dakota Department of Labor and Regulation expects the state's population to grow by 10 percent between 2020 and 2035. South Dakotans are building upon their successes and creating a prosperous future that a lot of people want to be part of. Throughout South Dakota, colleges and universities (including career-oriented trade schools) are helping the next generation of professionals prepare for that future.
Will you be one of those people? As you explore that possibility, think about a few of the greatest advantages of getting your education here. Students and graduates of schools in South Dakota frequently benefit from:
1. An Affordable and Appealing Quality of Life
South Dakotans are proud of their communities. From Rapid City to Watertown to Sioux Falls, people get to enjoy convenient urban amenities while still living in places that retain a small-town feel. As a matter of fact, the average commute time is under 17 minutes—the shortest in the nation.
Plus, scenic beauty is all around. You never have to go far to take advantage of amazing outdoor recreational opportunities such as hiking, camping, or watersports when you're away from class or not at work. The hiking trails alone total hundreds of miles throughout the state.
And you can't beat the cost of living, which is lower than the nationwide average. That means you get to keep more of the money you earn. South Dakota doesn't even have a personal state income tax.
2. Diverse and Successful Industries
The state's economy continues to move forward thanks to a wide-ranging industrial base. As a result, anyone looking to establish a stable or profitable career can find great vocational sectors in South Dakota that are worth training for. Consider the following examples:
3. Strong Occupational Growth
The South Dakota Department of Labor and Regulation says that between 2016 and 2026, more than 33,000 job openings are expected to be generated throughout this state. And many of those jobs will be in the career sectors mentioned above. Of course, it's also possible to get practical training for many other strong industries in South Dakota. Law enforcement training, as just one example, is often available through criminal justice programs.
Check out the projected rates of employment growth for these important and satisfying occupations over the decade from 2016 to 2026:
Respiratory therapists: 29 percent
Applications software developers: 29 percent
Computer numerically controlled machine tool programmers: 28 percent
Computer information security analysts: 27 percent
Massage therapists: 25 percent
Marketing specialists: 22 percent
Personal care aides: 22 percent
Physical therapist assistants: 21 percent
Diagnostic medical sonographers: 20 percent
Paralegals and legal assistants: 20 percent
Medical assistants: 19 percent
Cardiovascular technicians and technologists: 15 percent
Personal financial advisors: 15 percent
Medical secretaries: 14 percent
Registered nurses: 14 percent
Health services managers: 13 percent
Aircraft mechanics: 12 percent
Computer network architects: 11 percent
Medical records and health information technicians: 10 percent
Computer user support specialists: 10 percent
Accountants and financial auditors: 10 percent