Colleges & Trade Schools in PA
By Publisher
| Published
| Last Updated
Pennsylvania is where countless people continue to create their own success stories. With convenient and streamlined training from technical colleges and trade schools in PA, they can take advantage of great opportunities in health care, business, skilled trades, and many other career sectors.

Online
Programs Available
---
Education & Training in Pennsylvania
Students in PA can benefit from a huge variety of higher education and career training options designed to help them succeed. Many Pennsylvania residents are eligible for state and/or federal financial aid if they attend accredited schools. Financial aid makes it more affordable to complete certificate, diploma, or degree programs (including those that provide hands-on training for in-demand vocations).
Key Benefits of the Region for College Students
Higher potential for achieving your educational goals: In terms of college graduation rates, Pennsylvania ranks fifth among all states.
More chances for one-on-one instruction: On average, public and private degree-granting schools in Pennsylvania have lower student-to-faculty ratios than the nationwide averages.
Good prospects for a fulfilling life outside of school: Several networking groups throughout Pennsylvania, such as Pittsburgh Young Professionals, make it easier for college students and graduates to grow their social connections and enhance their professional skills. Plus, this state is a great place to pursue internships, apprenticeships, and other employment and workplace training opportunities. After all, Pennsylvania ranks seventh among states with the most Fortune 500 headquarters.
Student Costs in Pennsylvania
Educational expenses depend on several factors, such as what you study, the length of your program, and the type of school you choose. Based on data from the National Center for Education Statistics (NCES), these were the average tuition and fees at four-year institutions in Pennsylvania during the 2018-2019 academic year:
Public schools: $14,812 (in-state); $28,527 (out-of-state)
Private schools: $41,703
If you attend a two-year community college or vocational school, your yearly tuition and fees may be lower than the amounts above.
In terms of annual room and board expenses, the same NCES data indicates that Pennsylvania college and university students who lived on campus paid these amounts, on average:
Public schools: $11,475
Private schools: $13,545
---
---
Pennsylvania Trade School Accreditation
Independent organizations accredit schools that meet and maintain certain standards of quality. If accredited schools stop living up to those standards, they can lose their accreditation. The U.S. Department of Education recognizes several regional and national accrediting bodies. In order to qualify for federal student aid, it's important to attend a school that is accredited by such an organization.
The Middle States Commission on Higher Education (MSCHE) is the regional accrediting body for several universities, technical schools, and colleges in Pennsylvania. Alternatively, post-secondary schools in the state can be nationally accredited by organizations such as:
Accrediting Commission of Career Schools and Colleges (ACCSC)
Council on Occupational Education (COE)
Accrediting Council for Independent Colleges and Schools (ACICS)
Accrediting Council for Continuing Education & Training (ACCET)
All degree-granting institutions in the state must be authorized by the Pennsylvania Department of Education. In addition, many career-oriented schools that award certificates, diplomas, and associate degrees must be licensed and have their programs approved by the Pennsylvania Board of Private Licensed Schools.
Financial Aid for Pennsylvania Students
The Pennsylvania Higher Education Assistance Agency (PHEAA) administers various financial aid programs for eligible state residents. For example, the Pennsylvania State Grant Program provides money for school that doesn't need to be paid back. The exact award amount depends on a qualifying student's level of financial need and the type of institution he or she attends. The money can help pay for training or education at an approved public or private two- or four-year college, university, technical school, or trade school.
The PA Forward Student Loans program is another example. Eligible residents can receive low-interest loans that cover as much as 100 percent of the cost of attending a post-secondary school within the state. The program offers several options for repaying the loans.
Many students qualify for federal financial assistance, such as grants, loans, and work-study programs. Current or former members of the military may also be eligible for special educational benefits. And many schools and independent organizations offer scholarships based on merit or a wide variety of other factors.
For many types of aid, your eligibility is determined by submitting the Free Application for Federal Student Aid (FAFSA) each year.
FAQs About Being a Student in Pennsylvania
Is living off-campus affordable in Pennsylvania?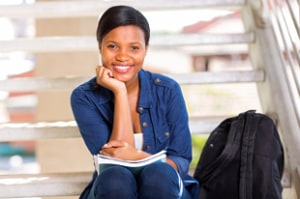 Pennsylvania's overall cost of living is slightly higher than the national average. However, housing is often affordable. For example, the median monthly rent for a studio apartment in the state is $762 (compared to $934 nationally). A one-bedroom unit in the state goes for $805 (compared to $953 nationally).
Should I have a car while attending a Pennsylvania college or trade school?
Having a vehicle provides the greatest convenience and flexibility, but it isn't necessary. Lots of students can't afford to own cars, and many simply prefer not to drive. Thankfully, affordable public transportation services are available throughout Pennsylvania, even in many rural areas. You can save a lot of money each year by taking advantage of public transit rather than paying for gas, parking, and insurance.
Some public transit agencies, including those that serve Philadelphia and Pittsburgh, offer discounts to college students who attend certain schools.
As a Pennsylvania student, is there anything else I should know about?
Commonwealth Secondary School Diploma
If you dropped out of high school and are at least 18 years old (or have a state-approved age waiver if 16 or 17), you can earn a Commonwealth Secondary School Diploma (CSSD) by completing one of three options. You can pass either the HiSET or GED exam. Or you can complete at least 30 credits at an accredited post-secondary school.
With a CSSD, you may qualify for admission to a greater number of technical colleges, vocational schools, community colleges, and traditional four-year colleges or universities.
Libraries
Also, regardless of where you go to school, it's a good idea to take advantage of your local public libraries. Beyond their vast collections of books and downloadable media, they frequently offer other helpful resources such as free Wi-Fi and computers with Internet access. Some libraries offer a variety of career services (like help with drafting resumes or preparing for job interviews).
Student Services and Placement Assistance
Many career schools, technical colleges, and trade schools offer various student services, including assistance with your job search before and after graduating. And if your vocational program includes a real-world learning experience through an externship, you'll likely receive placement assistance for that as well.
---
Pennsylvania Schools
Sponsored Listings
---
---
---
---
---
---
---
---
---
---
---
---
---
Industry Information
The career training programs offered by numerous Pennsylvania schools are designed to prepare students for opportunities in several of the state's best industries. Many sectors are fueled by population growth in the region. A report by the Center for Rural Pennsylvania, estimated that between 2020 and 2040, the state's population could rise by almost seven percent (which would equal more than 900,000 new residents).
Fastest-Growing Industries in Pennsylvania
According to statewide projections from the Commonwealth of Pennsylvania's Center for Workforce Information & Analysis (CWIA), the following sub-sectors are forecast to have the fastest rates of employment growth from 2018 to 2028.
Home health care services (38.8%): The state will likely experience rising demand for in-home nursing, personal and therapeutic care, as well as a wide variety of other health-related services.
Local messengers and local delivery (31.5%): Residents and organizations within Pennsylvania's metro areas are increasingly using the services of urban couriers for sending or receiving things like restaurant meals, groceries, documents, and other small items or packages.
Other ground passenger transportation (25.2%): Demand is growing for van, shuttle, and other non-transit services (excluding taxis and limousines) that specialize in transporting residents with special needs or people who need to get to and from airports, hotels, and similar places.
Outpatient care centers (23.2%): This sub-sector includes facilities that provide in-demand services like same-day surgeries, kidney dialysis, minor emergency care, family planning, or counseling and support for those with addictions or mental health problems.
Community care facilities for the elderly (22.7%): There is a growing need for residential care facilities that provide assisted living services and nursing care, due to the rising population of elderly residents.
Careers Related to the Industries Above
Average Annual Wages
Physical therapist assistants

Licensed practical nurses

Medical assistants

Shuttle drivers

Couriers
Other Key Industries
The Pennsylvania Department of Community and Economic Development (DCED) says that the following sectors are particularly important contributors to the region's growth and stability.
Agribusiness: Roughly one in every ten workers in the state are employed in this industry, according to DCED. About 579,000 people work in areas like food processing, forestry, and paper and hardwood products.
Life sciences: DCED notes that more than 78,000 PA residents, across over 2,300 workplaces, are involved in areas like medical testing or the research and development of medical devices, pharmaceuticals and other therapeutics, and specialized technology related to health care.
Manufacturing: Pennsylvania has a large and varied manufacturing base, with many facilities using advanced industrial engineering technology. As noted by DCED, more than 564,700 people are employed in this sector. They help make nanomaterials, medical equipment, machinery, plastics, chemicals, and rubber and fabricated metal products among many other goods.
Natural gas: This state produces some of the largest quantities of natural gas in America. According to DCED, over 72,000 residents have jobs in this energy sub-sector. Many of those jobs are in the skilled trades.
Tourism: Pennsylvania is a prime destination for travelers who are interested in American history. Tourists are also attracted to the state's distinctive mix of small towns, major cities, and beautiful natural areas. DCED says that about 197 million American travelers visit the state each year, supporting the employment of over 490,000 Pennsylvania residents.
Careers Related to the Industries Above
Average Annual Wages
Food technologists

Hotel managers

Medical lab techs

Industrial machinery mechanics

Welders
Pennsylvania Career Information
Pennsylvania is a good place to follow your vocational interests, especially if you're thinking of following a career path in health care, business, education, or the skilled trades.
Job Growth
5% from 2018 to 2028
Job Openings
Yearly Average
Average Salary
(all occupations)
Population

Number of Employers

Key Industries
Agribusiness, life sciences, manufacturing, natural gas, tourism
Sources
Center for Workforce Information & Analysis
U.S. Bureau of Labor Statistics
U.S. Census Bureau
Pennsylvania Department of Community and Economic Development
Fastest-Growing Careers
CWIA projections indicate that between 2018 and 2028, the occupations below are expected to have the highest rates of new job creation across Pennsylvania. Statewide wage estimates are from the Bureau of Labor Statistics (BLS).
Wind turbine service technicians (96.4%): Contribute to the growth of clean energy in the state by installing, fixing, and maintaining enormous outdoor devices that harness the power of the wind to produce electricity. You can learn skills for this trade through a short technical program.
Average yearly wage: $60,420
Statisticians (31.2%): Help organizations find practical solutions and make better decisions by collecting and analyzing data. At the very least, you'll probably need a math-related bachelor's degree, but many positions require a graduate degree.
Average yearly wage: $89,150
Physician assistants (30.9%): Play a major role in the assessment, diagnosis, and treatment of patients by practicing general or specialized medicine as part of a health care team. You must complete an approved graduate program. And depending on the type of physician who supervises you, you'll need to gain licensure through either the State Board of Medicine or the State Board of Osteopathic Medicine.
Average yearly wage: $102,620
Home health aides (28.8%): Provide basic in-home care and assistance with administering medications, housekeeping, bathing, and other routine activities. You can enter this field by passing a competency exam at an agency that employs you or by completing a vocational program approved by the Pennsylvania Department of Health, such as one for nurse aide certification.
Average yearly wage: $25,810
Occupational therapy assistants (27.5%): Help people with injuries or disabilities carry out prescribed exercises and become more capable of completing everyday tasks for their jobs or home life. To gain licensure through the State Board of Occupational Therapy Education, you first need to complete an approved associate degree program at a private or public school.
Average yearly wage: $57,200
Good-Paying Careers With the Most Yearly Job Openings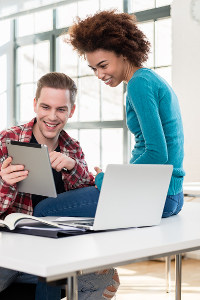 By completing some post-secondary education or vocational training, Pennsylvanians can go after occupations that frequently yield thousands of open positions and above-average pay for the state. Here are some top examples, based on 2018-to-2028 CWIA projections and BLS wage estimates.
Registered nurses (10,507 yearly openings): Support the recovery and well-being of medical patients by assessing their conditions, coordinating their care, administering treatments, monitoring their health status, and more. To become licensed through the State Board of Nursing, you first need to complete an approved nursing program.
Average yearly wage: $71,410
General and operations managers (7,980 yearly openings): Lead an establishment's day-to-day functions, ensuring that staff members work effectively and that everything runs as it should. A bachelor's degree plus several years of industry-relevant experience are often the minimum requirements.
Average yearly wage: $132,110
Accountants and auditors (5,871 yearly openings): Help companies or other organizations make good financial decisions, keep track of their revenue and spending, and stay compliant with tax laws and various regulations. You generally need to earn at least a bachelor's degree related to this field.
Average yearly wage: $76,720
Carpenters (4,466 yearly openings): Play a big part in constructing or repairing buildings or other structures by using a wide variety of essential hands-on skills. Completing a carpentry trade program at a vocational school is an excellent way to learn those skills. Many people also get trained through apprenticeships.
Average yearly wage: $54,810
Elementary school teachers (4,430 yearly openings): Aid in the growth of children's potential by instructing them in core subjects. You need to earn a bachelor's degree and complete a teacher certification program approved by the Pennsylvania Department of Education.
Average yearly wage: $69,630
---
A Trade School Can Prepare You for What's Ahead
As new career opportunities continue to be created in Pennsylvania, many of the best ones will go to people with post-secondary certificates, diplomas, or degrees. Several trade schools in PA offer convenient training programs that can help you earn the credentials you need for worthwhile vocations.