Trade Schools in Nebraska: 5 Reasons Why Training and Working Here Is a Smart Choice
Nebraska is a great place to plant your roots. You can attain a quality education that could help lead you to many promising and exciting career opportunities, all without having to leave the state. So take a moment to discover the reasons why so many people choose Nebraska trade schools and colleges to get the skills that they need for the future. You may be surprised by what you learn about this Midwest state!
1. It's Home to Fortune 500 Companies & Other Major Corporations
When you consider attending a Nebraska college or university, you probably want to have a good idea of what kinds of job opportunities could be available once your training is complete. You'll be happy to know that Nebraska fares quite well in this respect. You likely know that Warren Buffet is a fellow Nebraskan, and the multibillionaire's corporate empire, Berkshire Hathaway, is headquartered out of Omaha. And it is not the only Fortune 500 company that calls Omaha home. Others include ConAgra, Kiewit Corp, Mutual of Omaha, and Union Pacific Railroad. Additionally, specialty retailer Cabela's is headquartered out of Sidney, and national hobby and toy store HobbyTown USA is based out of Lincoln.
Some of the other large employers in the state include:
CHI Health
First Data
Liberty Tax Service
Offutt Air Force Base
University of Nebraska
West Corporation
These organizations—along with the thousands of others that help make Nebraska so great—regularly recruit talented individuals to work at their firms. They include business, engineering, healthcare, and information technology professionals. And there are plenty of Nebraska colleges and universities that can help you start developing the talent that gets you noticed.
2. There Are Many Strong and Growing Industries
Although Nebraska's roots are in agriculture, the state has developed a modern and diversified economy. Take a closer look at some of the state's most prominent industries:
Agriculture—Historically, Nebraska is an agricultural state due to the amount of prairieland found here. In fact, farms and ranches make up 91 percent of the state's land. These operations grow everything from beans to wheat. Agriculture accounts for one out of every four jobs and contributes $21 billion to the state's economy. Nationally, Nebraska ranks second for ethanol production.1
Bioscience—Nebraska is making ground in the field of bioscience. Dozens of companies across the state specialize in everything from medical equipment to pharmaceuticals to research.
Finance and insurance—With some of the largest financial institutions in the country headquartered out of Nebraska, it is no surprise that finance- and insurance-related jobs across the state are expected to expand by 10 percent between 2016 and 2026.2
Information technology—Nebraska is referred to as a part of the Silicon Prairie (which includes other surrounding Midwest states). Nebraska's impressive telecommunications infrastructure, combined with a growing number of high-tech investors, business incubators, tax subsidies, and other incentives, has led to a tech boom within the state. And with high salaries and a low cost of living, it's a pretty attractive place to work. Plus, employers in the state say there is a major shortage of high-tech workers for thousands of good-paying job openings.4
Manufacturing—There are more than 1,600 manufacturers across the state that have a total manufacturing output of $14 billion. With over 97,000 employees, the manufacturing sector makes up almost 10 percent of Nebraska's workforce. But manufacturing also supports many indirect jobs across the state. For example, manufacturers export $5.38 billion in goods from the state, and more than 80 percent of the Nebraskan exporters who move those goods are small businesses.5
Telecommunications—After World War II, the U.S. government moved the Strategic Air Command (SAC) to Omaha, which resulted in the development of one of the fastest and most secure telecommunications systems in the country. And in the early 90s, Omaha was one of the first cities in the nation to be wired with a fiber-optic cable network.6 Nebraska has remained a telecommunications hub, and, for this reason, many large companies have based their call center operations in the state. They include organizations like Greyhound, Marriot, PayPal, and SiriusXM.
Transportation—With Union Pacific Railroad based out of Nebraska, it makes sense that the state is considered a transportation hub. And with its central Midwestern location and seven major national highways, many national trucking firms use Nebraska as a base. In fact, the trucking industry employs over 60,000 workers across the state.7
3. It Has One of the Lowest Unemployment Rates in the Country
Unemployment is not much of a worry for Nebraskans. The state's jobless rate is well below the national average.8 That's partly due to a strong agricultural sector, diverse economy, highly educated workforce, and stable and affordable housing market. So after completing your studies at one of the region's trade schools or colleges, Nebraska can offer you the potential for more job security than many other states.
4. It Ranks as One of the Most Affordable Places in the Country
Another solid reason that you may want to explore colleges and universities in Nebraska is the fact that it often ranks among the most affordable states in the nation. One big consideration is the cost of real estate. Check out the median house sales prices in the following states and regions:9
Nebraska—$215,000
New York—$425,000
California—$549,900
District of Columbia—$599,000
So if you dream of owning your own home, Nebraska can be an ideal place to make that happen.
Nebraska also boasts a reasonable cost of living. For example, in Omaha—the largest city in the state—supermarket prices are 38 percent lower than in New York City, and rental prices are more than 70 percent lower.10 So ultimately, studying at the top Nebraska colleges and universities can mean more money in your pocket since your cost of living is lower than that of many other states.
5. It Offers Excellent Work-Life Balance, and People Here Are Happy & Healthy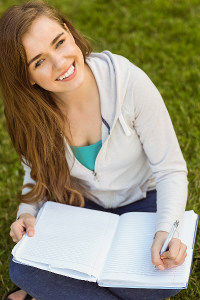 Many Nebraskans choose to live the country life but commute into the urban centers for work. And for those living in the city, the country life is less than an hour away. So it's easy to have the best of both worlds while living and studying in Nebraska. And you can feel secure here too since the property crime rate is almost three percent lower than the national average, and the violent crime rate is 25 percent lower.11
Nebraska is also well known for its friendly residents. That could have a lot to do with the fact that many people are happy with their lives. The Gallup-Healthways Well-Being Index found that Nebraskans ranked high for having a sense of:12
Purpose—A large number of Nebraskans like what they do each day and are motivated to achieve their goals.
Financial security—Many residents feel that they can manage their finances in order to reduce stress and increase security.
Community—A lot of Nebraskans like where they live, feel safe, and have pride in their communities.
In another study, Nebraska ranked as the 10th best state to raise a family. This was based on factors like school ratings, crime rates, affordable housing availability, and the cost of living.13 It certainly sounds like picking one of the Nebraska universities, colleges, or trade schools could lead you to a happy and rewarding life.
---
Take Advantage of the Opportunities Before You
You can see that Nebraska is so much more than prairies and cornfields. This state offers numerous exciting career opportunities, it's an affordable place to live, and it can contribute to you achieving a fulfilling personal and professional life. If you're ready to discover the Nebraska trade schools and colleges near you, simply enter your zip code into the search box below. Doing so could open up a whole new world of possibilities!
---
---
1 Nebraska Department of Agriculture, Nebraska Agriculture Fact Card, website last visited on September 10, 2019.
2 Nebraska Department of Labor, NEworks, website last visited on September 10, 2019.
3 Nebraska Manufacturing Advisory Council (NeMAC), "Nebraska: Home to Great Startups on the Silicon Prairie," website last visited on February 19, 2020.
4 Omaha World-Herald, "'Something is actually going to get done': New hire to tackle tech worker shortage in Nebraska," website last visited on January 27, 2020.
5 Nebraska Manufacturing Extension Partnership, Manufacturing in Nebraska, website last visited on September 10, 2019.
6 Nebraskastudies.org, History of the Infrastructure, website last visited on September 10, 2019.
7 Nebraska Trucking Association, Trucking's Economic Impact, website last visited on February 19, 2020.
8 Bureau of Labor Statistics, website last visited on September 10, 2019.
9 Business Insider, "The most expensive and affordable states to buy a house, ranked," website last visited on September 10, 2019.
10 Numbeo, Cost of Living in Omaha, website last visited on September 10, 2019.
11 The Federal Bureau of Investigation (FBI), Uniform Crime Reporting Statistics (UCR), website last visited on September 10, 2019.
12 Gallup-Healthways Well-Being Index, website last visited on September 10, 2019.
13 WalletHub, "Best & Worst States to Raise a Family," website last visited on September 10, 2019.