---
---
3 Major Vocational Sectors in Mississippi Worth Paying Attention To
Mississippi might be well known for its cotton and other agricultural industries, but it has plenty more going for it. In fact, the state's population of more than 2.9 million people gets to enjoy the benefits of a region that is cultivating success across an impressive range of different industries.*
Over the years, the state has grown its economic output considerably. For example, between 2000 and 2018, Mississippi's GDP (when adjusted for inflation) increased by over 17 percent.** And that kind of growth is producing new opportunities for tradespeople, business and finance professionals, and many others.
Just consider these examples: Projections indicate that, from 2014 to 2024, the employment of specialty trade contractors (like HVAC technicians) could increase by 7.9 percent within the state. And employment of administrative support pros could grow by nearly 20 percent.***
But those stats only hint at the larger story. While it's true that Mississippi is still full of rural charm, it is also a state on an upward path of innovation and fresh possibilities.
From places along the Gulf of Mexico like Biloxi and Gulfport to the capital city of Jackson to fast-growing regions like Southaven, Mississippians of every stripe are discovering that the state now offers more compelling career sectors than ever before.
Here are three of the most intriguing examples:
1. Health Care
Already the state's largest employment sector, Mississippi's health care industry continues to grow. Fuelled by innovative companies, expanded medical insurance coverage, and a rising population, it's a field that's teeming with good opportunities for people in all kinds of roles. Check out some of the numbers:
More than 576,000 people live in Jackson and the surrounding areas, including over 40,000 students.**** Gulfport has a population in excess of 71,000.† Biloxi has more than 44,500 residents.‡ And based on projections, Southaven's population has grown by over 11 percent between 2015 and 2020 to more than 58,000 residents.†† Those are just a few examples of Mississippi cities with large populations requiring reliable access to health and medical services.
From 1991 to 2014, health expenditures in Mississippi rose by 13 percent per year, on average, to over $22.8 billion.‡‡
In 2017, more than 51.8 million retail drug prescriptions were filled in Mississippi pharmacies.‡‡
The number of Mississippians working in health care is expected to grow to 180,270 in 2024—8.6 percent more than in 2014.***
2. Advanced Manufacturing and Technology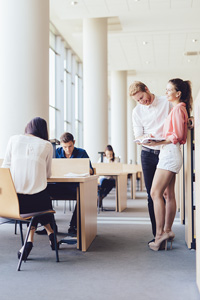 Mississippi's world-class manufacturing sector is remarkably diverse. And it's increasingly very high-tech. It encompasses progressive industries such as aerospace, aviation, automotive production, renewable energy, shipbuilding, metal fabrication, and advanced materials production. As a result, numerous companies within the sector employ both skilled factory technicians and white-collar technology professionals.
In 2016, 142,660 Mississippians worked in manufacturing. And that number is projected to grow to 146,060 by 2026. But when you consider technology occupations, the employment potential also looks promising. That's because a lot of technology professionals perform work that is essential for advanced manufacturing. For example, between 2016 and 2026, the employment of network architects could grow by 5.8 percent. And jobs for mechanical drafters and industrial engineering technicians could grow in number by 10.5 percent and 7.4 percent, respectively.*** And it includes a lot of professionals who perform work that is essential for advanced manufacturing and technological development—such as network engineers, software developers, design and drafting technicians, and electrical and industrial engineering technicians.
3. Trucking, Shipping, and Distribution
Mississippi is located in a prime spot to take advantage of the nation's busy shipping industry. With its central location in the Gulf region, the state empowers many warehousing and distribution companies to provide timely and cost-effective inventory and transportation services for importers, exporters, and domestic manufacturers.
Plus, the state's ground transportation is made up of so much more than just beautiful country roads. Mississippi has six interstate highways running through it. And that makes it a great place for basing commercial truck-driving operations. In fact, from 2014 to 2024, employment within the state's trucking sector is anticipated to increase by over 5 percent to 22,900 workers.***
---
---
* State of Mississippi, website last visited on January 23, 2020.
** Regional Economic Analysis Project, website last visited on January 2, 2020.
*** Mississippi Department of Employment Security, website last visited on January 23, 2020.
**** City of Jackson, website last visited on January 10, 2019.
† City of Gulfport, website last visited on December 19, 2019.
‡ City of Biloxi, website last visited on January 10, 2019.
†† DeSoto County Economic Development Council, website last visited on November 25, 2019.
‡‡ Kaiser Family Foundation, website last visited on January 10, 2019.