Trade Schools in Grand Rapids, Michigan
By Publisher
| Last Updated
With job-oriented training from colleges and trade schools in Grand Rapids, Michigan, motivated adults like you can begin mastering the skills needed for vocational success. Industries with particularly good prospects in this part of the Midwest include manufacturing, technology, and more.
---
Education & Training in Grand Rapids
The Grand Rapids region offers numerous benefits for anyone looking to train and launch a career.
Key Benefits of the Area for College Students
Abundant choices: With more than a dozen post-secondary schools in Grand Rapids, students have plenty of options.
A solid job market: In October 2020, the Grand Rapids-Wyoming metro area had the second-lowest unemployment rate among all metros in Michigan.
Potential for personal growth: According to census data, the city of Grand Rapids has higher percentages of people who identify as multi-racial, Black or African American, and Hispanic or Latino than Michigan as a whole. Living among people with diverse backgrounds can enhance your ability to thrive in the modern workplace.
Costs
Your education's total cost depends on a range of factors, including the institution and program you choose. Below are the median tuition costs at four-year colleges in the Grand Rapids-Wyoming metro area, according to Data USA:
Public schools: $12,306 (in-state); $17,376 (out-of-state)
Private schools: $23,828
---
---
Trade School Accreditation
Being regionally or nationally accredited by an agency approved by the U.S. Department of Education (ED) shows that a school has met established standards of quality. It also indicates that students at that school may participate in federal financial aid programs.
ED-recognized agencies that accredit schools in Michigan include:
Higher Learning Commission
Accrediting Commission of Career Schools and Colleges
Accrediting Bureau of Health Education Schools
Financial Aid for Grand Rapids Students
The federal and state governments offer scholarships, grants, and other forms of assistance to help Grand Rapids students manage their educational costs.
At the local level, the Grand Rapids Area Community Foundation administers several scholarships for which you may be eligible. It's also worth checking with individual schools to see what they offer.
FAQs About Being a Student in Grand Rapids
How pricey is off-campus housing in Grand Rapids?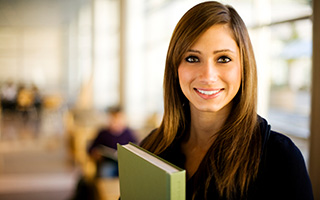 According to census data, the median rent on a studio apartment in the Grand Rapids-Wyoming area is $754. You can expect to pay a median of $712 for a one-bedroom place.
What if students don't want to drive every day?
The Interurban Transit Partnership (known as The Rapid) provides bus service throughout the Grand Rapids area. Its DASH routes through downtown are fare-free. It also operates West Michigan Rideshare, which can help you find carpool partners near you.
What else should area residents be aware of?
In addition to digital books and other materials, the Grand Rapids Public Library offers a free online service where a librarian will review your resume and suggest improvements. Plus, you can connect to each location's Wi-Fi outside the building at any time of day.
---
Grand Rapids Schools
Sponsored Listings
---
---
Industry Information
A broad array of industries supports grand Rapids' economic vitality. Technology and manufacturing are especially notable.
Fastest-Growing Industries
According to the Michigan Bureau of Labor Market Information and Strategic Initiatives, these are the sectors that should have the greatest rates of employment growth between 2016 and 2026 (of the industries that have at least 100 workers). Projections are for the West Michigan Prosperity Alliance.*
ISPs, search portals, and data processing (60.8%): Companies that transform data or enable people to access and navigate the Web will require more professionals with relevant expertise.
Other information services (48.4%): Significant expansion is also expected among libraries, news syndicates, archives, and other organizations that connect people with information.
Support activities for mining (31.2%): Workers with skills related to mineral exploration or oil and gas extraction should see increased demand for their abilities.
Social assistance (26%): The continuing need to support Grand Rapids residents grappling with unemployment, food insecurity, addiction, or other challenges will generate more employment opportunities for social workers, mental health counselors, and related professionals.
Beverage and tobacco product manufacturing (25.2%): Keeping up with the demand for beer, wine, cigarettes, bottled water, and similar products will require the efforts of more workers in the years ahead.
Careers Related to the Industries Above
Average Annual Wages
Supervisors of extraction workers

Librarians

Computer network support specialists

Industrial machinery mechanics

Mental health social workers
Other Key Industries
According to The Right Place, some of the industries that play major roles in the Grand Rapids economy are:
Advanced manufacturing: Companies in the Grand Rapids area produce plastics, medical devices, automotive parts, office furniture, and more. This sector accounts for 19% of all jobs in the area.
Information technology: West Michigan has 1,122 IT companies that collectively employ more than 11,500 residents.
Health sciences: The Medical Mile in Grand Rapids is a hub for organizations dedicated to advances in the life sciences. It has received investments totaling more than $2 billion.
Agribusiness and food processing: Companies like Kellogg's and Hearthside Food Solutions employ hundreds of Grand Rapids residents. In total, more than 36,400 people work in this sector in West Michigan.
Careers Related to the Industries Above
Average Annual Wages
Industrial production managers

Computer systems analysts

Network administrators

Biological scientists

Food batchmakers
Career Information
Grand Rapids residents can find good opportunities in health care, technology, business, and other fields. Training beyond high school can help position you for greater success.
Job Growth
(West Michigan region*)
9% from 2016 to 2026
Job Openings
Yearly Average
(West Michigan region*)
Average Salary*
(all occupations)
Population
(city)
Number of Employers
(Kent County)
Key Industries
Advanced manufacturing, information technology, life sciences, agricultural and food processing
Sources
Michigan Bureau of Labor Market Information and Strategic Initiatives
U.S. Bureau of Labor Statistics
U.S. Census Bureau
The Right Place
Fastest-Growing Careers
The following occupations are the ones that are expected to grow most rapidly over the 2016-to-2026 period, according to the Michigan Bureau of Labor Market Information and Strategic Initiatives. Growth projections are for the West Michigan Prosperity Alliance.* Wages are based on Bureau of Labor Statistics (BLS) data for the Grand Rapids-Wyoming metro area.*
Statisticians (47.6%): Use numerical models and methods to analyze data and help organizations make informed decisions. A master's degree is usually required.
Average yearly wage: $67,060
Home health aides (40.3%): Help clients carry out basic activities like dressing, bathing, eating, and toileting. To work for a Medicare-approved agency, you must complete a short training course.
Average yearly wage: $26,150
Information security analysts (34.6%): Test computer systems for vulnerabilities, implement measures to safeguard data, and create plans to mitigate the effect of a breach or other disaster. You'll need a bachelor's degree.
Average yearly wage: $83,340
Physician assistants (33.9%): Render a wide range of patient care services as part of a practice agreement with a doctor. To meet the Department of Licensing and Regulatory Affairs' (LARA) requirements, you must start by completing an approved master's-level program.
Average yearly wage: $107,710
Applications software developers (33.8%): Design, test, and modify computer programs that consumers or businesses use to accomplish specific tasks, such as editing documents, tracking sales orders, or playing games. A bachelor's degree is useful, but not always strictly necessary.
Average yearly wage: $77,580
Good-Paying Careers With the Most Yearly Job Openings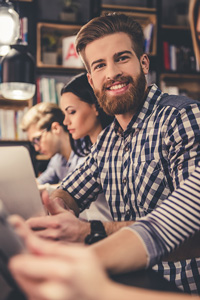 A large number of well-paying positions become available in Grand Rapids on an annual basis. With college-level training, you can be ready to go after them. The following represent five of the best examples, based on state projections for the West Michigan Prosperity Alliance and BLS wage estimates for the Grand Rapids-Wyoming metro area.*
Registered nurses (1,010 yearly openings): Contribute to patients' continued health and well-being in a diverse range of settings. Completion of a state-approved program and a national exam is required for licensure through LARA.
Average yearly wage: $68,220
General and operations managers (880 yearly openings): Provide essential leadership by directing and coordinating a business or other organization's functions. Most of these high-level positions go to candidates with bachelor's degrees and several years of relevant experience.
Average yearly wage: $117,710
Accountants and auditors (560 yearly openings): Document an organization's financial health and ensure that all records are maintained in accordance with applicable regulations. A bachelor's degree is typically required.
Average yearly wage: $68,560
Elementary school teachers (520 yearly openings): Draw on a variety of tools and techniques to guide skill development in young students. The first steps in earning state certification involve completing a bachelor's degree and an approved teacher preparation program.
Average yearly wage: $61,160
Business operations specialists (470 yearly openings): Bring specialized expertise to bear on tasks like managing security, selling items online, running energy audits, or moving goods between countries. The usual educational requirement is a bachelor's degree.
Average yearly wage: $68,640
---
A Trade School Can Get You Closer to Achieving Your Goals
Vocational training can prepare you for a huge range of rewarding career opportunities. That's why it's worth exploring the program offerings from colleges and trade schools in Grand Rapids, Michigan.
---
* Job growth and job opening numbers are based on projections for the West Michigan Prosperity Alliance, which includes Mason, Lake, Osceola, Oceana, Newaygo, Mecosta, Muskegon, Ottawa, Kent, Montcalm, Ionia, Allegan, and Barry counties. Salary information is based on Bureau of Labor Statistics (BLS) data for the Grand Rapids-Wyoming metropolitan area, including Ottawa, Kent, Montcalm, and Barry counties.