3 Career Sectors With Promising Outlooks in Grand Rapids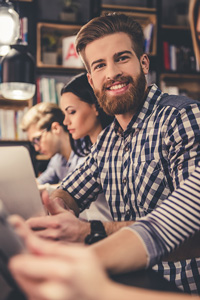 With strong job growth, low unemployment, and an affordable cost of living, this city offers numerous benefits to anyone looking to train and launch a career. Given the area's strong labor market and high quality of life, it's hardly surprising that U.S. News & World Report ranked Grand Rapids among the top 15 places to live in the U.S.1
Simply put, career builders can find plenty of opportunities in this part of the Midwest. Three occupational sectors with particularly good prospects in the Grand Rapids area include:
1. Health Science and Services
Grand Rapids is a major center for bioscience research. The city's Medical Mile has seen more than $2 billion worth of investment over the past 15 years and is now home to a wide array of hospitals, research centers, and other healthcare facilities that employ tens of thousands of local residents.2 And the demand will continue to grow: Employment in West Michigan nursing home and residential care facilities is expected to increase by 17 percent between 2016 and 2026. And hospitals should see nine-percent growth in jobs over that time frame.3
The following are a few examples of healthcare careers that are projected to see faster-than-average job growth in the 13 counties that make up the West Michigan Prosperity Alliance. (The percentage is the expected job growth between 2016 and 2026; the salary figures represent average annual earnings in the Grand Rapids-Wyoming metro area as of May 2018.)3, 4
Home health aides—40 percent / $26,900
Physical therapist assistants—27 percent / $51,490
Medical assistants—24 percent / $34,320
Diagnostic medical sonographers—19 percent / $60,010
Registered nurses—15 percent / $65,930
Medical records and health information technicians—14 percent / $37,250
Pharmacy technicians—12 percent / $31,460
2. Manufacturing
Manufacturing has long been a mainstay of the Grand Rapids economy, employing roughly 15 percent of workers in the area.2 Thousands of companies throughout the area produce office furniture, medical devices, automotive components, aviation parts, and more. And looking ahead, almost 7,000 new jobs are expected to become available in this sector between 2016 and 2026.3
Check out the expected rates of growth for the following careers, along with their average annual salaries:3, 4
CNC machine tool programmers—19 percent / $50,270
Industrial machinery mechanics—19 percent / $49,080
Electrical and electronics drafters—17 percent / $56,640
Industrial engineers—17 percent / $76,960
Millwrights—12 percent / $54,760
3. Construction
The building trades are booming in Grand Rapids. That's partly driven by the need to house more people. Between 2010 and 2017, Grand Rapids saw population growth of almost six percent.5 And the opportunities should continue to emerge: Construction jobs in West Michigan are expected to expand by close to 13 percent between 2016 and 2026.2
Have a look at the projected job growth and average salaries for the following construction-related careers:3, 4
HVAC installers and mechanics—17 percent / $52,740
Plumbers, pipefitters, and steamfitters—17 percent / $53,670
Cement masons and concrete finishers—14 percent / $44,370
Brickmasons and blockmasons—11 percent / $47,640
Carpenters—11 percent / $40,450
Electricians—10 percent / $51,980
---
Make a Change for the Better
Start moving toward a more fulfilling future. Grand Rapids trade schools and vocational colleges are ready to help you realize your ambitions. Why not begin by exploring the programs listed above? Or discover even more convenient training options by putting your zip code into the school finder below!
---
---
1 U.S. News & World Report, "125 Best Places to Live in the USA," website last visited on January 27, 2020.
2 The Right Place, website last visited on January 27, 2020.
3 Michigan Department of Technology, Management & Budget, Bureau of Labor Market Information and Strategic Initiatives, website last visited on January 27, 2020.
4 Bureau of Labor Statistics, U.S. Department of Labor, Occupational Employment Statistics, website last visited on January 27, 2020.
5 MLive, "Detroit's population still falling, Grand Rapids still growing, Census data shows," website last visited on January 27, 2020.