---
---
3 Career Sectors in Louisiana With Great Opportunities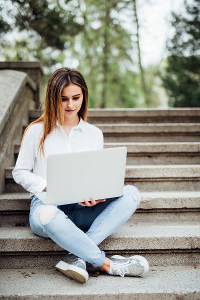 Louisiana is famous for its unique music, food, and celebrations. But the state also receives accolades for its economic development. In fact, Louisiana has been recognized for having:
Combine these factors with a low overall cost of living and it's easy to see why Louisiana may be a great place to start building your future. For example, consider the housing costs: The median property value in the U.S. is $217,600. In Louisiana, it's only $162,500.
Louisiana's central location also creates job opportunities. After all, the state has many major transportation routes, including
Six ports
Six interstate highways
Six railroads
Seven airports
As a result, the state is well-situated for transportation and warehousing employers. In fact, projections from the Louisiana Workforce Commission indicate that from 2016 to 2026, employment in this sector could increase 9.24 percent, adding over 6,800 jobs.
But the growing transportation industry is just one indicator of Louisiana's potential. The state offers many other promising job sectors. Here are three additional industries in which the number of job opportunities is expected to rise:
1. Healthcare
Helping Louisiana residents maintain their health and well-being is a growth industry. And that growth should continue, with overall employment in the health and social assistance sector predicted to increase by nearly 12 percent from 2016 to 2026, according to the Louisiana Workforce Commission.
One factor behind these expected job opportunities is the aging population: By 2030, 25 percent of Louisianans will be over the age of 60, an increase of 25 percent since 2012. (As we get older, we tend to need more services from healthcare professionals.)
So how can you benefit from the demand for healthcare workers? Consider this: Within the expanding Louisiana healthcare industry, many occupations offer the potential for good salaries after a relatively short training period. Surgical technologists, for example, earn an average salary of $39,990 in Louisiana, according to Occupational Employment Statistics (OES) program data. And surgical technology programs can often be completed in two years or less. Another example is laboratory technologists and technicians, who earn an average salary of $47,930. The Occupational Outlook Handbook (OOH) notes that it's possible to become a medical lab technician with a two-year associate degree.
2. Advanced Manufacturing
Advanced manufacturing uses the latest technologies, resulting in more efficient and precise processes than traditional methods. In Louisiana, many advanced manufacturing workers, such as process technicians and mechanical engineers, are employed in petrochemical production plants. This is largely due to the state's abundant crude oil and natural gas resources. Take a look at these numbers:
Over 150 petrochemical manufacturers have operations in the region (according to Louisiana Economic Development).
About 4,760 chemical plant and system operators are employed in the state (according to OES program data).
The average salary of a Louisiana chemical plant and system operator is $68,150 (according to OES program data).
More than 7,500 jobs could be added to the Louisiana manufacturing sector from 2016 to 2026, which would be an increase of 5.5 percent (according to the Louisiana Workforce Commission).
In addition to workers who are directly involved in manufacturing, this sector employs many business and information technology professionals. The state workforce commission says employment in the broad category of professional, technical, and scientific workers is expected to increase over 16 percent from 2016 to 2026. That number includes professionals such as network administrators, who earn an average salary of $68,380 in Louisiana according to OES program data. The OOH says it's possible to get started in the field of network administration with a two-year associate degree.
3. Entertainment
Louisiana can add "Hollywood South" to its long list of nicknames, thanks to the growing number of movies and television series filmed in the state. Innovative tax credits for film and music projects help bolster a vibrant entertainment industry, which employs a wide range of creative professionals. And the state workforce commission estimates that for the entire arts, entertainment, and recreation sector, employment will increase 8.2 percent between 2016 and 2026, an increase totaling over 2,400 jobs.
But you don't have to be a performer to benefit from this thriving entertainment industry. If you're more interested in working behind the scenes, check out these careers and their average salaries in Louisiana (based on data from the OES program):
Sound engineering technician: $88,610
Public relations specialist: $53,390
Camera operator: $47,800
Set designer: $40,990
---
Seize the Opportunity
It's time to find out where your ambitions can take you. Take the next step by exploring career colleges and trade schools in Louisiana near you. To see training options in your area, just enter your zip code into school finder below!
---