4 Industries With Strong Potential in Fort Wayne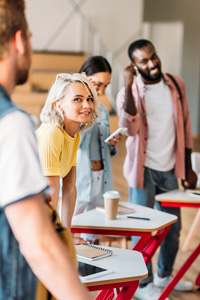 Career builders would be wise to consider Fort Wayne as a place to create the future they want. After all, the unemployment rate in this part of northeast Indiana consistently ranks among the lowest in the state, as well as in the entire country. This metropolitan area has also boasted the lowest cost of living out of 228 U.S. cities for three straight years.1 And with 3,700 new jobs projected to open up every year through 2024 in the region that includes Adams, Allen, DeKalb, Grant, Huntington, LaGrange, Noble, Wabash, Wells, and Whitley counties, there are plenty of compelling reasons to train and work in Fort Wayne.2
Here are four career sectors with strong future outlooks in this part of the Midwest:
1. Health Care
Health care is one of the largest industries in northeast Indiana, employing more than 50,000 workers.3 Parkview Health Systems and the Lutheran Health Network alone account for more than 11,000 jobs.4 What's more, health care wages in the region grew by 26 percent between 2007 and 2017, outpacing the national increase of 20 percent.3
Opportunities in this sector continue to expand, with hospitals, nursing homes, and residential care facilities all projected to see double-digit employment growth between 2014 and 2024.2 Here are a few examples of health-related occupations that should see significant employment increases in the Fort Wayne area. (The percentage indicates the projected job growth between 2014 and 2024; the earnings figures represent average annual salaries as of May 2018.)2, 5
Physical therapist assistants—36.9 percent / $52,650
Diagnostic medical sonographers—27.8 percent / $66,570
Massage therapists—25.7 percent / $48,770
Medical assistants—20.1 percent / $30,850
Medical records and health information technicians—17.6 percent / $43,480
Pharmacy technicians—12.1 percent / $29,940
2. Manufacturing
Manufacturing has long been a staple of the Fort Wayne economy, accounting for more than a quarter of the metro area's GDP.6 Numerous firms throughout the region produce essential components for everything from pickup trucks to medical devices.
For example, GM is one of the area's biggest employers, with more than 4,000 people on the payroll. Companies like BFGoodrich and Dana Corporation also have a major presence here.4 And the future is promising: Transportation equipment manufacturing in northeast Indiana is projected to grow 14 percent between 2014 and 2024, resulting in almost 2,500 new jobs.2
Have a look at the expected job growth rates for the following occupations, along with their average salaries:2, 5
Industrial machinery mechanics—30 percent / $47,580
CNC tool programmers—28.6 percent / $46,750
Machinists—20.4 percent / $47,850
Team assemblers—12.6 percent / $44,120
Welders, cutters, solderers, and brazers—11 percent / $41,760
3. Insurance and Financial Services
The Fort Wayne region is a major center for specialty insurance. More than 6,500 local residents apply their skills to providing risk management solutions for sports teams, churches, entertainment groups, and health care organizations, as well as for individuals. One report noted that insurance carriers in northeast Indiana will likely see an 18-percent growth in jobs between 2015 and 2020—15 percent higher than the national rate.7
In fact, professional and business services was the fastest-growing sector in Fort Wayne over the 12-month period leading up to March 2018.8 And with the sector set to expand by 13 percent between 2014 and 2024, solid opportunities should continue to emerge.2
Here are a few notable occupations that should see healthy growth over the coming years:2, 5
Personal financial advisors—18.6 percent / $127,180
Accountants and auditors—13.2 percent / $65,850
Financial specialists—12.1 percent / $62,580
Loan officers—11.6 percent / $87,570
Insurance sales agents—10.6 percent / $55,370
4. Construction
The building industry is heating up in Fort Wayne. In 2017, the value of residential and commercial building permits in Allen County totaled more than $1 billion for the first time ever.9 And over the decade between 2014 and 2024, the construction industry in northeast Indiana is expected to grow more than 15 percent. That means almost 2,000 new jobs should become available during that time period.2
But there aren't enough qualified people to fill those jobs. More than three-quarters of Indiana contractors surveyed in 2017 said they were struggling to find people for trades positions.10 By getting the right training now, you can be ready to take advantage of expanding opportunities.
Check out the strong job outlook and average salaries for these construction-related careers:2, 5
Brickmasons and blockmasons—18.7 percent / $54,120
HVAC mechanics and installers—18.6 percent / $50,050
Electricians—16.9 percent / $56,660
Cement masons and concrete finishers—16.7 percent / $41,260
Plumbers, pipefitters, and steamfitters—15.1 percent / $60,320
Sheet metal workers—14.2 percent / $51,970
Carpenters—12.2 percent / $42,950
---
Take Your Life in a New Direction
Now is the perfect time to begin creating the better future you envision for yourself. Fort Wayne, Indiana trade schools and vocational colleges are ready to help you realize your ambitions. And discovering convenient training options close to where you live is easy. Just put your zip code into the search tool below to get started!
---
---
1 Niche, "2018 Cities with the Lowest Cost of Living in America," website last visited on May 9, 2018.
2 Indiana Department of Workforce Development, website last visited on May 9, 2018.
3 Northeast Indiana Works, website last visited on May 9, 2018.
4 Greater Fort Wayne Inc., website last visited on May 9, 2018.
5 Bureau of Labor Statistics, U.S. Department of Labor, Occupational Employment Statistics, website last visited on June 20, 2019.
6 Indiana Business Review, "Fort Wayne forecast 2018," website last visited on February 19, 2020.
7 Northeast Indiana Regional Partnership, Northeast Indiana Target Report, website last visited on May 9, 2018.
8 Bureau of Labor Statistics, U.S. Department of Labor, "Economy at a Glance: Fort Wayne, IN," website last visited on May 9, 2018.
9 The Journal Gazette, "Growth in area brings good, bad," website last visited on May 9, 2018.
10 Associated General Contractors of America, "2017 Workforce Survey Results: Indiana Results," website last visited on May 9, 2018.