Colleges & Trade Schools in Delaware
By Publisher
| Published
| Last Updated
Colleges and trade schools in Delaware are focused on helping people gain valuable skills for reliable and growing career sectors. With vocational education, students like you can be ready to start making an impact in health care, technology, and other industries that are thriving in the First State.
---
Education & Training in Delaware
Attending a post-secondary institution in Delaware allows you to capitalize on a range of student-friendly qualities.
Key Benefits of the Region for College Students
Greater odds of timely completion: Delaware has the third-highest rate of college students who finish their degrees within six years.
Lower taxes: Unlike any of its neighboring states, Delaware does not have a sales tax. That helps students keep more cash in their pockets.
Proximity to big job markets: While Delaware can have the feel of a small town, it's also within easy reach of major employers in places like Philadelphia and Baltimore.
Costs
Your educational costs will vary depending on factors like the institution and program you choose. But on average, based on National Center for Education Statistics (NCES) data, tuition and fees at four-year schools in Delaware in the 2018-2019 academic year were as follows:
Public schools: $10,607 (in-state); $30,405 (out-of-state)
Private schools: $14,758
According to the same NCES estimates, Delaware schools charged students the following average amounts for room and board:
Public schools: $12,840
Private schools: $11,952
---
---
Trade School Accreditation
Accreditation indicates approval from an independent agency that has evaluated the school's operations. To qualify for federal financial aid, you must attend a school that is regionally or nationally accredited by an agency recognized by the U.S. Department of Education.
Here are a few examples of acceptable agencies that accredit universities, colleges, and trade schools in Delaware:
Middle States Commission on Higher Education
Accrediting Commission of Career Schools and Colleges
Accrediting Council for Continuing Education & Training
In addition, all post-secondary institutions must be approved by the Delaware Department of Education.
Financial Aid for Delaware Students
Delaware students who attend accredited schools may be eligible for financial aid from the federal government.
At the state level, the Delaware Higher Education Office (DHEO) administers several scholarship and incentive programs for students pursuing specific fields or attending particular institutions.
Plus, the Delaware Scholarship Compendium offers links to over 200 scholarships for which state residents may be eligible. Each link provides details on award amounts and eligibility requirements.
FAQs About Being a Student in Delaware
How expensive is it to live in Delaware?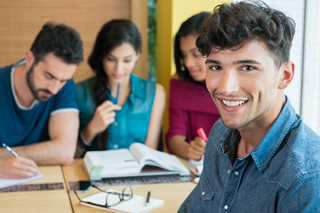 Compared to the national average, the overall cost of living in Delaware is on the high side. However, rental costs are not too bad. Statewide, you can expect to pay a median of $973 per month for a studio apartment and $932 for a one-bedroom unit. Nationally, the comparable medians are $934 and $953.
What are the transportation options?
The DART First State system offers bus services throughout the region. It also provides regional train service from Newark and Wilmington through a connection with the Southeastern Pennsylvania Transportation Authority. Uber and Lyft also both offer service in the state.
Are there any other career-building opportunities for Delaware residents?
You can find valuable opportunities through Intern Delaware. It provides a central listing of internship openings with partner companies.
You could also get involved with one of the many organizations in the state that are focused on helping young people develop their professional networks and make a positive difference in their communities. Check out a few examples:
---
Schools Near Delaware
Sponsored Listings
Exton, Pennsylvania
Warminster, Pennsylvania
Automotive and Diesel Technology
Automotive and Hi-Performance Technology
Automotive Technology
Collision Reconditioning Technology
Marine Service Technology
Bloomfield, New Jersey
Exton, Pennsylvania
Automotive Technology
Diesel & Industrial Technology
---
---
Industry Information
For such a small state, Delaware's industry base is fairly diverse. Manufacturing, health care, and construction are just a few examples of sectors offering solid prospects.
Fastest-Growing Industries
Delaware Department of Labor projections show that among a variety of industries, these are the ones that should expand the fastest from 2018 to 2028.
Beverage and tobacco product manufacturing (23.4%): Companies that make wine, beer, bottled water, soft drinks, cigarettes, and related products will need an increased number of workers.
Private households (21.6%): More opportunities are expected to emerge for workers who go to private residences to provide services such as food preparation, gardening, and maintenance.
Hospitals (20.6%): The continuing need to take care of Delaware residents who require a hospital stay will generate additional openings for a wide range of medical personnel.
Ambulatory health care services (19.9%): Significant growth is also expected in facilities that provide outpatient services, such as dental care, diagnostic imaging, kidney dialysis, and occupational therapy.
Construction of buildings (17.3%): Workers who can aid in constructing, assembling, altering, or repairing buildings will likely see greater demand for their skills.
Careers Related to the Industries Above
Average Annual Wages
Industrial production managers

Medical lab techs

Carpenters

Dental assistants

Landscaping & groundskeeping workers
Other Key Industries
Below are some additional sectors that keep the state economy moving forward, according to the Delaware Prosperity Partnership:
Biotechnology: Delaware companies are involved in research and development related to chemicals, pharmaceuticals, medical devices, and other areas. In fact, about 17 percent of all pharmaceutical workers in America are based here.
Financial services: This industry employs close to 170,000 people in Wilmington alone. It makes up nine percent of all Delaware jobs—the highest rate of any state.
Information technology: Tech workers are particularly in demand in financial services firms, with roughly 2,500 open positions for professionals like software developers and information security analysts in 2018. And a CompTIA report projects that Delaware will add more than 1,800 tech jobs between 2018 and 2028.
Agriculture and food production: More than 12,000 jobs in Delaware are connected to producing commodities like corn, wheat, watermelons, apples, and grapes. Over 40 percent of all land in the state is dedicated to agriculture.
Manufacturing: In addition to beverage and tobacco products, manufacturers in this state make things like pharmaceuticals, machinery, and agricultural chemicals. According to the National Association of Manufacturers, this sector supplies jobs for 28,000 Delaware residents.
Careers Related to the Industries Above
Average Annual Wages
Financial managers

Information security analysts

Chemists

Industrial machinery mechanics

Agricultural technicians
Career Information
The health care sector accounts for many of the most rapidly growing occupations in Delaware. However, plenty of opportunities are also becoming available in accounting, finance, and information technology.
Job Growth
5.1% from 2018 to 2028
Job Openings
Yearly Average
Average Salary
(all occupations)
Population

Number of Employers

Key Industries
Biotechnology, financial services, information technology, agriculture and food production, manufacturing
Sources
Delaware Department of Labor
U.S. Bureau of Labor Statistics
U.S. Census Bureau
Delaware Prosperity Partnership
Fastest-Growing Careers
The most rapid employment growth between 2018 and 2028 should occur in the following occupations, according to state labor department projections. Wages represent Delaware-specific estimates from the Bureau of Labor Statistics (BLS).
Respiratory therapists (36.4%): Assess and treat people who have breathing difficulties arising from pneumonia, asthma, cystic fibrosis, lung cancer, or other conditions. To meet the requirements of the Board of Medical Licensure and Discipline, you must complete an associate degree or higher and become nationally certified.
Average yearly wage: $68,880
Home health aides and personal care aides (34.8%): Provide companionship as well as help with bathing, dressing, housekeeping, cooking, and getting to appointments. Home health aides also perform basic medical tasks like checking vital signs. If you plan to work for a Medicare-approved agency, you need to complete a short training program.
Average yearly wage: $24,530
Physician assistants (PAs) (33.3%): Carry out a broad range of diagnostic and treatment services as delegated by a supervising doctor. The Board of Medical Licensure and Discipline requires all aspiring PAs to graduate from an approved program and obtain national certification.
Average yearly wage: $111,310
Nurse practitioners (30.6%): Take your nursing career to the next level by pursuing a role that allows you to examine patients, develop treatment plans, and prescribe medications. Before you can get the necessary license from the Board of Nursing, you must complete a graduate-level program.
Average yearly wage: $112,430
Diagnostic medical sonographers (28%): Use ultrasound equipment to scan the inside of a patient's body and generate images that doctors can use to assess the person's condition. An associate degree is typically required.
Average yearly wage: $72,540
Good-Paying Careers With the Most Yearly Job Openings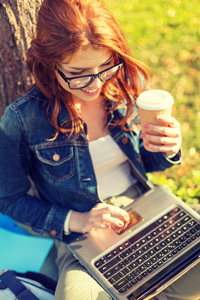 College-level training can help you qualify for many well-paying occupations that have hundreds of annual openings across Delaware. Below are five of the top examples, based on BLS wage data and state labor department projections.
Registered nurses (949 yearly openings): Contribute to the improved health of patients in a diverse range of settings. The first steps in obtaining a state license involve completing an approved program and passing the NCLEX-RN exam.
Average yearly wage: $74,100
Accountants and auditors (602 yearly openings): Document the financial health of an individual or organization and make sure all records comply with relevant laws. You'll need a bachelor's degree.
Average yearly wage: $80,010
Applications software developers (473 yearly openings): Design and modify programs that consumers use for tasks like playing games, writing documents, and editing photos. A bachelor's degree is good preparation for this career.
Average yearly wage: $111,400
General and operations managers (398 yearly openings): Lead an organization forward by planning material use and coordinating staff activities. Most managers at this level have bachelor's degrees and several years of experience in their respective industries.
Average yearly wage: $151,260
Financial analysts (330 yearly openings): Study the performance of different types of investments in order to identify trends and opportunities that could benefit a client. The usual requirement is a bachelor's degree.
Average yearly wage: $91,510
---
Trade School Is Where You Can Shape a Brighter Future
With job-focused programs designed for busy adults, trade schools in Delaware can help motivated people like you generate all kinds of new vocational possibilities.