5 Opportunity-Rich Career Sectors in Colorado Springs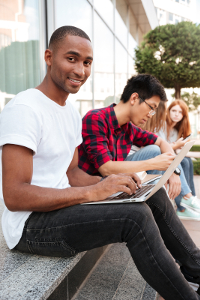 As Colorado's second-largest city, Colorado Springs has an extraordinary variety of successful industries. And it's been experiencing a lot of positive growth, both in population and in the diversity of employment options. In fact, Colorado Springs has been named the country's fastest-growing city for millennials. According to the Colorado Springs Chamber & EDC, the wider metropolitan area is now home to over 701,000 people, helping to make El Paso County one of Colorado's most populated counties.
With all of that growth has come an increasing number of good job opportunities. Innovative employers are drawn to Colorado Springs by its distinctive mix of scenic beauty, recreational abundance, sunny climate, affordability, and talented and friendly professionals.
That's why the city's trade schools and vocational colleges have designed several programs that focus on teaching skills for many of the region's most prominent career sectors, such as:
1. Healthcare and Biomedical Technology
Colorado Springs is known as one of America's most health-oriented regions. A large percentage of the city's residents take pride in actively pursuing better well-being for themselves and their families. Plus, a lot of collaboration is taking place between companies and research organizations in the region that specialize in areas like biotechnology, medical device innovation and manufacturing, and a full range of healthcare services.
The result is that over 42,000 people work in El Paso County's healthcare and social assistance sector, says the Colorado Springs Chamber & EDC. And more than 27,000 people in the area work in the medical technology field.
2. High-Tech Electronics and Information Technology
The Colorado Springs region is home to some of the world's most technologically advanced military installations. In fact, it's where the U.S. Air Force Space Command has its headquarters. In addition, the North American Aerospace Defense Command (NORAD), the U.S. Air Force Academy, and other significant military facilities call this region home. As a result, Colorado Springs enjoys one of America's most highly developed communications networks, according to the Colorado Springs Chamber & EDC.
That has encouraged more than 265 high-tech businesses to establish roots in the region. And the Colorado Springs Chamber & EDC notes that this city consistently ranks among America's best locations for data-hosting centers. So thousands of people are employed in areas like computer network engineering, cyber-security, and software development, including for virtual reality simulations, video games, and other multimedia applications.
3. Sports, Fitness, and Recreation
Over $400 million of economic activity is generated every year by the many sports-related organizations and companies in the Colorado Springs region. In fact, the city is a major hub for amateur athletics and sports. The Colorado Springs Chamber & EDC says that each year, about 15,000 athletes train at the city's Olympic Training Center, which is also the headquarters for the United States Olympic Committee.
Plus, the Colorado Springs Chamber & EDC points out that the national governing bodies for more than 20 different sports—such as basketball, figure skating, hockey, swimming, and volleyball—are headquartered in the area. And the region's residents are among the most fit and recreationally minded people in the nation. That means the city offers a lot of opportunity for professionals like personal fitness trainers, massage therapists, coaches, and peak-performance specialists.
4. Tourism
Pikes Peak is one of the most famous mountains in the U.S. With a summit at 14,115 feet, it's a stunning part of the scenery that can be seen from almost anywhere in Colorado Springs and from other points much farther away, says the city's website. So it attracts a lot of tourists who come to drive, hike, or ride a railway up to the top for the unmatched scenery and views.
But the Colorado Springs area also has more than 55 other major attractions. They include "can't miss" places like Garden of the Gods (full of beautiful rock formations of red sandstone) and Cave of the Winds (a spectacular natural underground cave with crystal formations). According to Visit Colorado Springs, all told, the area draws over 23 million visitors every year. As a result, tourism provides more than 20,000 jobs to area residents, making this sector the region's third-largest employer.
5. Business-Related Services
Colorado Springs has a thriving business community, especially when it comes to companies that provide various financial and support services. The city's low cost of living and awesome recreational opportunities make it an appealing place to set up a business. So with a business-oriented education from one of the city's trade schools or career colleges, it's possible to find opportunities with a wide range of companies, from innovative start-ups to established financial institutions.