Colleges, Universities & Trade Schools in San Diego
By Publisher
| Published
| Last Updated
Located in one of California's most affordable big cities, colleges and trade schools in San Diego help many students develop the job-focused skills they need to go after expanding opportunities in a large variety of industries. Technology and health care represent just two of the many sectors that have bright outlooks in this region.
---
Education & Training
Attending a college or trade school in San Diego is worthwhile for a whole host of reasons.
Key Benefits of the Area for College Students
A sense of security: Despite its size, the San Diego area has lower rates of property and violent crime than California as a whole.
Potential for personal enrichment: According to U.S. News & World Report, San Diego ranked 21st out of 66 U.S. cities when it came to diversity. Studying and working among people of varied backgrounds and perspectives can help enrich your mind and broaden your worldview.
A large peer network: San Diego County has a higher percentage of young people than the U.S. as a whole. Data from the U.S. Census Bureau shows that 43.6 percent of county residents are aged 15 to 44, compared to the national average of 39.7 percent.
Costs
Prospective students' educational expenses will depend on a number of variables, including what kind of program they take and what type of school they enroll in. Below are the median tuition fees at four-year colleges in San Diego County, according to Data USA:
Public schools: $5,742 (in-state); $17,622 (out-of-state)
Private schools: $20,500
---
---
FAQs About Being a Student in San Diego
What are living expenses like in San Diego?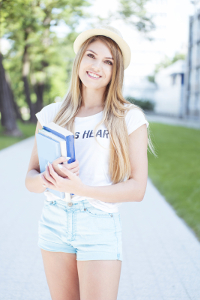 Overall median rent in the San Diego metro area is 8.9 percent and 60.3 percent higher than the California and U.S. medians, respectively. The median rent for a studio apartment is $1,383 per month. And a one-bedroom apartment goes for $1,436 per month.
What are the options for getting around?
Many people drive their own cars. If you do, you'll appreciate that the one-way commute time in San Diego is actually shorter than the U.S. average.
The region also features a widespread public transportation system that can make it easier for you to get where you need to go. The Metropolitan Transit System (MTS) provides bus, trolley, and light rail services throughout the county. College and university students can qualify for discounted monthly or semester passes. Students at UC San Diego are eligible for unlimited rides, with the cost bundled into their student fees.
What other resources should I be aware of?
The San Diego Public Library offers millions of books and government documents and hundreds of thousands of foreign language texts. That means you can access a wealth of resources while you work through your studies.
The San Diego Workforce Partnership can help you locate a free or low-cost career training program (if you qualify) and identify positions that suit your strengths and interests.
Plus, the Young Professionals Network San Diego arranges workshops, networking events, and speaker panels throughout the year. Getting involved could allow you to connect with potential mentors and get helpful information about topics like managing your money or starting a business.
---
San Diego Schools
Sponsored Listings
Automotive Technician
Business Office Administration
Criminal Justice
Dental Assistant
Electrician Technician
Heating, Ventilation, and Air Conditioning
Medical Assistant
Medical Office Specialist
Pharmacy Technician
Business Management - Online
Health Care Management - Online
Respiratory Therapy - Online
Veterinary Technology - Online
---
---
Industry Information
The San Diego economy is powered by a variety of industries that generate good careers. Sectors with promising outlooks include construction, manufacturing, technology, and more.
Fastest-Growing Industries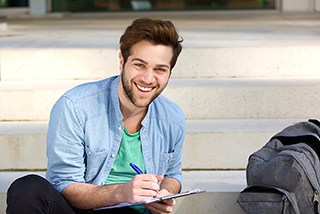 The industry sub-sectors listed here are projected to see the most rapid growth in San Diego County between 2016 and 2026, according to the State of California Employment Development Department (EDD):
Software publishers (34.1%): Professionals who focus on designing, documenting, and distributing software will likely see increased demand for their expertise.
Services to buildings and dwellings (24.1%): Companies that provide cleaning, landscaping, and pest control services to residential, commercial, and industrial clients are expected to have a greater need for staff.
Foundation, structure, and building exterior contractors (21.6%): San Diego is projected to see more and more opportunities for tradespeople who specialize in tasks like pouring concrete, erecting framing, and installing windows, roofs, and siding.
Building finishing contractors (21%): Demand will also grow for tradespeople who focus on installing drywall, insulation, carpet, tile, cabinets, countertops, wall coverings, and other finishing components.
Architectural, engineering, and related services (19.1%): This expanding sub-sector includes firms that provide a wide range of services, including surveying, drafting, building inspection, and structure or landscape design.
Careers Related to the Industries Above
Average Annual Wages
Technical writers

Architectural drafters

Drywall installers

Carpenters

Pest control workers
Other Key Industries
A few of the major industries the San Diego Regional Economic Development Corporation (EDC) is focused on include:
Advanced manufacturing: Over 108,000 San Diego residents work on producing things like medical equipment, aircraft, and semiconductors. This sector grew by more than 15 percent over a five-year period. In fact, the rate of manufacturing job growth in San Diego has consistently outpaced the overall national rate.
Defense: San Diego has the biggest concentration of military assets on the planet. Not surprisingly, it's one of the top U.S. counties in terms of defense procurement contracts, many of which go to shipbuilders and aircraft manufacturers. The city also plays host to the Naval Information Warfare Systems Command (NAVWAR), which develops information systems for the Navy. Defense spending injected over $25 billion into the region's economy in a single year.
Life sciences and genomics: Over 1,300 life sciences companies are located in San Diego. The region's genomics firms alone employ more than 10,000 people. Areas of focus include biotechnology research, medical device development, biopharmaceutical manufacturing, and health information technology.
Technology and cybersecurity: According to a CompTIA report, the tech sector makes up almost 16 percent of San Diego's economy, which is the seventh-highest percentage in the country. The EDC notes that over 150 cyber companies throughout the region employ more than 8,400 residents. They are working in areas like data protection, networking, and artificial intelligence.
Careers Related to the Industries Above
Average Annual Wages
Information security analysts

Medical scientists

CNC programmers

Biological technicians

Aircraft parts assemblers
Career Information
The most rapidly growing occupations in San Diego are primarily related to health and technology. But career sectors like management, accounting, and marketing are also expected to yield large numbers of high-paying opportunities in the years ahead.
Job Growth
(county)
11.1% from 2016-2026
Job Openings
Yearly Average
(county)
Average Salary
(all occupations)
Population
(city)
Number of Employers
(county)
Key Industries
Advanced manufacturing, defense, life sciences and genomics, technology and cybersecurity
Sources
State of California Employment Development Department
U.S. Bureau of Labor Statistics
U.S. Census Bureau
San Diego Regional Economic Development Corporation
Fastest-Growing Careers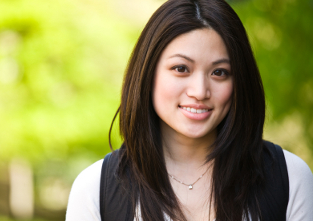 Based on EDD projections for San Diego County, the occupations below could see the highest rates of job growth between 2016 and 2026 (excluding occupations with fewer than 300 workers). Wage data is based on Bureau of Labor Statistics (BLS) estimates for the San Diego-Carlsbad metro area.
Nurse practitioners (33.8%): Provide advanced nursing care by conducting patient exams, ordering diagnostic tests, prescribing medications, and assisting with minor surgeries. After becoming a registered nurse, you must complete a master's degree and become certified by the California Board of Registered Nursing (BRN). Plus, all nurses in California must complete 30 hours of continuing education every two years.
Average yearly wage: $125,550
Physician assistants (32.3%): Collaborate with a doctor to provide care and guidance to medical patients. You must be licensed by the Physician Assistant Board, which requires completing an approved graduate-level program and passing a national exam. Also, you must renew your license every two years, which requires completing 50 hours of continuing education.
Average yearly wage: $124,070
Statisticians (31.6%): Gather and analyze data for the purpose of identifying patterns and insights that could help organizations make better decisions. You'll find more opportunities with a master's degree, but some positions can be had with a bachelor's.
Average yearly wage: $101,290
Personal care aides (31.3%): Provide in-home help with non-medical tasks like laundry, shopping, housekeeping, and cooking. Aides who work for home care organizations must register with the Home Care Services Bureau of California.
Average yearly wage: $29,000
Applications software developers (30.9%): Design and modify programs that people use for specific purposes, such as word processors, Web browsers, photo editors, and video games. A bachelor's degree is commonly (but not always) required.
Average yearly wage: $117,020
Good-Paying Careers With the Most Yearly Job Openings
By completing classroom and/or hands-on training beyond high school, you can be better positioned to go after one of the many well-paying jobs that open up each year in San Diego. Below are a few of the top examples, drawn from EDD projections for the 2016-to-2026 period and BLS wage estimates for 2019.
General and operations managers (2,351 yearly openings): Keep an organization moving forward by coordinating and overseeing its day-to-day functions. Most professionals at this level have at least a bachelor's degree and a few years of industry experience.
Average yearly wage: $140,980
Registered nurses (1,602 yearly openings): Play an essential role in promoting the well-being of sick and injured patients. You will need to complete an approved training program and pass a national exam in order to obtain a license from the BRN. To renew, you must complete 30 contact hours of continuing education every two years.
Average yearly wage: $104,860
Accountants and auditors (1,222 yearly openings): Stay on top of an organization's financial health by preparing statements and records and verifying their accuracy. Most employers look for candidates with bachelor's degrees.
Average yearly wage: $87,210
Management analysts (1,107 yearly openings): Review an organization's processes and operations in order to craft recommendations for boosting efficiency. A bachelor's degree and a few years of relevant experience are typically necessary.
Average yearly wage: $87,180
Market research analysts (1,073 yearly openings): Analyze consumer spending patterns in order to figure out what products companies should offer and what prices they should charge. You can get started in this field with a bachelor's degree.
Average yearly wage: $69,040
---
Many Students Find More Success When They Choose Career Training
Trade schools in San Diego offer people of various backgrounds the opportunity to gain employer-valued abilities through programs that match their current needs and future ambitions.