---
---
Benefits of Getting an Education in San Diego
Student-Friendly Resources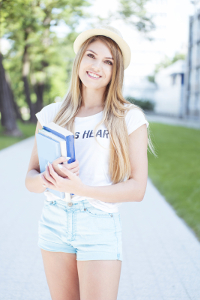 San Diego is full of educational resources, including museums and libraries. The public library system offers millions of books and government documents and hundreds of thousands of foreign language texts. This means that there is a wealth of additional resources accessible to you while you work through your studies. And, when you need to take a break from studying, you can spend time at one of the city's popular beaches or enjoy a live performance at one of the high-quality theatrical and musical venues.
Convenient Transit
If you prefer not to own or drive a vehicle to school each day, you can take advantage of the San Diego Metropolitan Transit System (MTS), which operates buses and trolleys for city residents. The MTS even offers the Rapid system, which runs every 15 minutes during peak hours of the day, and utilizes quick pay options that allow transit to be easy for busy students.
Economic Opportunities
San Diego has a variety of thriving industries. The city is known for its high-tech industry and is also an important hub for biotechnology research. Numerous scientifically-innovative businesses flourish in San Diego; these companies also frequently collaborate with academic researchers to keep on top of cutting-edge technology. Other opportunities for working in a health-related field can be found in San Diego's many hospitals and medical clinics.
The Port of San Diego has made the city an important center for international trade. Many people with different kinds of business and legal training find themselves working for firms involved in overseas transactions. San Diego also has a strong defense industry as the U.S. Pacific Fleet's home port. This industry calls on workers with a variety of backgrounds that include healthcare, communications, and information technology.
Because of its many attractions, tourism and travel are a major part of San Diego's economy. Its vibrant restaurant scene demands high-quality culinary training, and its many cultural venues need people with artistic and technical skills.
When studying at one of the trade schools or colleges in San Diego, you can take advantage of the city's diverse economy. Rewarding career opportunities may open up to you in a number of different economic sectors. In and around the city, you can find businesses, research labs and government organizations that can give you invaluable work and educational experience. The San Diego Workforce Partnership is also available to help facilitate your job training and help you find a position that suits your strengths and interests.
Don't wait any longer to start working on your future. Find a school that seems like a good match for you and request information!
---