---
---
4 Great Industries in Orange County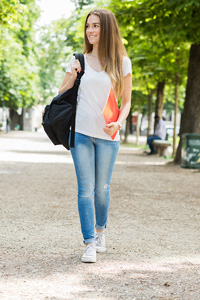 Orange County's warm climate, oceanside location, and famous tourist attractions have given it a reputation around the world as a great place to vacation. But there's a lot more to "the OC" than theme parks and beaches. With over three million residents, the area is home to a rising number of successful businesses. And many of those businesses expect to hire more workers. In fact, 17,678 openings for middle-skills jobs are predicted to be created in Orange County every year between 2016 and 2026.1 Middle-skills jobs are positions that don't require a bachelor's degree, but that do require training beyond a high school diploma. Orange County schools offer many certificate and associate degree programs to help meet this need for more middle-skilled workers.
Such programs often lead to careers with good salaries. In fact, salaries in this region of California tend to be higher than in many other parts of the U.S. The average hourly wage in Orange County is $27.22, which is 12 percent higher than the national average of $24.34.2
Where can students like you find some of those job opportunities? Take a look at the following important industries in Orange County.
The projected job growth below is for the overall period between 2016 and 2026. The average hourly wages are for 2018.3
1. Healthcare
Orange County offers a lot of opportunities for healthcare workers with the right credentials. One reason behind this growing demand is that the average age of Orange County residents is rising. In fact, the percentage of the population over 55 years of age is expected to climb from 22.5 percent in 2010 to 40.7 percent by 2060.4 That's a big increase for a demographic that typically needs more medical care.
Check out the numbers for these healthcare-related careers:
Medical assistants—24.1-percent growth; $17.17 hourly
Dental assistants—18.2-percent growth; $17.62 hourly
Health information technicians—15.1-percent growth; $23.41 hourly
Licensed vocational nurses—14.8-percent growth; $26.18 hourly
Registered nurses—13.9-percent growth; $43.36 hourly
2. Information Technology
Information technology professionals are also in demand in Orange County. Consider this: IT salaries in this region rose more than 20 percent over a five-year period as employers focused on retaining workers in a competitive market.4 Another thing to keep in mind is that Orange County tech professionals increasingly work for organizations that aren't technology companies: More IT professionals are finding positions in financial services and healthcare organizations than in technology-specific firms. That's because all kinds of employers in the region need technology professionals to do things like manage their data and keep their networks secure.
So, what kind of careers in IT are growing? Take a look at these examples:
Applications software developers—31.5-percent growth; $57.17 hourly
Web developers—15.7-percent growth; $32.48 hourly
Database administrators—12.2-percent growth; $42.98 hourly
User support technicians—12-percent growth; $27.25 hourly
Network architects—8-percent growth; $52.88 hourly
3. Advanced Manufacturing
"Advanced manufacturing" refers to manufacturing that uses innovative technology, resulting in improved workflows and products. This is high-tech, precise manufacturing, and it's taking off in Orange County. In fact, over 72 percent of manufacturing jobs in Orange County are considered advanced manufacturing positions.4
Across Orange County, advanced manufacturing is changing the way work is done in electronics, aerospace, and medical manufacturing. One area with particularly strong prospects in this region is medical device manufacturing: Orange County has five times more workers in this sector than the national average.5
Take a look at these advanced manufacturing careers:
Computer-controlled machine tool programmers—22.2-percent growth; $27.38 hourly
Industrial engineers—15.1-percent growth; $48.83 hourly
Industrial machinery mechanics—10.2-percent growth; $25.44 hourly
Technical and scientific sales representatives—6.1-percent growth; $35.97 hourly
4. Tourism
Disneyland. World-class surfing. Big-league sports teams like the Anaheim Ducks. There's no question that Orange County is one of the major tourist centers in the U.S. In 2018 alone, more than 50 million tourists traveled to this region, spending over $13 billion.6 Those numbers add up to a lot of job opportunities in the tourism sector. In fact, the region's leisure and hospitality sector employs more than 219,000 workers.4 And with many area attractions planning to expand, the tourism industry shows no signs of slowing down its hiring.
What kind of tourism careers are in demand? Take a look at the following examples:
Chefs—14.4-percent growth; $23.56 hourly
Bartenders—14.1-percent growth; $12.36 hourly
Ticket agents—12-percent growth; $17.54 hourly
Amusement and recreation attendants—10.3-percent growth; $11.42 hourly
Hotel managers—8.8-percent growth; $28.95 hourly
---
Now Is the Time to Start Working on Your Future
Don't wait any longer to take the next steps toward a successful future. Just enter your zip code into the search tool below to start exploring nearby colleges and trade schools in Orange County!
---
---
1 Orange County Business Council, Closing Orange County's Skills Gap, website last visited on November 4, 2019.
2 Bureau of Labor Statistics, U.S. Department of Labor, Western Information Office, website last visited on November 4, 2019.
3 State of California Employment Development Department, website last visited on November 4, 2019.
4 Orange County Business Council and Orange County Development Board, Orange County Workforce Indicators Report, website last visited on November 4, 2019.
5 TClower & Associates, 2017 Biocom California Economic Impact Report Databook, website last visited on November 4, 2019.
6 Orange County Visitors Association, Annual Report 2018, website last visited on November 5, 2019.