Los Angeles, California
Trade Schools & Colleges
By Publisher
| Last Updated
Millions of students attend colleges and trade schools in Los Angeles to prepare for all kinds of enjoyable, meaningful, and in-demand careers in major industries. Through post-secondary training, L.A. residents can pursue high-paying jobs, establish fun social connections, and enjoy other advantages of being in the big city.
---
Education & Training
Los Angeles trade schools, colleges, and universities are part of a huge, vibrant community that includes all kinds of students. Regardless of your educational path, you can take advantage of some of the best things this city has to offer.
Key Benefits of the Area for College Students
Easy and free access to a massive number of learning resources: The Los Angeles Public Library has more than 70 branches throughout the region. As an L.A. resident, you can take advantage of the library's extensive collection of books and receive free access to the library's online media downloads and databases.
Proximity to numerous internship possibilities: In addition to the thousands of opportunities offered through private employers, Los Angeles County administers several internship programs that help students explore careers and gain valuable experience.
Countless social opportunities: According to the U.S. Census Bureau, close to half of Los Angeles-area residents (47.6%) are between the ages of 15 and 44. That's higher than both the national average (39.7%) and California average (42.1%). The large population of young people consists of many cool and creative individuals who meet up to enjoy the great variety of local entertainment, restaurants, and events the region is famous for.
Costs
Los Angeles colleges, universities, and trade schools vary in the amount of tuition they charge. A wide range of factors can affect the cost, including your California residency status, the kind of school you attend, and the type of program you take. Here's the median tuition at four-year colleges in L.A., according to Data USA:
Public schools: $5,742 (in-state); $17,622 (out-of-state)
Private schools: $29,592
---
---
FAQs About Being a Student in Los Angeles
How does L.A.'s cost of living stack up?
In terms of housing costs, overall median rent in the Los Angeles metro area is about three percent higher than the California median and 48 percent higher than the nationwide median. To rent a studio or one-bedroom apartment in the city, you'll pay a median of $1,138 or $1,303 per month.
What's the public transit like in L.A.?
Although cars are the dominant form of transportation in Los Angeles, the region has a sizeable mass-transit system. As a college student, you can get a 30-day Metro pass at the discounted rate of $43. This pass entitles you to use hundreds of bus and rail lines that go almost everywhere throughout Los Angeles County. Students can also get a 30-day Metro Bike Share pass for $5, which gives you access to bicycles all over the city. The first 30 minutes of each bike ride is free. After that, you pay $1.75 per half hour.
What if I want to learn a skilled trade in L.A.? Is school my only option?
Although L.A. trade schools offer popular starting points for various hands-on vocations, there is a potential alternative. It's possible to find a paid apprenticeship in which your employer sponsors your classroom instruction and provides on-the-job training. Various unions and companies in Los Angeles provide these kinds of opportunities, just not always on a regular basis. People who've already attended a trade school sometimes have a leg up on the competition for limited apprenticeship openings. You can find a potential apprenticeship sponsor by using the search tool from the State of California Department of Industrial Relations.
---
Los Angeles Schools
Sponsored Listings
Massage Therapy
Medical Assistant
Medical Billing and Coding
Personal Fitness Trainer
Physical Therapy Aide/Sports Rehab
Automotive Technician
Business Office Administration
Criminal Justice
Dental Assistant
Electrician Technician
Heating, Ventilation, and Air Conditioning
Medical Assistant
Medical Billing and Insurance Coding
Medical Office Specialist
Pharmacy Technician
Welding
Business Management
Business Management - Online
Certified Nurse Assistant
Criminal Justice
Diagnostic Medical Sonography (Ultrasound)
Health Care Management
Health Care Management - Online
Hemodialysis Technician
Information Technology
Medical Administrative Specialist
Medical Assisting
Respiratory Therapy
Respiratory Therapy - Online
Veterinary Technology
Veterinary Technology - Online
Visual Communication (3D, 2D, and Web Design)
---
---
Industry Information
As one of the world's major economic centers, Los Angeles has a huge variety of big industries that support all kinds of good careers. The region's residents have jobs in everything from creative and high-tech sectors to tourism- and health-related industries.
Fastest-Growing Industries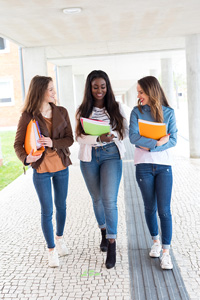 Projections for Los Angeles County—from the State of California Employment Development Department (EDD)—show that the industry sub-sectors expected to have the best job growth between 2016 and 2026 include:
Individual and family services (39.1%): Los Angeles continues to need workers who can help provide social assistance to area residents who may be addicted, homeless, disabled, victimized, or otherwise disadvantaged or suffering from difficult problems.
Management, scientific, and technical consulting services (29.1%): With L.A.'s massive variety of companies and other organizations, a large demand exists for consultants and analysts who can provide expert assessments and recommendations on almost any aspect of an operation.
Warehousing and storage (29%): Many goods get manufactured, brought into, and shipped within or outside of L.A. As the amount of those goods grows, so does the need for people with skills related to securely storing, managing, packaging, or shipping all of that inventory.
Offices of health practitioners (except doctors and dentists) (28.3%): L.A. residents utilize all kinds of health services beyond those provided by the core medical and dental community. For example, they see audiologists, optometrists, and physical and occupational therapists, among other specialists.
Data processing, hosting, and related services (25%): Internet use keeps expanding. More and more people and organizations are taking advantage of cloud computing. L.A. is home to many data centers that provide the digital hardware infrastructure needed by a wide range of high-tech companies.
Careers Related to the Industries Above
Average Annual Wages
Operations research analysts

Network systems administrators

Logisticians

Physical therapist assistants

Substance abuse social workers
Other Key Industries
Los Angeles has a fantastic variety of fun, important, and cutting-edge industries. In addition to sectors like bioscience and information technology, the Los Angeles County Economic Development Corporation (LAEDC) is supporting the growth and development of other major industries such as:
Advanced transportation: From self-driving electric cars to smart grids and fuels of the future, L.A. is where many of the most innovative vehicle technologies are being designed, developed, manufactured, and adopted.
Aerospace technology: LAEDC says that every major company in this industry has an office in the Los Angeles area, contributing to the nation's highest aerospace employment. From civilian, commercial, and military aircraft to satellites and space vehicles, engineers and related professionals get to work on plenty of exciting projects.
Fashion: According to LAEDC, over 2,800 companies in this sector directly employ more than 61,500 people. They are leaders in the design of apparel, accessories, footwear, and more.
Entertainment: Thanks to Hollywood, L.A. is a major hub for film, TV, and music production. But the city is also a big player in the production of digital media such as video games and virtual reality experiences. LAEDC notes that more than 160,000 people are employed in this broad industry.
Tourism and hospitality: People from all over the world visit Los Angeles to enjoy the beaches, attractions, restaurants, and shopping venues. It's why, according to LAEDC, this sector supports the employment of more than 678,000 area residents.
Careers Related to the Industries Above
Average Annual Wages
Animators and special effects artists

Fashion designers

Industrial designers

Aerospace engineering technicians

Hotel managers
Career Information
In L.A., some of the best career opportunities are related to business and healthcare. Many of them require a degree.
Job Growth
10% from 2016 to 2026
(metro area)
Job Openings
Yearly Average
(metro area)
Average Salary
(all occupations)
Population
(city)
Number of Employers
(metro area)
Key Industries
Advanced transportation, aerospace, biosciences, digital media, entertainment, fashion, hospitality, information technology, logistics, tourism
Sources
State of California Employment Development Department
U.S. Bureau of Labor Statistics
U.S. Census Bureau
Los Angeles County Economic Development Corporation
Fastest-Growing Careers
Based on EDD projections for Los Angeles County, the five occupations below are expected to see the biggest employment growth between 2016 and 2026. Wages are based on 2019 Bureau of Labor Statistics (BLS) estimates for the Los Angeles-Long Beach-Anaheim metro area.
Mathematicians (46.2%): Help public or private organizations find practical solutions to challenging problems by developing and using new mathematical models to analyze critical data. You may need a master's degree.
Average yearly wage: $111,790
Home health aides (41.4%): Assist with activities of daily living and basic care (at the direction of licensed health practitioners) to elderly, disabled, or recovering individuals within their residential environments. You can get started with a high school diploma and a short amount of training that qualifies you to pursue state certification.
Average yearly wage: $29,470
Personal care aides (39.9%): Prepare meals, assist with housekeeping, provide companionship, and help with other necessary tasks of daily living. A high school diploma may be all you need.
Average yearly wage: $29,470
Genetic counselors (37.5%): Help people identify and understand the genetic disorders they have inherited or the conditions they are at risk of developing or passing on to their offspring. A master's degree and state license are required.
Average yearly wage: $100,580
Physician assistants (37.3%): Work as part of a healthcare team that includes doctors and other practitioners by examining, diagnosing, treating, and counseling medical patients. You'll need at least a master's degree as well as a state license.
Average yearly wage: $126,130
Good-Paying Careers With the Most Yearly Job Openings
Many high-paying opportunities become available each year in the L.A. area for those with a post-secondary education. Here are five of the best examples that pay above the average California wage based on EDD projections and BLS estimates.
General and operations managers (6,539 yearly openings): Take on a leadership role that involves planning and coordinating an organization's day-to-day undertakings. A bachelor's degree is often necessary, along with some industry experience.
Average yearly wage: $138,740
Registered nurses (5,553 yearly openings): Go into one of the most essential and meaningful professions, one in which you get to assess and care for medical patients. You can qualify to pursue a state license by completing an approved associate or bachelor's degree program.
Average yearly wage: $106,190
Accountants and auditors (4,745 yearly openings): Assist companies or other organizations with financial-related tasks that contribute to good planning, decision making, and compliance with laws and regulations. Typically, you need at least a bachelor's degree.
Average yearly wage: $81,310
Marketing specialists (3,162 yearly openings): Help businesses promote and sell their products or services by researching consumer needs and preferences and devising appropriate pricing, sales, and promotion strategies. Most people in this field have at least a bachelor's degree.
Average yearly wage: $72,790
Management analysts (2,761 yearly openings): Recommend new procedures or strategies to help companies become more efficient and profitable. A bachelor's degree tends to be the minimum requirement.
Average yearly wage: $105,540
---
Trade School Training Can Reveal Your Bright Potential
Many people who graduate from trade schools in Los Angeles go on to achieve more in their careers than they ever thought possible.