---
---
3 Career Sectors Worth Considering in Tucson, Arizona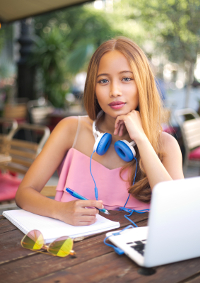 With abundant sunshine, a low cost of living, and an eclectic mix of cultures, Tucson is a city that has a lot going for it. In fact, the region's unique blend of affordability and opportunity has led to it being ranked as one of the best U.S. cities for millennials.1 And with employment in the metro area expected to grow almost 17 percent between 2016 and 2026, there's even more reason to begin your career in this part of southern Arizona.2
Three job sectors with a bright future in Tucson include:
1. Skilled Trades
The building trades are booming in Tucson. Construction employment in the region grew almost seven percent just between February 2018 and February 2019.3 But even that wasn't enough to keep up with demand: Over 80 percent of Arizona contractors surveyed in 2018 said they were struggling to fill available craft positions. Heavy equipment operators, pipelayers, and mechanics were all in short supply.4
And the opportunities should continue to emerge. The Tucson construction sector is expected to grow more than 12 percent between 2016 and 2026, which means that more than 1,870 new jobs for qualified tradespeople will likely open up during that time period.2
Here are just a few careers in the trades that are expected to see much-faster-than-average growth in the Tucson area between 2016 and 2026. (The percentage represents the projected rate of job growth; earnings figures are average salaries as of May 2018.)2, 5
HVAC mechanics and installers—21.4 percent / $45,930
Plumbers, pipefitters, and steamfitters—17.5 percent / $45,140
Structural iron and steel workers—16.7 percent / $44,700
Electricians—14.2 percent / $44,240
Brickmasons and blockmasons—13.4 percent / $44,260
Carpenters—9.2 percent / $36,400
2. Health Services
Looking after people's health and well-being is a growing industry in Tucson, particularly as the local population gets older and requires more care. By 2024, more than 20 percent of the residents of Pima County could be over 65. So it's no surprise that the health care sector is set to expand rapidly in the coming years. In fact, employment in Tucson hospitals is expected to grow by almost 40 percent between 2016 and 2026. And nursing and residential care facilities could support a 51.5-percent increase in the number of new jobs.2
Have a look at the projected rates of job growth for the following health care careers, along with their average salaries:2, 5
Physical therapist assistants—55.1 percent / $38,860
Diagnostic medical sonographers—53.8 percent / $72,940
Medical assistants—53.8 percent / $31,280
Medical records and health information technicians—36.9 percent / $39,390
Cardiovascular technologists and technicians—33.3 percent / $61,790
Massage therapists—27 percent / $43,270
Pharmacy technicians—23.2 percent / $36,340
3. Aerospace and Aviation
Aerospace manufacturing is a big part of Tucson's economy, employing more than 25,000 people in areas ranging from research and development to assembly and distribution.6 Space-related manufacturers like Universal Avionics, Vector Launch, and World View Enterprises are all headquartered here. The region is also home to Bombardier's largest aircraft service center, which occupies close to a million square feet and employs more than 900 local residents.7
The Tucson metro area added 600 aerospace manufacturing jobs just between March 2017 and March 2018, a growth rate of 5.1 percent.8 With the right training, you can take advantage of expanding opportunities in careers like these:2, 5
Electrical and electronics engineering technicians—15.3 percent / $58,360
Industrial engineering technicians—12.3 percent / $57,550
Avionics technicians—11.8 percent / $66,690
Aircraft mechanics—6.7 percent / $31,200
---
Chart a New Course
Make this the day you take control of your future. Tucson trade schools and career colleges are ready to help you reach your goals. So look through the programs above or type your zip code into the school finder below to discover training options close to where you live!
---
---
1 Money, "Best Cities for Millennials," website last visited on December 9, 2019.
2 Arizona Labor Statistics, Office of Economic Opportunity, website last visited on September 16, 2019.
3 Bureau of Labor Statistics, U.S. Department of Labor, "Economy at a Glance: Tucson, AZ," website last visited on September 16, 2019.
4 Associated General Contractors of America, 2018 Workforce Survey Results: Arizona Results, website last visited on September 16, 2019.
5 Bureau of Labor Statistics, U.S. Department of Labor, Occupational Employment Statistics, website last visited on September 16, 2019.
6 Sun Corridor Inc. "Aerospace & Defense," website last visited on February 4, 2020.
7 Bombardier, "Bombardier Business Aircraft Inaugurates Newly Expanded Interior Facility in Tucson," website last visited on September 16, 2019.
8 TucsonSentinel.com, "Arizona added 1,000 manufacturing jobs over the past month," website last visited on September 16, 2019.