Lincoln Tech
20 Locations in 12 States!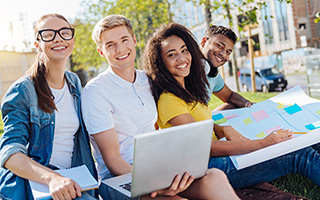 Advance your potential at a school that can keep pace with your growth.
Lincoln Tech responds to changes in technology and employer needs so that you have the chance to start a new career with the tools to succeed.
The instructors at Lincoln Tech are experienced at helping students develop sought-after, practical skills through active learning that involves the use of modern equipment. That means you can prepare for one of today's most worthwhile careers in a way that keeps you focused and moving forward.
Lincoln Tech has been successfully training students for over 75 years. But this school offers a lot more than time-tested career training. So make sure you take a few moments to request extra guidance from a school representative.
---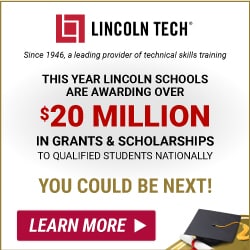 ---
Lincoln Tech Program Areas:
---
Skilled Trades
Use your skillful hands to build a career that feels solid and satisfying! Man-made structures and machinery make modern life easier, but they always require qualified people to construct them, install them, and keep them functioning as they should. So why not find out how Lincoln Tech can help you get going in a skilled trade? As a welder, electrician, or HVAC specialist, you can spend your days doing work that has an impact you can actually see and touch.
Electrical/Electronics
Heating, Ventilation & Air Conditioning (HVAC)
Machining and Manufacturing
Welding Technology
---
Automotive & Diesel
Lincoln Tech gets you under the hood of a variety of vehicle makes and models so that you can build the skills that are needed to work in places like auto shops and collision repair garages. You'll train using modern technology, giving you the chance to accelerate into a career as a diesel technician, auto mechanic, service shop manager, or other type of automotive pro.
Automotive Technology
Collision Repair and Refinishing
Diesel Technology
Heavy Equipment
---
Health Care
You want a shot at a stable future, but you also want to do something meaningful. So go after the career aspirations you care about most! The field of health care is full of amazing occupations that can let you provide for yourself while contributing to other people's lives in positive and significant ways. At Lincoln Tech, you'll get focused training that can lead to careers with personal impact like medical assisting, nursing, and massage therapy.
Dental Assistant
Massage Therapy
Medical Assistant
Medical Assistant Technology
Patient Care Technician
Practical Nursing
---
Information Technology
Link your love of technology with a career that keeps pace with exciting changes! The Information Age is only growing more complex, which means that people with your kind of enthusiasm for computers and technology continue to be needed by all types of employers. Lincoln Tech can help you fine-tune your existing skills as you add new ones necessary for positions like systems administrator, network engineer, and information systems developer.
Computer and Network Support Technician
---
Build Up Your Most Valuable Qualities
Confidence. Enthusiasm. Effective time management. These are just a few of the traits that Lincoln Tech strives to refine in every student.
Through a 24-week coaching process, you will receive help at fully developing the types of soft skills that can create success in all areas of your life. It's a chance for you to take the lead in your education right from the beginning. That way, you can graduate with the momentum to carry you through whatever lies ahead.
---
Embrace Personal, Lifelong Support
It's easier to approach employers with the self-confidence they appreciate when you have a school that backs you up. Lincoln Tech is committed to providing services that are customized to your training needs and career plans.
In fact, this commitment is so strong that they gave it a name—The Lincoln Edge. Here's a small sample of what you can receive help with: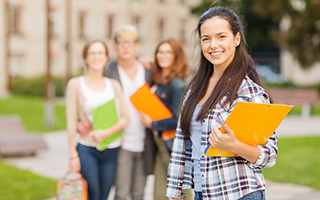 Devising a flexible class schedule (with options for day, afternoon, and evening classes)
Obtaining financial aid (available to those who qualify)
Learning how to budget your money and manage your credit
Creating your resume
Planning your job search
Dressing professionally
Practicing for job interviews
Brushing up on your career-specific skills
Getting placed in a career once your program is completed
---
Make Your Goals Start Happening
Lincoln Tech wants to share all of the details with you. Ask them to contact you right now so that you can learn about features like program length, tuition, and start dates!
---
Lincoln Tech Locations:
With convenient campuses spanning from the eastern to western United States, you can find the targeted career training you're looking for at a location near you. Each campus is equipped to help you learn technical skills through hands-on techniques, giving you a strong head-start toward the future you want.
Colorado
Denver
11194 E 45th Ave
Denver
CO
80239
Connecticut
East Windsor
97 Newberry Rd
East Windsor
CT
06088
New Britain
200 John Downey Dr
New Britain
CT
06051
Shelton
8 Progress Dr
Shelton
CT
06484
Georgia
Marietta (Atlanta)
2359 Windy Hill Rd SE
Marietta
GA
30067
Illinois
Melrose Park
8317 W North Ave
Melrose Park
IL
60160
Indiana
Indianapolis
7225 Winton Dr Bldg 128
Indianapolis
IN
46268
Maryland
Columbia
9325 Snowden River Pkwy
Columbia
MD
21046
New Jersey
Iselin (Edison)
675 US Route 1 S 2nd Flr
Iselin
NJ
08830
Mahwah (Bergen County/NY Metro Area)
70 McKee Dr
Mahwah
NJ
07430
Moorestown
308 W Route 38
Moorestown
NJ
08057
Paramus
240 Bergen Town Ctr
Paramus
NJ
07652
South Plainfield
901 Hadley Rd
South Plainfield
NJ
07080
Union
2299 Vauxhall Rd
Union
NJ
07083
New York
Queens
15-30 Petracca Pl
Whitestone
NY
11357
Pennsylvania
Allentown
5151 Tilghman St
Allentown
PA
18104
Philadelphia
9191 Torresdale Ave
Philadelphia
PA
19136
Rhode Island
Lincoln (Providence)
622 George Washington Hwy
Lincoln
RI
02865
Tennessee
Nashville
1524 Gallatin Avenue
Nashville
TN
37206
Texas
Grand Prairie
2915 Alouette Dr
Grand Prairie
TX
75052
---
---
Important information about the educational debt, earnings, and completion rates of students who attended a Lincoln campus and enrolled in a program can be found here.