University of Arkansas Grantham
Online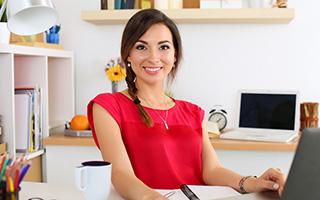 Get a convenient and accessible education that can put you on the path toward life-changing opportunities.
University of Arkansas Grantham (UA Grantham) offers adult learners like you the chance to take professionally relevant courses that are 100-percent online. Every program is designed to help busy adults attain marketable knowledge without having to abandon their other commitments. Whether you are a first-time college student, a military veteran, or someone looking for a fresh start, a second chance, or career advancement, this school makes it easier to fulfill your educational ambitions.
Simply put, UA Grantham believes in you and your potential. Regardless of where you're starting from, you have the power to forge a new destiny. And by choosing an online program from this school, you won't be alone on your journey. Every student receives ongoing guidance and encouragement. So you can take your classes when and where you want while still having access to knowledgeable instructors and plenty of virtual assistance.
Plus, this online university strives to remain affordable. It does so by taking advantage of creative and resourceful solutions that make Web-based learning more accessible, flexible, and streamlined than traditional methods. And all of the school's programs are continuously evaluated to ensure that they offer useful starting points for successful career pursuits in today's market.
Don't your aspirations deserve that kind of support? Learn how you can start benefitting from UA Grantham's innovative online programs by requesting additional details right away!
---
University of Arkansas Grantham Programs
---
College of Business, Management, and Economics
Are you an aspiring leader? Would you like to make a real impact in what you do? The opportunities are out there. With an online business education from UA Grantham's College of Business, Management, and Economics, you can begin seizing them. That's because each program is targeted at the needs of today's business and financial environment. Whether your goal is to succeed in a management, administrative, support, or entrepreneurial role, this school is committed to providing relevant courses of study to help you get started.
Bachelor of Business Administration in:
Business Administration:

General Management
Human Resource Management
Logistics and Supply Chain Management
Marketing
Operations Management
Master of Business Administration in:
Information Management
Project Management
Master of Science in:
Business Intelligence
Leadership
Performance Improvement
Graduate Certificates:
Human Resources
Project Management
---
College of Humanities and Social Sciences
Do you want a degree that offers versatility? These online programs are designed for adults who want to learn about the expansive world of criminal justice or who want to engage in much broader learning that covers several different subjects. They provide a way to keep your options open while still having the chance to focus on your overall professional development.
Bachelor of Arts in:
Criminal Justice
Strategic Communications
---
College of Health Professions
Due to an aging population and a lot of ongoing and expected retirements, the opportunities in healthcare continue to look bright. That's why UA Grantham offers convenient online programs for those who want to make their own contributions to this popular and often-rewarding career sector in management, administrative, leadership, or support roles.
Bachelor of Science in:
Health Information Management
Master's Degrees:
Master of Healthcare Administration
Master of Science in Health Systems Management
---
College of Science, Engineering, and Technology
Technology keeps changing because innovative breakthroughs keep happening. That's what makes the fields of engineering and information technology so exciting. You never quite know where things will go next. Plus, if you attain the professional abilities that are necessary for making an impact in this sector, then you might get to help shape the future.
Bachelor of Science in:
Computer Engineering Technology
Cyber Security
Electronics Engineering Technology
Engineering Management Technology
Information Systems:

Cyber Security
Health Informatics
Web Development
Master of Science in:
Information Management - Project Management
Information Management Technology
Information Technology
---
Personalized Career Assistance
UA Grantham is dedicated to providing each student with individualized access to relevant career services. You can receive help with tasks like identifying your most marketable abilities, developing a professional brand, creating attention-grabbing resumes, preparing for job interviews, and more. The school even helps employers facilitate online information sessions with students.
---
Start Creating Your Own Success
You are probably capable of much more than you realize. UA Grantham welcomes the opportunity to help you discover your untapped potential. Let the school know that you're ready to learn much more about the many advantages of its 100-percent-online programs today!
---