---
---
3 Helpful Things to Know About Training and Working in the Culinary Arts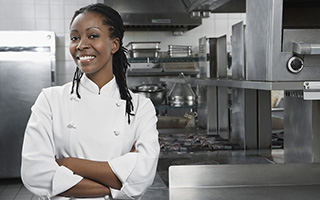 For most aspiring culinary professionals, formal schooling offers the fastest way into today's food services industry. Here's a big reason: Fine restaurants, hotels, resorts, and other top employers increasingly want people who already know how to perform tasks and conduct themselves efficiently in a commercial kitchen—even for entry-level jobs. In the U.S., apprenticeship opportunities for those without any formal training are pretty rare.
That's why looking into the country's culinary arts colleges, institutes, academies, and universities is a vital first step in sparking your career potential. A focused and practical culinary education tends to be the most efficient method for getting off to a promising start.
So, as you begin visualizing what's ahead, just remember a few of the benefits you might reap along the way.
1. You'll Be Taught Skills You Can Use Throughout the Industry
This is how you can establish a new career with real built-in flexibility. Most culinary arts programs are aimed at giving you a broad background in kitchen fundamentals and popular cuisines, along with plenty of direct cooking practice. The goal is to prepare you for a lot of different employment possibilities.
The training you receive will probably begin with the basics and gradually build to more advanced concepts and techniques. Cooking classes tend to involve live demonstrations followed by time for you to recreate what you've just been shown. Through it all, you can expect your instructors to emphasize the importance of being disciplined, working quickly but safely, and respecting the kitchen hierarchy.
Here's a more specific sampling of what you're likely to learn about:
Culinary terminology
Kitchen tools, equipment, and organization
Knife skills
Food safety and sanitation
Nutrition and dietary trends
Food sourcing and inventory
Controlling costs and maximizing revenue potential
Managing a dining room
Beverage operations
Cultural influences on food
Flavor and ingredient identification
Cold food preparation (often referred to as garde manger)
Dry- and wet-heat cooking
Baking science
American regional cuisines
French and other European cuisines
Ethnic cuisines like Indian, Asian, and Latin American
Plating design and presentation
Menu planning
Catering, buffets, and other volume food preparation
A la carte kitchen operations
2. School Can Help You Earn Higher Wages, Faster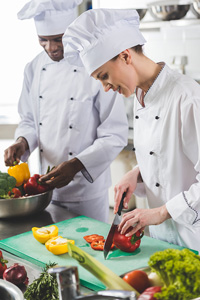 Almost every aspiring chef begins his or her culinary career in an entry-level role. But getting formal training can have a significant impact on how quickly you're able to advance. That's because you'll probably learn most of the foundational skills in school, making it easier to hit the ground running and distinguish yourself while on the job.
So, even though you might start at a typical beginning wage, your income could rise faster than you think. In fact, many culinary pros have risen to the level of executive chef in only five years.
Take a look at the numbers:1
In 2018, the median hourly pay for restaurant cooks in the U.S. was $12.76.
The top-earning 10 percent of restaurant cooks made more than $18.09 per hour.
Pay is usually on the higher end for employees of upscale restaurants, casual fine-dining establishments, and luxury hotels and resorts. And the more experience you acquire, the greater your potential income.
Look at what head cooks and chefs tend to make:1
Their median pay in 2018 was $48,460 per year.
The highest-earning 10 percent made $81,150 or more.
That's what's possible with good training, genuine enthusiasm, and strong determination.
3. The Culinary Sector Offers Proven Advancement Potential
There are no limits to what a culinary professional can accomplish in this field, no matter where they begin their careers.
The facts speak for themselves. For example, 80 percent of restaurant owners first began their careers at the entry level.2 And from 2018 to 2028, the employment of chefs and head cooks is expected to increase by 11 percent.3
In today's culinary space, the easiest way to get a head start on reaching your own potential is to get a practical education.
So, when will you begin?
---
---
1 Bureau of Labor Statistics, U.S. Department of Labor, Occupational Employment Statistics, website last visited on October 7, 2019.
2 National Restaurant Association, website last visited on October 7, 2019.
3 Bureau of Labor Statistics, U.S. Department of Labor, Occupational Outlook Handbook, website last visited on October 7, 2019.