Hospitality Management Colleges & Schools
Last Updated
Training with a hospitality management college can help you begin a career in one of the biggest economic sectors in North America! As people's disposable incomes and available leisure time continues to increase, so does the demand for hospitality services. Hospitality management schools can show you how to uphold impeccable customer service standards so you can give your guests a vacation they will remember.
A hospitality management college will teach you how to manage a hotel, including front office, housekeeping, maintenance, food service, and all levels of staff. The knowledge you acquire will help you begin your hospitality management career with confidence and strength. Acquiring the ability to boost productivity and efficiency while controlling labour costs will make you a sought after hospitality manager.
If you long for a fun, exciting career where your daily activities are never the same, training at a hospitality college is a step in the right direction. Click on one of the hospitality schools or programs listed below to get started!
---
---
Hospitality Management Schools
Sponsored Listings

Vancouver, British Columbia
Culinary Arts & Restaurant Ownership
Hospitality & Restaurant Business Management
---
---
---
5 Bright Careers You Can Pursue with Hospitality Training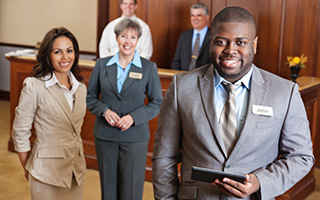 Give yourself a pat on the back. Why? Because the fact that you're reading this means you aren't overlooking one of the world's most vibrant and beneficial industries to be a part of. Hospitality is, quite simply, a terrific career sector that offers possibilities that most other people have probably never learned much about. So, if you're exploring what an education in this field can do for you, then you're already ahead of the game.
Hospitality training—particularly hospitality management training—can open all sorts of new doors for anyone with a friendly attitude, a little initiative, and a desire to earn great personal rewards by creating enjoyable and memorable experiences for others. In fact, people with this type of education frequently go on to have careers with exceptional advantages such as:
Fantastic pay
Global travel opportunities
Quick advancement
Daily displays of gratitude
Interactions with captivating people—sometimes even celebrities
Clearly, the potential benefits provide ample reason to consider making your living in hospitality management. So, with all of that in mind, check out these five truly worthwhile career options:
1. Hotel Management
Whether for business or leisure, travelers always need a place to stay. It's why the accommodations industry is so huge. According to the Hotel Association of Canada, more than 8,000 hotel properties collectively employ over 300,000 hospitality workers, directly or indirectly, in Canada.
All hotels and resorts—and even cruise ships—require people with skills in planning, coordinating, and overseeing their operations in order to ensure terrific experiences for their guests or clients as well as a positive bottom line.
The Canadian median salary for accommodation service managers is $64,002. However, many people in the field eventually earn much more than that, especially in popular tourist regions, with salaries as high as $159,000.
2. Concierge Services
Oftentimes, before people become hospitality managers, they enjoy getting their start in the industry as concierges. It's a role that involves assisting hotel guests with everything from spa or dining reservations to local travel to the procurement of tickets for shows, popular attractions, or sporting events. A concierge usually takes pride in having a thorough knowledge of the local region, its amenities, and its hot spots so that solid recommendations can be passed along to tourists or business travellers.
The median salary for a typical concierge in Canada is over $39,000. But this field is quickly growing beyond the hotel, resort, or cruise ship settings. For example, many luxury residential buildings now keep concierges on staff for their tenants. And, more and more, entrepreneurs with backgrounds in hospitality are starting their own companies, offering personal concierge and errand services to wealthy clients—and reaping the financial benefits.
3. Food Service or Restaurant Management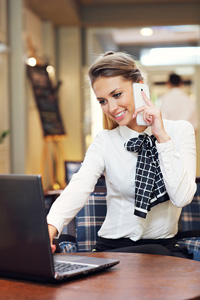 Canadian restaurants collectively provide jobs to over 1.1 million people. Plenty of additional workers have jobs with catering companies, facility cafeterias, or hotel or cruise ship food and beverage operations. And all of those people—and the work they perform—must be coordinated and overseen. It's why restaurant managers, bar managers, banquet managers, and other types of food service managers are frequently in high demand.
In Canada, the median annual pay for full-time professionals in this field is about $41,600, yet many earn a lot more than that—as much as $90,002 or more. Plus, having restaurant management skills can greatly increase your chances of succeeding should you ever decide to open your own dining establishment.
4. Bed and Breakfast (B&B) Operation
When it comes to accommodations, B&Bs represent a truly special niche. They offer travellers the opportunity to experience staying overnight in a home-like environment since that is exactly what it is. Owners of B&Bs often live on the same property that their guests stay at and aim to provide services that feel more down-to-earth than those found in hotels or larger resorts.
In 2012, more than 1,500 bed and breakfast establishments operated across Canada, according to federal government statistics. Hospitality training can give you the tools to help operate a B&B or even run your own one someday.
5. Casino Management
Gaming is popular with many Canadians. In fact, it is so popular that the industry is able to employ about 182,500 people throughout the nation. And casinos, just like hotels and restaurants, require good managers in order to thrive and ensure that guests have a good time.
Being a manager at a gaming establishment can be particularly lucrative. In fact, some casino managers have reported making over $73,500 a year.
Many of the skills you can learn through hospitality management classes apply to this field. But it's important to be aware that most people in the industry also must register with a provincial regulatory body in order to work at a licensed establishment. Examples of licensing agencies include the Liquor and Gaming Authority of Manitoba and the Alcohol and Gaming Commission of Ontario.
---