Welding Schools in Canada
Last Updated
Energize your goal of having a viable career. Welding schools specialize in helping people spark new opportunities for themselves by entering a growing skilled trade. This is your chance to start doing something that could bring you more stability and prosperity well into the future.
Just think of what welders contribute to Canada. Bridges, tall buildings, vehicles, ships, airplanes, factories, and countless other structures can only exist because of people who excel at welding.
So give this field some serious attention. Its career benefits might just surprise you. And getting trained can be fun, delightfully challenging, and full of confidence-building moments. Beginning the process is as simple as getting in touch with a school featured below. In a very short time, you can receive the information you need to move forward. Why not request those details right now?
---
Welding Schools
Sponsored Listings
---
---
Welding Training and Job FAQ
What Makes Welding a Solid Career Choice?
Lots of things. Qualified welders enjoy a field that's teeming with potential benefits such as:
An Abundance of Job Opportunities
The need for highly skilled people in this trade spans several different Canadian industries, many of which are expected to expand in the coming decade. Examples include:
The oil and gas industry
New infrastructure construction
The transportation sector, including aviation
Nuclear energy companies, which will need help refurbishing older reactors
Shipbuilding as a result of the need for new vessels in the naval and coast guard fleets
Mining, manufacturing, and fabrication
Good Prospects for Earning a High Income
A welder can make very good money in Canada. In fact, according to the Government of Canada's Job Bank, the nationwide median hourly wage for this trade was $25 in 2017-2018. And the average high was $39. But in a number of locations, you can earn much more. For example, in Alberta, the highest average pay was $45 per hour.
A Variety of Advancement Options
Aside from the incredible assortment of industries that rely on welders, the trade itself provides multiple ways to grow in your career. With experience, you might decide to become a welding inspector. Or an underwater welder. Or maybe you'll choose to be a supervisor or even work for yourself.
Consistently Engaging Work
In welding, there's always more you can learn. That makes every day interesting. You can expand your abilities as you specialize in a particular area of the trade such as custom fabrication or pressure vessel welding. But you can also grow in your knowledge of the many different welding techniques and special types of metals.
Just check out the variety of welding processes you could become skilled at:
Shielded metal arc (SMAW)
Flux-cored arc (FCAW)
Gas tungsten arc (GTAW)
Plasma arc (PAW)
Gas metal arc (GMAW)
Submerged arc (SAW)
Oxy-acetylene (OAW)
A Feeling of Pride
Picture being able to see the tangible results of your work. As a welder, it's easy to recognize when you've done your job well. And that can generate a fulfilling sense of accomplishment at the end of each day.
---
What Does It Take to Become a Qualified Welder?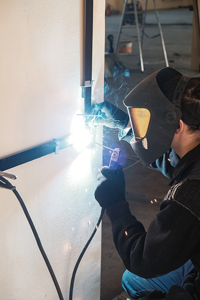 Although this trade is only regulated in two provinces, you'll still likely need a combination of schooling and on-the-job training as part of a paid apprenticeship. That's because each province works with industry partners to develop educational paths that lead to journeyperson certification, which is what most employers look for.
Welding School
Beginning with a post-secondary program can have some real advantages over trying to learn on the job right away. For one thing, you can learn the foundational parts a lot faster. And, in under one year, you might be able to earn industry-recognized certificates from the Canadian Welding Bureau (CWB).
Along with some hands-on practice with common welding techniques, you can also learn how to read and interpret blueprints and project specifications. It's an essential ability that a lot of employers will want you to possess before considering you for hire.
Apprenticeship Training
A significant number of skills can only be developed through real work experience. Depending on your individual learning path, your apprenticeship might involve up to four levels of training that need to be completed. The employer that sponsors and trains you will also pay you.
This part of your training might include some additional classroom study as you also accumulate hours in a real welding shop. It takes most people about two to three years to finish their apprenticeships.
Journeyman/woman Certification
Upon completing your apprenticeship program, your province will likely issue an exam. By passing it, you can receive a Certificate of Qualification or similar credential that officially makes you a journeyperson in the welding trade.
Depending on how well you did on your provincial exam, you can also qualify for a Red Seal endorsement. Earning that means you'll be able to go anywhere in Canada and have your skills automatically recognized.
---
Where Can I Start Learning What I Need to Know?
Begin by looking into the welding schools highlighted above. They are prepared to share all of the details you'd like to learn about. And you can ask for that information by sending an easy request for it today!
---