HVAC Training Schools in Canada
Last Updated
HVAC training can prepare you for a reliable trade that's in high demand.
After all, nearly every building in Canada requires heating and ventilation systems in order to maintain livable indoor conditions during the winter.
Many homes and businesses also count on air conditioning systems to keep inside temperatures comfortable during the summer. And restaurants, grocery stores, and other commercial operations require special refrigeration systems to safely store perishable foods. So it's easy to see why graduates of HVAC programs frequently enjoy lasting, stable careers: Skilled technicians are needed to install and maintain those systems.
Plus, this trade is full of variety. An HVAC school can teach you how to service a wide range of appliances, from heat pumps and furnaces to air conditioners and commercial refrigeration systems. You'll become familiar with many kinds of sophisticated equipment. You'll start learning hands-on skills related to working with air ducts, electrical power systems, and much more. And when you finish your HVAC courses, you can pursue opportunities with construction firms, service contractors, or equipment dealers. After some experience, you could even start your own HVAC repair business.
So take this opportunity to prepare for the future you want. These HVAC training schools are ready to give you all the information you need to get started!
---
HVAC Schools
Sponsored Listings
---
---
---
HVAC Training and Career Information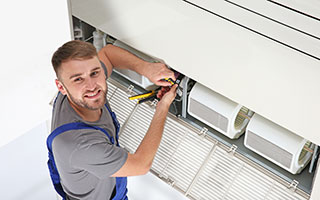 Are you ready to start training for a stable career in a trade that offers lots of variety? That's what you can achieve by going into HVAC (meaning heating, ventilation, and air conditioning). School can help you get a foothold in this field where skilled tradespeople are consistently in demand.
But maybe you have questions about becoming an HVAC technician or going to HVAC school. Below, you'll learn about certification requirements, salary potential, career opportunities, and much more!
---
What is HVAC?
HVAC stands for heating, ventilation, and air conditioning. (You may also see the term HVAC/R. The "R" stands for refrigeration.) It's an industry-standard abbreviation for the broad field of indoor heating and cooling. The HVAC systems in our homes, schools, and offices keep us comfortable inside regardless of the temperature or conditions outside.
But this field is not just about controlling indoor temperatures. It's also about controlling indoor air quality and humidity. That means the work of HVAC technicians can be especially important to people with asthma or allergy issues.
Depending on their area of focus, HVAC technicians may also be known as:
HVAC mechanics
HVAC installers
Air conditioning mechanics
Refrigeration mechanics
Some HVAC techs specialize in either installation or maintenance, but many others are proficient in both areas.
---
What do HVAC technicians do?
The work can be quite diverse. HVAC technicians work on heating, cooling, ventilation, and refrigeration systems for residential, commercial, and industrial properties. That means they service the systems in homes, offices, factories, airports, hospitals, and many other types of buildings. Some HVAC techs specialize in just one type of system.
Depending on their particular focus, HVAC technicians might:
Install furnaces, air conditioners, heat pumps, walk-in coolers, humidification units, or air filtration systems
Follow blueprints for installing pumps, vents, and air ducts
Connect heating and cooling systems to water and fuel supply lines
Install electrical controls
Test systems to see if they are functioning properly and performing at peak efficiency
Inspect systems to check for leaks or other maintenance issues
Repair or replace components as necessary
Follow government regulations for the handling and disposal of refrigerants
---
What is the average HVAC salary in Canada?
According to Job Bank figures from 2017-2018, HVAC and refrigeration mechanics can expect to earn anywhere from $16 to $55 an hour, depending on their location, specialty, and level of experience. Based on a 40-hour work week, that translates to an annual salary range of $33,280 to $114,400.
The national median hourly wage was $31.75, which works out to an annual salary of $66,040.
Keep in mind that average salary rates depend on which part of Canada you live in. Saskatchewan, Alberta, BC, and Quebec report the highest median wages for HVAC and refrigeration mechanics.
---
What's involved in HVAC technician training?
Certificate programs (which typically take one year or less) or diploma programs (which are usually two years long) can prepare you for an entry-level position as an HVAC installer or service technician.
Becoming an air conditioning or refrigeration mechanic generally requires completing an apprenticeship, which combines paid hands-on work with HVAC courses at a vocational school. The process is a bit different in each province and territory, but these are the basic steps:
Find an employer who will sponsor you as an HVAC apprentice.
Register as an apprentice in your province or territory.
Enroll in an approved heating, ventilation, air conditioning, or refrigeration training program at a vocational school.
Log a designated number of work hours for your employer and complete a prescribed amount of in-school training.
Pass all mandatory exams.
Receive your Certificate of Qualification or similar credential and become a fully qualified journeyman in your province or territory.
It can be easier to get an employer to agree to take you on as an apprentice if you have a bit of formal education first. In many areas, you can take HVAC college courses or short pre-apprenticeship programs to boost your chances of convincing an employer to sponsor you. You can even take some of your HVAC schooling online.
It typically takes between three and five years to complete an apprenticeship in this field. Some HVAC programs allow you to earn credit toward your apprenticeship, meaning that if you successfully complete the HVAC program, your actual apprenticeship will be shorter.
What can a training program teach me?
A typical school offers hands-on instruction in the design, installation, and maintenance of residential or commercial heating and cooling systems. Technicians need to be comfortable with a wide range of subjects, so training in plumbing, framing, sheet metal, pipefitting, and electrical work can often be found among HVAC courses. Programs may include instruction in:
Piping and venting methods
Basic electronics
Soldering
Heating fuels
Building codes
Installing sheet metal
Handling refrigerants
Interpreting mechanical drawings
Troubleshooting
Safety protocols
Do I need certification to start working?
Requirements vary across Canada. In British Columbia, Newfoundland and Labrador, Prince Edward Island, and all three territories, certification for refrigeration and air conditioning mechanics is available, but is not mandatory. Similarly, certification for specialized transport refrigeration mechanics is available (but optional) in BC, Alberta, and New Brunswick.
However, it's becoming increasingly common for companies to look for formal education and certification in potential employees, even in areas of the country where trade certification is not legally required.
The following provinces strictly regulate refrigeration and air conditioning mechanics:
Alberta
Saskatchewan
Manitoba
Ontario
Quebec
New Brunswick
Nova Scotia
In the provinces listed above, you generally have to be a registered apprentice or hold provincial certification to work as a refrigeration or air conditioning mechanic.
It's important to note that certifications earned in one province are not necessarily transferable to another province. However, if you take and pass the interprovincial exam, you will receive your Red Seal endorsement, which means your credentials will be accepted in any area of the country.
---
What is the job outlook in Canada for this trade?
HVAC professionals should see steady demand for their services in much of the country. Job Bank estimates indicate that refrigeration and air conditioning mechanics will enjoy a good employment outlook in British Columbia, Ontario, and Prince Edward Island.
That's largely because, as is the case in many of the skilled trades, much of the current workforce is on the verge of retiring. In fact, according to the Canadian Occupational Projection System, almost half of the 13,600 projected job openings for HVAC mechanics across Canada between 2017 and 2026 will come from retirements.
As HVAC systems become ever more complex, and as Canadians strive to make their homes more energy efficient, the need for skilled technicians to install, repair, and service these systems will continue to grow.
---
What career options will I have?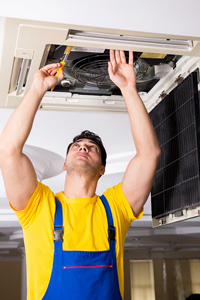 Most technicians start out working with contractors. Others work at service and repair shops, while many sell furnaces, air conditioners, and heat pumps at the retail level. There are also opportunities with governments, school boards, and hospitals.
Here are three examples of the type of job you can find in this field:
Installer
Although your training will prepare you to both install and maintain the equipment necessary to run HVAC systems, you will probably end up specializing in either the installation of these systems, or their maintenance and repair.
As an installer, you will use blueprints and your knowledge of mechanical and electrical principles to install gas, oil, electric, and multiple-fuel heating and air-conditioning systems. You will also need some basic knowledge of plumbing and sheet metal technology for installing water and fuel supply lines, vents, air ducts, pumps, and other related components. Plus, once you have finished installing the equipment, you will need to check that it is functioning properly. This is done by using specialized testing equipment, such as carbon monoxide/oxygen testers and combustion analyzers.
Service Technician
The other side of the equation is, of course, the maintenance of these complex systems. As a service technician, you will replace malfunctioning parts (filters, pipes, and ducts), and take on repair work, such as overhauling compressors. Just like an installer, you will need to enjoy working with your hands, and be good at dealing with people.
It also helps to have some fairly refined problem-solving skills. Training can definitely help you build these skills by teaching you about common problems and how to diagnose and fix them.
Another consideration that potential installers and service technicians should be aware of is the increasing sophistication of industry technology. A course or two to develop your computer competency can be very helpful, especially considering the increased presence of complex, automated systems in modern buildings.
Energy Efficiency Specialist
Service technicians already have a certain amount of environmental awareness built into their job requirements—they must know how to properly conserve, recover, and recycle the potentially harmful refrigerants used in air-conditioning systems.
However, if you are interested in going one step further, you can turn your training into a truly "green" career, and take advantage of the rising awareness of the need to reduce energy consumption. To become an energy efficiency specialist, you could gain on-the-job training in the new energy-saving air conditioning and heating systems. Or, you could try to find a program that incorporates some of this knowledge through courses that teach you how to perform energy audits. Finally, you could take a program in energy efficiency that will complement your HVAC training with learning to analyze the energy usage of residential and commercial systems.
As an energy efficiency specialist, you can learn how to analyze existing systems and then either adjust them to be more efficient, or recommend alternative technology. You can also learn about the installation and maintenance of solar energy technology, and other renewable energy technologies.
---
How can I get started?
A good first step is to check out the HVAC training schools listed above. They're ready to share all the information you need. Or type your postal code into the search tool below to discover convenient training programs in your area!
---