---
---
4 Good Reasons to Become an Electrician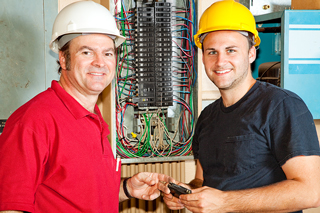 People in the electrical trade tend to be very satisfied with their career choice. And they usually get a lot of respect since the work they do takes plenty of skill.
In fact, most Canadian electricians have completed a four or five-year apprenticeship (while earning a wage) to develop their skills. As a result, they've often earned provincial trade certification to become journeymen/women. And many of them also have Red Seal endorsements.
But here's something really important to know as a beginner: Increasingly, new electricians have also undertaken short foundational training—from trade schools or vocational colleges—to help them land those opportunities in the first place. Then they've gone on to reap truly compelling benefits.
Here are four of the biggest benefits of getting trained as an electrician:
1. The Electrical Trade Offers Many Possible Career Options
In 2014, more than 93,000 Canadians were employed as electricians or as closely related cable or telecommunications tradespeople. And most of them—83 percent—worked in the construction sector.* But having a practical understanding of how electricity works can also open up other profitable avenues in areas like manufacturing and power transmission. Common career paths in this diverse trade include:
Residential and commercial electricians—These tradesmen and women typically work for small or medium electrical contractors. They wire, repair, or renovate low-voltage systems for homes, office buildings, and institutional facilities.
Industrial electricians—People in this area of the trade tend to work either for larger contractors or directly for employers like factories, mining companies, or ship builders. They deal with heavier electrical components like generators, motors, big storage batteries, and mechanical control systems.
Power system electricians—Energy companies that produce, transmit, and distribute electricity are the primary employers for these workers. Sometimes called high-voltage electricians, they usually do work on power stations, transmission lines, and other equipment that carries 100,000 or more volts of electricity.
2. You Can Earn Outstanding Pay
Many electricians in Canada are among the highest-paid tradespeople. And along with HVAC courses of training, electrician programs are one of the more popular choices for people looking to join a field where the demand is always strong. From new construction and infrastructure projects to repairs of older wiring and power systems, the flow of work in this trade is always moving. And that results in some very good wages:
Construction electricians in the residential and commercial sector can earn a median hourly wage of $30.91 or up to $45.00 or more.*
An industrial electrician can make a median wage of $33.16 per hour and, with experience, as much as $45.00 or more per hour.*
A power system electrician in Canada can earn a median wage of $40.00 hourly or up to $46.15 or more hourly.*
3. Plenty of Advancement Opportunities Exist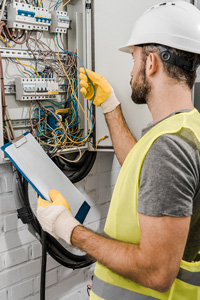 By getting your journeyman/woman certification and a lot of experience in the electrical trade, you can go after higher-paying supervisory positions. Or, in some cases, you can even launch your own contracting business.
Full-time Canadian electricians in these advanced roles can earn median salaries of about $78,624 ($37.80 per hour). And some can make as much as $104,000 or more ($50.00 per hour).* In Saskatchewan, the salary for electricians at this level goes as high as $135,200 ($65.00 per hour).
Plus, if you are thinking about starting your own company one day, then consider this: In 2014, the average annual revenue for a small or medium electrical contractor in Canada was over $526,000.***
4. The Future Job Outlook Is Very Promising
Canadians are always going to need electricity. And the demand for it will keep rising as the nation's population increases and its towns and cities grow. New homes and offices will need wiring. Renovation projects will need improved electrical systems. And industrial and energy companies will need workers to help carry out major expansion plans.
Just consider the simple fact that, between 2015 and 2024, more job openings in the electrical trade are expected to be available than job seekers who can fill them.* In fact, a labour market study from 2011 concluded that 45,000 new workers in this field would be needed over the following five years.** Just in BC alone, approximately 7,230 electricians will be in demand over the course of the next decade.†
It's a trend that's expected to continue well into the future as power utilities and related companies try to keep pace with energy demand. For example, it's estimated that, by 2030, the total capital investment required for upgrades and expansion in the electricity sector would equal about $347.5 billion.****
---
---
* Government of Canada, Job Bank, website last accessed on March 5, 2019.
** Electricity Human Resources Canada (EHRC), website last accessed on May 11, 2017.
*** Industry Canada, website last accessed on July 21, 2016.
**** Canadian Electricity Association (CEA), website last accessed on June 1, 2017.
† The Globe and Mail, "Statistics estimate 7,230 electricians needed over the next decade in B.C.," website last accessed on September 22, 2017.