---
---
4 Good Reasons to Become an Electrician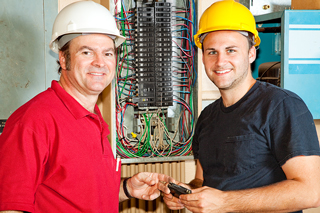 People in the electrical trade tend to be very satisfied with their career choice. And they usually get a lot of respect since the work they do takes plenty of skill.
In fact, most Canadian electricians have completed a four or five-year apprenticeship (while earning a wage) to develop their skills. As a result, they've often earned provincial trade certification to become journeymen/women. And many of them also have Red Seal endorsements.
But here's something really important to know as a beginner: Increasingly, new electricians have also undertaken short foundational training—from trade schools or vocational colleges—to help them land those opportunities in the first place. Then they've gone on to reap truly compelling benefits.
Here are four of the biggest benefits of getting trained as an electrician:
1. The Electrical Trade Offers Many Possible Career Options
According to data from the federal government's Job Bank, more than 124,000 Canadians were employed as electricians in 2016. Most of these tradespeople work in the construction sector. But having a practical understanding of how electricity works can also open up other profitable avenues in areas like manufacturing and power transmission. Common career paths in this diverse trade include:
2. You Can Earn Outstanding Pay
Many electricians in Canada are among the highest-paid tradespeople. And along with HVAC courses of training, electrician programs are one of the more popular choices for people looking to join a field where the demand is always strong. From new construction and infrastructure projects to repairs of older wiring and power systems, the flow of work in this trade is always moving. And that results in some very good wages, as you can see from the Job Bank data below:
3. Plenty of Advancement Opportunities Exist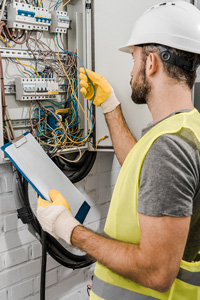 By getting your journeyman/woman certification and a lot of experience in the electrical trade, you can go after higher-paying supervisory positions. Or, in some cases, you can even launch your own contracting business.
Job Bank data reveals that full-time Canadian electricians in these advanced roles can earn median salaries of about $79,040 ($38.00 per hour). And some can make as much as $108,160 or more ($52.00 per hour). In Alberta, the salary for electricians at this level goes as high as $124,800 ($60.00 per hour).
Plus, if you are thinking about starting your own company one day, then consider this: According to Industry Canada, the average annual revenue for a small or medium electrical contractor in Canada was over $517,000 in 2018.
4. The Future Job Outlook Is Very Promising
Canadians are always going to need electricity. And the demand for it will keep rising as the nation's population increases and its towns and cities grow. New homes and offices will need wiring. Renovation projects will need improved electrical systems. And industrial and energy companies will need workers to help carry out major expansion plans.
A ManpowerGroup report from 2018 found that jobs for skilled tradespeople (such as electricians) had been among the most difficult to fill in Canada over the preceding 10 years. In fact, 25 percent of employers surveyed said it was getting more difficult to find qualified people for such roles. Clearly, opportunities could be abundant for people with the right skill sets.
---