Carpentry Schools & Colleges in Canada
Last Updated
Get your future moving in a more reliable direction.
Carpentry schools know what it takes to train you for a new beginning in one of Canada's largest construction trades. They offer special programs aimed at turning people who have little or no experience into entry-level carpenters. That could give you a real edge as you approach potential employers or seek apprenticeship opportunities.
Just think about the advantages of becoming a carpenter. Imagine being able to work outside. Picture how great it would feel to do something active. Visualize building things that you can actually touch and feel proud of. All of those benefits are built into the trade. Even self-employment is a possibility.
Plus, the variety of different projects and ability to advance in your career are additional perks that make carpentry a smart choice. The work is consistently interesting, and you can move up as your skills develop.
So check out the following options right now! Each of these schools are ready to tell you more about the convenient carpentry training they offer.
---
---
Carpentry Schools
Sponsored Listing
---
What You Can Look Forward to in the Carpentry Trade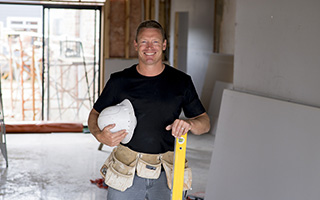 Canadian carpenters come from all kinds of backgrounds. But regardless of their particular paths or specialties, they are all part of a long-respected vocation. Anyone embarking on a carpentry or cabinetmaking career can feel confident in his or her decision.
In this trade, all you need to get started is a little schooling to give you a good foundation of skills. You can then build on your abilities as you work on the job. In fact, you don't even need provincial trade certification unless you work in Quebec as a carpenter. In all other provinces and territories, it is currently voluntary.
Even so, many carpenters would tell you that going through a formal apprenticeship and becoming a journeyman/woman is a smart idea. It only tends to take three to four years, and you earn a wage during your training. Provincial government bodies like BC's Industry Training Authority and the Ontario College of Trades can guide you through the process.
Once you complete a registered apprenticeship and get your provincial certification, you can then qualify for a Red Seal endorsement of your qualifications. It also helps to get your certifications in first aid. And any training you get in using sustainable building materials or reducing job-site waste could be a true asset. Doing all of that can really boost your employment options as well as your income potential.
Plus, the more skills and credentials you obtain, the better your chances are of working for yourself someday. In 2019, about 27.4 percent of construction workers in Canada were self-employed.
Of course, you may be wondering what all of the career options are for a person with carpentry skills. Here are the most common possibilities:
Carpentry for Construction or Renovation
New buildings are always being constructed somewhere. And older buildings often require repairs, additions, or major renovations. So qualified carpenters frequently have lots of work, especially in growing towns and cities.
Sometimes called framers or form builders, carpenters tend to gravitate toward a particular sector. Most of them work primarily on building or renovating homes using wood-related materials. But some carpenters also work on structures like office towers, schools, and hospitals that involve wood as well as other materials like lightweight steel. Statistics Canada says that in 2010, the job settings for Canadian carpenters broke down this way:
About 50 percent worked in residential construction.
37 percent did work for commercial or institutional projects.
Nine percent worked on civil engineering or road construction job sites.
Four percent worked in the industrial sector (e.g., mines, mills, and factories).
According to the Government of Canada's Job Bank, the median wage for full-time carpenters in Canada is $25.00 per hour, but many earn as high as $37.51 or more per hour.
Cabinetmaking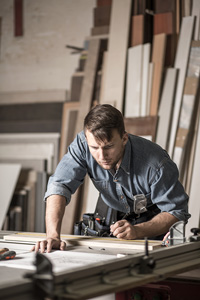 Cabinetmakers tend to represent a category all their own. Their special woodworking and laminate skills allow them to build stylish and functional kitchen cabinets and other kinds of furniture. As a result, the demand for their services tends to be fairly consistent with other carpenters since the items they make are needed for new construction projects and renovations.
Some cabinetmakers get to work on different construction sites where they install custom storage cupboards or special fixtures. But most of them work in a manufacturing environment. In fact, in 2011, 70 percent of Canadian cabinetmakers were employed in the manufacturing sector, according to Statistics Canada. About 22 percent of them worked in the construction field.
Cabinetmakers in Canada can earn a median hourly wage of $20.00 or up to $34.50 or more, according to Job Bank data.
Contracting or Supervising
With enough years of experience, you can advance to a role that comes with extra rewards. But you'll almost certainly need to have your carpentry or cabinetmaking trade certification as well. Then you can start your own contracting company. Or you can become a supervisor or foreman/woman for an employer that provides additional pay and benefits for responsibilities that often include:
Ensuring that safety practices are followed on construction sites or in manufacturing facilities
Coordinating the work schedules of other tradespeople
Ordering necessary supplies and building materials
Training apprentices
Advising company managers on who to hire
Resolving work-related challenges
According to Job Bank estimates, carpenters and cabinetmakers who are supervisors or contractors can make a median wage of $31.00 per hour in Canada (equaling a yearly salary of about $64,480). Some tradesmen and women in this category earn hourly wages of $44.00 or more (about $91,520). Wages go especially high in Alberta, with some people earning as much as $48.08 per hour.
---