Auto Mechanic Schools & Colleges in Canada
Last Updated
A mechanic school can help you prepare for a trade that is perpetually in demand. After all, with more than 24 million registered vehicles on Canadian roads, the need for skilled technicians who can repair and maintain them is not going away anytime soon. Through specialized training at automotive schools and colleges, you can develop the expertise and skills required to take your place in this dynamic field.
An automotive career gives you the opportunity to do challenging hands-on work. Learning how to become a mechanic means becoming adept at diagnosing and repairing problems with a huge variety of vehicle systems and components. You get to perform a diverse range of tasks and experience the satisfaction of seeing results. The article below provides more info on this trade, including what kind of training you need, how much auto mechanic courses cost, where you need certification, and how much you can earn.
And finding car repair schools is easy. Whether you dream of becoming an automotive mechanic, auto body repair technician, or motorcycle mechanic, you can find training at one of the schools below. There is a car mechanic program at a trade school or college that's ready to help you get the knowledge you need to succeed.
Seize this opportunity to explore your options. Request more info from a mechanic school today!
---
---
Automotive Schools
Sponsored Listings
Advanced Automotive Service Advisor
Automotive Technology
Transportation Operations Specialist
Surrey, British Columbia
Toronto, Ontario
Online
Air Conditioning & R134a Retrofit
Auto Body Collision Estimator
Auto Body Collision Technology & Estimating
Auto Body Technician
Automotive Business Manager
Automotive Detailing
Automotive Mechanics Technician
Automotive Parts & Warehousing
Automotive Refinishing Prep and Body Technician
Automotive Refinishing Prep Technician
Automotive Sales & Leasing
Automotive Service Consultant
Automotive Service Technician
Automotive Technology
Hybrid Technology and Service
Ozone Depletion Prevention
Transportation Operations and Dispatching
Transportation Safety Supervisor
---
---
Automotive Career and Training Information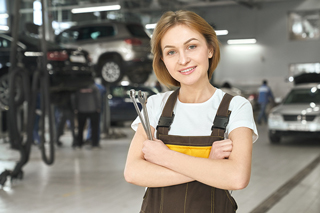 Even with advances in modern technology, today's vehicles still require ongoing maintenance, and they sometimes break down. So skilled mechanics are essential to keeping the nation moving.
If you've got the motivation and willingness to learn, then a career in the automotive service trade (or a related mechanics trade) might be your ticket to work that provides a sense of pride and purpose.
What Is a Mechanic?
It's crucial that the cars, trucks, and buses that carry us where we need to go operate safely and reliably. That's why they must be inspected, maintained, and repaired by qualified people with the skills to properly perform such work.
An auto mechanic is a tradesperson with the skills, knowledge, and qualifications to service today's complex motor vehicles using a variety of special tools and diagnostic equipment. Auto mechanics are also sometimes called:
Automotive service technicians
Automotive repair technicians
Automotive mechanics
Motor vehicle mechanics
Motor vehicle service technicians
What Do Mechanics Do?
Automotive technology continues to advance rapidly. With all of the ongoing changes, today's mechanics do more than you might think. So, just what does a mechanic do?
What mechanics do on a typical day depends a lot on where they work, their level of skill, and whether or not they specialize in any particular aspects of the trade. But, in general, auto mechanics carry out tasks such as:
Inspections and Troubleshooting
Inspecting vehicle engines and systems—through sight, sound, and smell—for any signs of trouble or to verify the extent of any damage
Testing the performance of various automotive components and systems using computerized diagnostic equipment
Test-driving vehicles to understand and troubleshoot problems or verify the quality of repair work
Consultations and Routine Maintenance
Consulting with vehicle owners about necessary maintenance or repairs
Estimating repair times and costs
Performing oil changes, coolant flushes, spark plug changes, lubrications, wheel alignments, tire rotations, and many other routine maintenance jobs
Repairs
Replacing worn-out parts or damaged components
Making necessary repairs to engines, electrical systems, transmissions, exhaust systems, steering, drivetrains, fuel systems, brakes, and other automotive systems
Tearing down and rebuilding engines, power systems, or other sub-assemblies when required
Administrative Tasks
Ordering parts
Assisting with inventory management
What About Specializing?
Multiple paths exist in the automotive trade for those who want to match their interests to their careers. So, what does an auto mechanic do when he or she wants a more distinctive career?
Some auto mechanics choose to specialize in specific automotive work like:
Maintaining high-performance vehicles
Rebuilding engines
Fixing or installing transmissions
Testing and repairing electrical systems
Other mechanics, once they've gained a suitable level of experience, choose to focus their careers on servicing vehicles from particular manufacturers or regions of the world (e.g., North American, European, or Japanese makes and models).
What Is the Average Auto Mechanic Salary in Canada?
Most auto mechanics get into the trade because they like cars and want to work with their hands. That said, many mechanics are able to make a good living. So, how much does a mechanic make in Canada?
According to the Government of Canada's Job Bank, the wages of automotive service technicians break down like this (as of February 25, 2020):
The Canada-wide median hourly wage is $24.00, which translates to yearly pay of about $49,920 for full-time work.
The highest hourly wage is $38.00 (about $79,040 per year).
When looking at such estimates, it's important to understand that it is possible to encounter wages that are higher than those reported.
Location, especially, is a major aspect to consider when you're a mechanic. Median salary rates tend to be highest in northern and western Canada. (The Northwest Territories, Alberta, Nunavut, and Saskatchewan report the highest mechanic wages.)
How Mechanics Are Paid
Another thing to be aware of about pay in the automotive trade is that wages aren't always paid on an hourly basis. Many repair shops operate a pay structure based on "piece work," which means mechanics are paid a flat rate for each maintenance or repair job they perform. The result is that staying busy and being fast at your work can earn you more money.
Take-home wages are also affected by how much overtime is worked. Most auto mechanics, though, tend to work a typical week of about 40 hours, Monday through Friday.
Becoming an Automotive Mechanic
Similar to electrician or HVAC training, learning to become a professional mechanic in Canada generally requires completing a registered apprenticeship. Mechanic apprenticeships usually combine real work experience at an auto repair shop with classroom and technical training at a vocational school. (You won't find four-year auto mechanic degree programs in Canada; you will find certificate or diploma programs that last two years or less.)
An automotive apprenticeship generally takes four years to complete. Some people can complete their apprenticeships in as little as one year or as many as five, depending on individual circumstances.
First Steps and Requirements
If you want to become an auto mechanic, then the first thing you should do is contact a mechanics trade school or your province's apprenticeship office. This is because each province is different in how it handles the process of getting people into skilled trades like automotive repair. Some provinces have stricter regulations and requirements than others.
For people with little or no prior experience in the automotive trade, becoming a mechanic generally requires:
Finding an employer who is willing to sponsor your mechanic apprenticeship
Registering your apprenticeship with your province
Logging a specific number of work hours in your sponsor's shop
Enrolling in a provincially approved training program at a vocational school
Completing four levels of classroom and hands-on training (which usually takes four years)
Passing all required exams at each level of training
Being awarded a certificate of qualifications (or similar credential) by your province
Passing an interprovincial exam to earn Canada-wide journeyman status (optional)
Other Things to Keep in Mind
Here are some other important points to know:
You Can Go to School First
Since it can sometimes be difficult to find an employer who is willing to sponsor you without prior training or experience, provinces generally provide an alternative path of entry to an apprenticeship.
By enrolling in an auto mechanic training program at a trade school for one year or more, you can earn the first level of classroom and work-based credits. Then, armed with your new skills, you'll have a better chance of finding an employer willing to take you on as an apprentice.
By earning first-level credits at a trade school, your actual apprenticeship will be shorter.
As an Automotive Apprentice...
Employers who sponsor apprenticeships generally help to cover classroom and training costs since they often receive financial incentives from their provinces for taking on apprentices.
You can earn a paycheque while you learn.
You may be asked to provide your own tools, pay for your books and supplies, and cover miscellaneous school fees.
Work-based training generally accounts for 80 to 85 percent of an apprenticeship. The remaining amount is a combination of classroom learning and in-shop auto technician training at a trade school.
Canadian Certification Requirements
Requirements vary from province to province. Technically, the only provinces that strictly regulate auto mechanics are:
Alberta
Ontario
Quebec
New Brunswick
Nova Scotia
Prince Edward Island
In regulated provinces, you generally must be a registered apprentice, hold provincial certification (for that province), or possess a Red Seal endorsement of any provincial certification in order to perform work as a mechanic.
Although other provinces may not have such strict regulations, they do often provide certificates of qualifications to those who complete formal apprenticeships that meet their recommendations.
It's also important to understand that, unless you have a Red Seal endorsement, your mechanic's license or certification from one province may not be accepted in another.
What Does Auto Mechanic School Cost?
Regardless of the path you take, becoming an automotive service technician in Canada usually requires attending an auto mechanic school as part of your training. Cost for classroom and technical training varies depending on the trade school and program you choose. It also depends on:
Whether you attend school full-time or part-time
The kind of educational credential awarded
Your status as an apprentice or non-apprentice
Cost for Non-Apprentices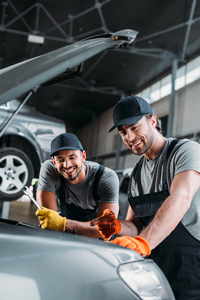 In general, tuition and fees for full-time, non-apprentice students in automotive service technician programs tend to total from about $7,000 to $15,000 or more for four levels of training.
Programs for non-apprentices are often designed to replicate some of the training that apprentices receive while on the job. So they tend to include more courses and shop time.
Cost for Registered Apprentices
In contrast, total tuition and fees for full-time registered apprentices generally range from about $1,500 to $4,000 or more for the four levels.
Programs for apprentices tend to cost less than those for non-apprentices because they consist of fewer courses. (Even though school is a major requirement, apprentices get most of their training while working for their employers.)
Financial Aid
You could be eligible for apprenticeship grants or other financial incentives from the Government of Canada if you meet the necessary criteria.
For example, the Apprenticeship Incentive Grant (AIG) is a taxable cash grant of $1,000 per year—up to a maximum of $2,000—for apprentices registered in designated Red Seal training programs who have successfully completed their first or second levels of apprenticeship training.
In addition, the Apprenticeship Completion Grant (ACG) is a taxable grant of $2,000 for registered apprentices who successfully complete their entire training program in a Red Seal trade.
And the Apprenticeship Incentive Grant for Women (AIG-W) is a taxable grant of $3,000 per year for up to two years for female Red Seal apprentices in male-dominated trades who complete the first or second year of their training.
The federal government, as well as many provinces, also offer tax deductions or tax credits to registered apprentices and tradespeople to help cover the costs of training and new tools.
Where Can a Mechanic Work?
Canadian auto mechanics work in a variety of settings, including:
Car and truck dealerships
Automotive service shops
Auto parts stores
High-performance auto shops
Companies and organizations with their own vehicle fleets
Service stations
Auto-racing teams
Salvage yards
Each type of employment setting has benefits and drawbacks. For instance, dealerships can be a good place to begin a career, but they often can't provide the kind of broad experience that a more general automotive shop can offer.
After gaining plenty of experience and business knowledge, some auto mechanics choose to open their own repair shops.
Benefits of this Career Choice
For the right kind of person, being an auto mechanic can provide rewards such as:
A sense of accomplishment—Auto repair involves solving problems, which can be both challenging and fun. And since you have to use your mind as well as your hands, you can develop the deep sense of satisfaction and personal pride that comes from being fully engaged in your work.
Variety—Experienced auto mechanics get to do so much more than just routine maintenance. Repairs provide plenty of different kinds of work. So you probably won't get bored. Plus, automotive technology is always changing. So you'll always have more you can learn.
The potential to work for yourself—Who doesn't dream of being their own boss? After gaining some experience and a little business know-how, you could open your own auto repair shop.
Portable skills—With a Red Seal endorsement, you can use your skills anywhere in Canada. So if you ever need to move, you'll know you have what it takes to find employment near your new home.
With a good attitude, you've got a real shot at turning your strong interest in cars and trucks into a lasting and satisfying career.
Canadian Job Outlook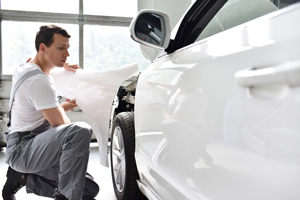 According to Job Bank data, for fully qualified auto mechanics, the job outlook in most regions of Canada is fair. Since the early 1990s, the general employment trend in the automotive trade has been rising.
Between 2017 and 2026, the number of mechanic job openings is projected to total 27,900. So plenty of opportunities will exist.
Most of the job openings in Canada will occur due to older mechanics retiring.
Prepare Well for the Opportunities
Competition for available jobs could be strong. That's why you'll need to have the right qualifications. You'll also need to stay on top of the technological advances that will come about in the automotive sector.
So, as you consider a career as an auto mechanic, keep in mind that you can enhance your employment prospects if your training and experience include areas like:
Onboard computers
Electronic systems and engine components
Electronic testing and troubleshooting equipment
The bottom line is this: With the right skills, qualifications, and attitude, you should be able to find employment as an auto mechanic in most Canadian provinces.
What's the Best Way to Get Started?
Check out the trade schools in your area. The list of automotive schools above is a good place to start. It's easy to connect with them and get the information you need. Or use our postal code based search tool and find a school accepting inquiries from your area.
The sooner you take that first step, the sooner you can feel the pride that comes from doing what you've always wanted.
---