Graphic Design Schools & Colleges
Last Updated
Graphic design schools in Canada offer some of the fastest and most practical ways to train for this fun creative field.
Can you visualize expanding upon your existing talents as you transform into a professional designer? The future you imagine can be created in less time than you might realize. That's what many of the training programs at graphic design colleges make possible. They can put you on a direct path toward outstanding opportunities in areas like graphic art, visual communications, web design, interactive media design, and digital illustration. So stop waiting. Find the training that can develop your skills for good graphic design jobs. Enter your current postal code into the following search tool to quickly view a selection of nearby schools!
---
---
Graphic Design Schools
Sponsored Listings

Vancouver, British Columbia
Graphic Design
Graphic Design & Foundation for Design
---
Vancouver, British Columbia
Graphic Design
Graphic Design & Foundation for Design
Edmonton, Alberta
Winnipeg, Manitoba
Mississauga, Ontario
Graphic Design
Graphic Design Technology
---
---
5 Popular Questions About Graphic Design Careers in Canada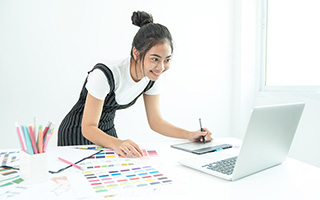 For many creative people, going into the field of graphic design ends up being a terrific career choice. After all, it enables them to make a good living by doing something they enjoy, and it frequently comes with a lot of other advantages as well.
That's why it may be worth your time to learn more about what this vocation involves, what its potential benefits are, and how to begin preparing for it.
Check out these five frequently asked questions:
1. What Does a Graphic Designer Do?
Graphic designers use their creativity and technical skills to produce appealing visual elements or layouts that help communicate ideas and information. Some of them specialize in creating designs that will be printed, whereas others specialize in producing designs for films, videos, the Web, or other forms of digital media. And many of them do a combination of everything.
In fact, a graphic designer job description can cover a huge variety of tasks. For example, on any given day, a designer might consult with clients or art directors, sketch thumbnail ideas, illustrate graphics using computer software, manipulate digital photos, create typographical layouts, get cost estimates from printers or other suppliers, or hire and coordinate the work of photographers or illustrators.
And those tasks represent only a fraction of the many possibilities. That's particularly true when you consider the amazing diversity of projects that a graphic designer might contribute to during any phase from initial concept to final completion. Examples can include:
Logos and brand identities
Brochures and other printed marketing collateral
Advertising or editorial layouts for magazines
Book covers and page layouts
Product packaging
New typeface designs
Tradeshow booth graphics
Posters, billboards, signs, and other environmental graphics
Film and video titling
User interfaces for games, mobile apps, or software
Websites and digital ads
Plus, as a graphic designer advances within his or her career, the responsibilities can grow. For instance, consider what the following roles can entail (listed from entry-level to most advanced):
Junior graphic designer—Often produces graphics and layouts based on the concepts of art directors or more senior designers for relatively simple projects
Intermediate graphic designer—Frequently makes more conceptual contributions and produces designs for a wider range of projects, which are often more complex
Senior graphic designer—Typically oversees the concepts and designs of complex or very important projects through every stage while sometimes directing the work of other designers
Art director—Generally establishes the style and conceptual guidelines for all designers, photographers, and illustrators while coordinating their work, selecting appropriate vendors, and making other high-level creative and production decisions
Creative or design director—Typically leads and manages an entire design department or works as the creative boss of an advertising agency or design or marketing firm
2. What Is a Typical Graphic Designer Salary?
The answer to this question depends a lot on factors such as location, employment setting, and level of experience. But Canadians in this field often make good money. So just how much does a graphic designer make?
According to Job Bank estimates from 2017-2018, the nationwide median wage for graphic designers in Canada was $24.04 per hour, which equals an annual salary of about $50,000. However, in provinces such as BC and Quebec, the highest-earning graphic designers made more than $83,200.
Plus, one survey of graphic design professionals revealed that salaries might go even higher than what's cited above. For example, the industry survey showed the following median salaries for respondents at various career levels:
Junior graphic designers—$38,000
Intermediate graphic designers—$47,000
Senior graphic designers—$59,000
Art directors—$62,000
Creative/design directors—$91,000
In addition, the same survey showed that some Canadian design professionals earned six-figure salaries. For instance, the highest reported salaries were $167,000 for design educators, $180,000 for UX/UI designers, $187,200 for communications/marketing/brand managers, and $225,000 for creative/design directors.
It's also important to note that, in the field of graphic design, salary isn't always the only form of compensation. Many designers earn bonuses and extra employer benefits. And a lot of designers who have full-time employment in the field also perform some additional freelance work.
In fact, in the same survey, over 56 percent of the respondents said that they freelance on the side. And those who performed freelance graphic design work full-time billed clients at a rate of $53 per hour, on average.
3. What Are Other Benefits of Going Into the Graphic Design Field?
Aside from the fact that it's fun and provides the opportunity to earn a good salary, being a graphic design professional can have additional advantages such as: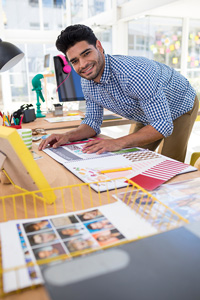 A strong career outlook—Over the decade from 2017 to 2026, it is expected that Canada will have a shortage of graphic design professionals.
Quick advancement potential—Many talented designers are able to advance into higher positions within five years of entering the field. And many go on to become art or design directors within 10 or 15 years.
Client and employer diversity—Graphic design is used in almost every industry, which means that potential clients are easy to find. And employment can be found not only in advertising agencies, design studios, or public relations firms, but also within interactive media studios, web development firms, and the in-house marketing departments of all types of companies.
Extra workplace benefits—More than half of all respondents in the graphic design industry survey referenced above reported receiving paid sick leave, extra paid vacation time, and medical and dental insurance. And over 35 percent of them said that they received additional paid personal time, life and disability insurance, and funding for continuing education or professional development.
4. Do I Need a Graphic Design Degree?
Given the nature of today's marketplace, post-secondary graphic design training is definitely advisable. However, you don't necessarily need to earn a degree. In fact, it's possible to learn everything you need for entry-level roles by completing graphic design courses as part of a shorter diploma or certificate program.
When exploring how to become a graphic designer, also keep in mind that employers will want to look at more than the education on your resume. They will want to see a strong graphic design portfolio that clearly shows your talent, creativity, and technical abilities. Thankfully, many programs focus on helping design students put together effective portfolios before graduation.
5. What's the Best Way to Get Started in Graphic Design?
First, you need to learn about basic design aspects like typography and colour theory. Then you need to develop a strong set of graphic design skills that includes the ability to use software such as Adobe Photoshop, Illustrator, and InDesign at a high level. Finally, you need to create a compelling portfolio of work. And the most practical way to do all of that is usually to go through a formal training program.
So why not take full advantage of your creative enthusiasm? Canadian graphic design schools are located throughout the country. And finding one near you is simple. Start by entering your postal code into the search box below so that you can explore a selection of design programs in your region!
---