---
---
Canada's Top Places for Career Training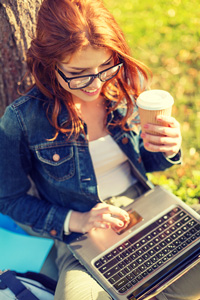 This is a huge and diverse country. But you already knew that. What you might not know is just how beneficial it can be to develop your new skills at a school in one of the following provinces.
With one of the nation's strongest economies, this bustling province stands out. Its successful industries go far beyond just oil and gas. Think health care. And technology. And many others. Also, with fast-growing cities like Calgary and Edmonton, the opportunities keep piling up. Not to mention the cultural and recreational possibilities. Whether in an animated downtown area or in the scenic high country of the Rocky Mountains, there are lots of opportunities for enjoyable work environments.
Yes, it's beautiful. Incredibly so. But BC also shines when it comes to fun career sectors. For instance, they call it Hollywood North for a reason. Film, game development, and the media arts thrive here. And lots of people flourish in hospitality, business, and the allied health professions. Plus, from the mind-boggling trees on Vancouver Island to Vancouver's famous Granville Island Market to the wineries of the Okanagan, BC's countless attractions can enhance the lifestyle and employment prospects of almost any adventurous student.
This proud province is full of pleasant surprises. For instance, it's home to a major city that also happens to have one of Canada's most rapidly growing economies. Winnipeg welcomes students who want to pursue futures in the technological, medical, or financial industries. And that's not all. With major sports teams like the Jets and Blue Bombers, lively casinos, and lots of fun events happening throughout the year, you can find your own interesting career niche or discover plenty of enjoyable ways to spend your free time.
Picture a student- and family-friendly region dedicated to building an economy of the future. One that's founded on the outstanding potential of information technology, education, and finance while retaining important centres of art and culture. Then imagine cities like Fredericton and Moncton that are already home to major employers in the health care field, as well as many prominent corporations. Add in great lifestyle amenities like extensive parks and urban walking trails, and you've got a part of Canada that can inspire any enthusiastic college student.
This Atlantic Canada province has one of the 21st century's most impressively performing economies. Fueled in large part by the offshore oil industry, many career sectors have grown to be major players in the success of Newfoundland's residents. Health care, business, logistics, technology, and creative occupations all thrive in St. John's and other areas. Plus, the region also happens to be one of the most community-oriented, livable, and breathtakingly beautiful places in the country.
This might just be the Atlantic region's creative capital. The film industry has a significant presence here. And the whole arts scene is one that thrives year after year. But with its fast-growing communications and technology sectors, the province also excels at providing opportunities to an impressive range of other skilled professionals. The options are particularly good in Halifax, where diverse employment prospects like lively restaurants and a fun selection of entertainment venues can really broaden your horizons.
What more needs to be said: Practically every major industry flourishes here. As home to the nation's capital (Ottawa) as well as its largest city (Toronto), it's easy to see why. From film, software production, and the digital arts to business, hospitality, and telecommunications, this is a region where myriads of talented and driven people come to learn, live, and create rich and satisfying careers. In fact, the features that make a place like the Greater Toronto Area so livable are practically too numerous to list. Super-convenient subways and rapid transit lines make getting around a breeze.
Making a life that's both comfortable and professionally rewarding is something that Prince Edward Island's residents know a lot about. Few other places in Atlantic Canada—or even the whole country—offer as much opportunity for living a relaxed and affordable lifestyle while still enjoying a successful career. People with skills related to finance, business, healthcare, and supply chain management are especially valued in Charlottetown and other areas of PEI. The Island might be small, but it knows how to exceed expectations.
Don't overlook this economic and cultural powerhouse. Many scientific and high-tech industries operate here. For example, it's where the Canadian Space Agency calls home. It's also where biotechnology and other life sciences are well established. And that means it's a place that welcomes anyone who wants to help advance our country toward a truly inspiring future—even if you don't work directly in one of its most prominent sectors. Highly spirited cities like Montreal provide all sorts of chances to grow your career in areas like design, health care, and technology.
Maybe you're looking for greater flexibility in order to complete a college or trade school program. That's why learning through correspondence or over the Web exists as a viable option. You can study for an enjoyable and practical career without leaving home.
---