---
---
Animal Care Careers That Don't Require 7 Years of Veterinary School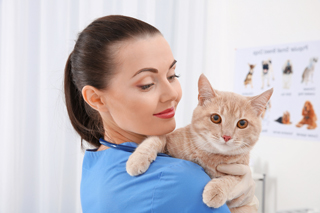 When it comes to animal-related careers, most people immediately think of veterinarians. However, there are other jobs that involve animals that don't involve the large investments of time and money that are necessary to become a licensed veterinarian.
Compassionate Careers with Animals
If you have all the compassion and drive to enter the healthcare field, but would prefer to work with animals instead of humans, a career as a veterinary assistant or veterinary technician is worth looking into.
By training to become a vet tech or vet assistant, you can graduate ready to help with the care of sick and injured animals without taking on the substantial amount of money and time required of licensed veterinarians. These positions often allow you to assist during surgical procedures and postoperative care, plus administer medications and prepare lab samples.
You can also learn the fundamentals of radiography, nutrition, dentistry, disease, and injury—preparing you to perform a comprehensive examination of an animal, from dogs and cats to birds and reptiles, or even wildlife.
Many of the programs in this area allow you to graduate in just one year, ready to pursue careers such as animal control specialist, veterinary assistant, veterinary technician, stable manager, pet nutritionist, animal caretaker, and Humane Society worker.
Business & Office Careers Involving Animals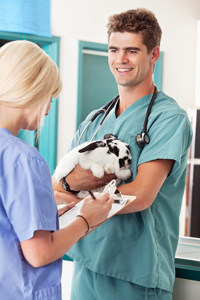 If you would love nothing more than to spend your days working with animals, but also want the challenge of taking on business and technical duties, entering the workforce as a veterinary office manager could be ideal.
Veterinary office management training can provide you with a strong business background in both general office and specialized veterinary office management skills. Included among the topics you can study are sales, accounting, management, organization, communication, and computer applications.
You can gain vital animal care knowledge that will allow you to assist with common surgeries and postoperative care. And your training can arm you with a foundation in animal breeds, nutrition, vaccinations, pharmacology, and more.
Many vet office management programs can be completed in less than a year. Your training could lead to enjoyable positions in animal hospitals, veterinary clinics, animal daycares, wildlife shelters, animal welfare organizations, or kennels.
---