---
---
5 Benefits of Becoming a Medical Transcriptionist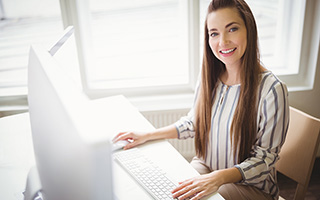 The services provided by people in the medical transcription field would be sorely missed if they ever ceased to exist. So much about patient care ties directly to the quality of the reports in their medical records. Without medical transcriptionists, those reports either wouldn't get produced or doctors wouldn't have enough time to look after each patient properly.
That's why medical transcription professionals can be found in settings as varied as physicians' offices, hospitals, diagnostic laboratories, specialty clinics, and medical research centres. Even some veterinary care facilities employ transcriptionists.
Plus, you have the potential to make a good income in this career. Lots of people are able to enjoy reliable full-time jobs that pay competitive wages. For example, consider that the median hourly wage for medical transcriptionists in Canada is $23.00. That equals a yearly salary of about $47,840. And many earn as much as $29.65 an hour or more (about $61,672 yearly).1
Clearly, workplace variety and salary potential are possible upsides. But the most compelling benefits can often include:
1. Opportunities to Study and Work from Home
Online medical transcription training is worth considering for those whose lifestyles would benefit from the added flexibility of getting an education from home. The added convenience of taking your courses over the Internet can be a huge plus for people with existing commitments.
The field of medical transcription is full of self-employed, independent contractors who make their own schedules. And they can work almost anywhere that they have a secure online connection. In most cases, that's at home. But some transcriptionists also take their work with them when they travel, as long as they have an agreement with their clients to do so.
Some employers also provide the option of working at least partially at home. The advanced software they use makes it possible to allow their transcribers to do that without sacrificing patient privacy or information security.
2. Not Having to Deal with Much Personal Interaction
Introverts rejoice! This occupation is almost completely about listening. Very little, if any, talking is required. And, especially if you work at home, you don't have to be around many other people. Plus, even if you work in an office setting for an employer, you'll likely be left alone most of the time to focus on transcribing. When it comes to medical transcription, employers tend to care a lot more about your speed and accuracy in producing reports than they do about you being sociable or outgoing.
3. Work That's Consistently Challenging and Interesting
Transcribing rarely gets dull. In fact, it keeps your attention because it's all about capturing what you hear in a way that's readable and medically precise. Different doctors have different accents to learn. And the diversity of information included in their dictations can make for a constantly engaging experience. For instance, the dictations you transcribe might include doctors talking about:
Patient backstories
Interpretations of diagnostic tests
Particular medical procedures
The effects of medications on patients
Surgical complications
Fascinating observations
Their own medical opinions
Conflicting or supporting opinions of their colleagues
Their conclusions and the thought processes behind them
Plus, being a medical transcriptionist also means keeping an ear out for inconsistencies that could result in an erroneous report. One study found that almost a third of medical records that were examined included errors due to doctors making mistakes in their dictations.2 So healthcare documentation specialists perform essential and captivating work that helps prevent mishaps in patient care.
4. Low Barrier to Entry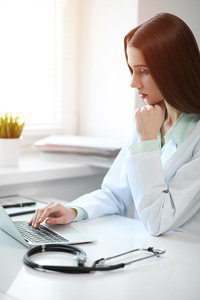 You don't need any special licensing or certification to get started in this field. All you need is a small amount of formal vocational training. And, in most cases, that only takes between six months to one year. Plus, some schools incorporate a short internship experience, and others allow you to take all of your classes from home.
Once you've completed your schooling, you do have the option of earning an additional, voluntary credential. By passing an exam from the Association for Healthcare Documentation Integrity (ADHI), you can become a Registered Healthcare Documentation Specialist (RHDS). This certification is useful for setting yourself apart from other medical transcriptionists in the eyes of potential clients and employers.
Then, after a couple of years of experience, you can qualify to take an exam that earns you the title of Certified Healthcare Documentation Specialist (CHDS). For people new to the field, the RHDS and CHDS designations have replaced the former designations of Registered Medical Transcriptionist (RMT) and Certified Medical Transcriptionist (CMT).
5. A Future That Looks Promising
Canada, like the U.S., is going to keep experiencing greater and greater volume in the amount of healthcare services being performed. Mostly, that's due to the country's aging population. And, as older transcriptionists begin retiring, openings will grow for people with skills in medical documentation.
But two other trends are also starting to become more favourable for medical transcriptionists. The first one is the rising cost of outsourcing. Increasingly, doctors and healthcare organizations that had been sending their transcription work overseas are finding that it's actually more beneficial to use Canadian transcriptionists. That's because many of the reports they get back from foreign transcriptionists are riddled with errors and end up needing to be edited and corrected by Canadians anyway.
The second trend is the use of speech recognition technology. Far from being the game-changer many people thought it would be, this type of software actually isn't good enough to understand the huge and growing variety of medical terminology, let alone different doctors' accents. As a result, many organizations are either scrapping the technology altogether or hiring medical transcriptionists to edit the reports it produces. In fact, it's created a whole new job title: speech recognition editor.
---
---
1 Government of Canada, Job Bank, website last visited on November 25, 2019.
2 International Journal of Health Care Quality Assurance, "Error rates in physician dictation: quality assurance and medical record production," website last visited on November 25, 2019.